Weight Loss Transformation of the Day: Tabrashia lost 198 pounds with Gastric Bypass weight loss surgery.  She did it for her health and her family. Despite the negative opinions that one might hear when they choose WLS, she says that it was a great choice for her.  Here is what she shared with us about her journey…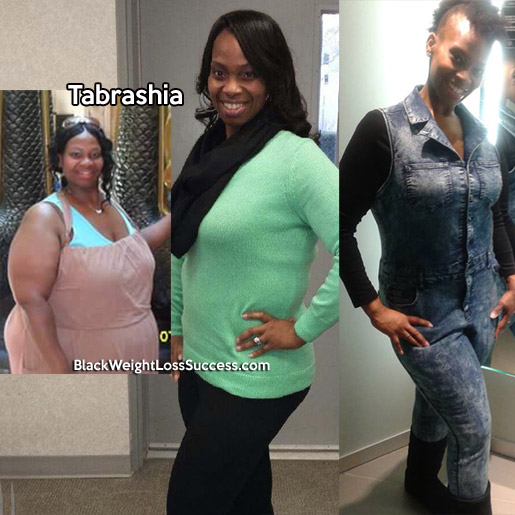 Hello, My name is Tabrashia. I began my weight loss journey on Dec, 12, 2011. After several attempts of trying the old fashion way of dieting, I decided to have Gastric Bypass weight loss surgery. My health and my children where my deciding factors.  Surprisingly, I did not have diabetes and my cholesterol was not bad either. I just wanted to be able to enjoy life with my children and new husband. After my husband and I did our own research and attended the seminar we decided this was the best choice. I needed surgery however, the doctors refused to do it until I had a substantial amount of weight loss before the procedure. At the time of my surgery I weighed 385 pounds. I was also having issues with both of my knees.
Some would like to think that weight loss surgery is the easy way out. I beg to differ. Having this surgery was one of the best decisions I have made, but it was also very challenging. It was definitely a lifestyle change. I had to get use to eating small amounts of food as well as drinking sips of water. In the beginning, I stopped eating sugars and carbonated drinks. Now I pretty much eat what I want, just in moderation.
Working out has become part of my life. I try to get some type of exercise in everyday, even if it is just a brisk walk on my lunch break at work. When I do go to the gym, I work for one hour on the elliptical and then ride the bike for about 30 minutes. After my cardio, I get some weights in as well to tone. In the summer time I love water aerobics.
It has taken me 3 1/2 years to reach the golden weight of 187 pounds. Since having my gastric bypass I have had two total knee replacement surgeries which gave me an extra inch in height. Now I am 5'6 3/4″ tall and I have loss a total 198 pounds. I am living and loving life to fullest. The advice I would give to others is to stay focused and do what is best for you. If your thinking of having surgery, know that you will have a lot of negativity coming your way but ultimately, it is your choice.
Instagram: @Charliesangel36