Update March 2019: We want to send out a huge shout out to Teresa. We have followed her journey since 2014 and she is a true inspiration. Check out her journey.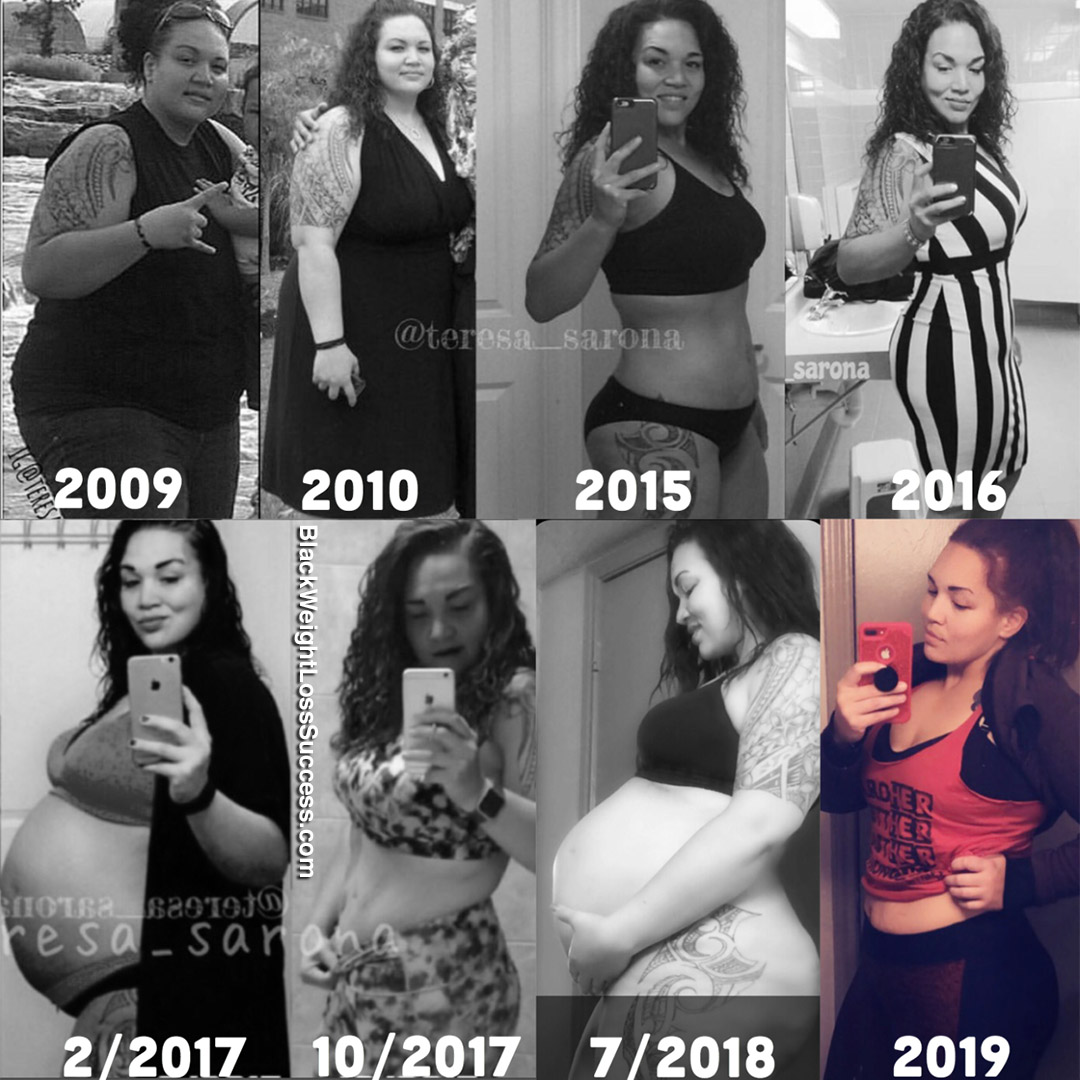 Highest weight: 380 pounds
Lowest weight: 216 pounds
Current weight: 247 pounds (after 2 pregnancies)
I went through 2 pregnancies back to back and struggled with postpartum depression after my last pregnancy in July 2018… so much that I made the decision to have a tubal ligation.
After about 4 months of depression medication, I decided to stop the meds and turn back to what I knew before as an outlet: Focusing on my health and fitness. Here is a before and after from the beginning of my journey to now. These photos reflect the changes my body has endured. This time around it was more challenging mentally and emotionally, but I overcame the depression and I'm finally headed in the right direction. 2019 is my year! the best is yet to come! Instagram: @teresa_sarona
---
Weight Loss Success Story of the Day: Teresa lost 153 pounds. Her road to greater wellness and weight loss has been full of ups and downs in the form of chronic illness, injury and unforeseen medical issues. Weight loss surgery was also a part of her journey, but it was by no means a magic, easy solution.  This woman truly worked hard.  Here is what she shared with us…
This is ME. MY story, MY journey. In 2009, at the young age of 25, I suffered from obstructive sleep apnea, high cholesterol, was borderline diabetic, with a history of DVT's. My son was two years old at the time, and it was very tough to keep up with the activeness of a toddler. Winded and out of breath regularly, I knew I had to do something about my health if I wanted to live to see my son grow up. August of 2009, I started seeing a weight management doctor and nutritionist. During a 6-month time frame of follow-up appointments and hospital visits; I lost approximately 15-20lbs. Due to the severity of my health issues at such a young age, my doctor recommended bariatric surgery. I was back and forth with the decision due to many high risks surgery comes with, but at the same time, my overall poor health was a risk alone. A month later, after much research, I decided to have surgery.
On April 19, 2010, I had a Rou En-y Gastric Bypass. I can remember waking up from anesthesia, being told I had to get up and go for a walk. Having worked in the medical field for the previous five years, I knew the importance of ambulation, so I pushed myself as much as possible. I remember the pain like it was yesterday, but that pain I felt paled in comparison to the pain of being overweight my whole life. I was hospitalized for a total of 2 days after the procedure. From that moment on, I knew my life would drastically change. I strictly followed the doctors' orders and progressed slowly from drinking clear liquids, to soft foods, to solid foods. I worked my way up to completing 45 minutes on the treadmill and 45 minutes on the elliptical every day for five times a week. A year or so, after surgery, I lost approximately 100 lbs. I then hit a plateau on the scale for several months and began to become discouraged. I was eating minimal amounts, working out regularly and my weight was at a stand-still. Who wouldn't be discouraged?
In May of 2012, I started CrossFit. Being one of the most, un-athletic persons EVER, I knew I was in for a challenge. My trainer instilled in me, that failure is not an option, just a step. Fall down seven times, get up eight. I FINALLY started to see changes on the scale. My body was transforming, and muscles were forming, which made me that happiest person ever. I was learning different types of Olympic lifts, HIIT- High Intense Interval Training. Basically, I was doing workouts that were totally out of my norm. I also started clean eating and learning how to read nutrition labels. Over three months, I went to CrossFit 6 days a week, and never once repeated the same workout. I thought my trainer was out to get me, but the results were motivation enough to keep me going.
December of 2012, I made the mistake of trying to beat another guy's time during our workout. So much, that I lost my form and pulled out my back during 45lb kettlebell swings. Within a months' time, I was told I had a disc protrusion of 5mm in my L3-S1, that I had scoliosis with three different curves in my spine and that I will most likely never be able to lift again. Telling someone who fell in love with fitness, she couldn't return to the gym… this was very disheartening. Did I let that get me down? No! I was going to prove these doctors wrong. So, I started active rehab with my trainer. Whenever I felt pain from a particular movement, I would ease up. I kept at it and had confidence that I would be back before no time.
May 2013, only five months after injuring my back; I was rushed to the OR for emergency surgery. I thought my stomach discomfort had something to do with my back injury; but my intestines were actually twisted up, causing a hiatal hernia. After surgery, my doctors said I was lucky not to have become septic. Again, my world seemed turned upside down. Did I let that hold me back? No! Thankful & blessed to be alive, I was going to do whatever I could to recover. As I was recovering from surgery, my back pain increased. The pain was so severe that I started seeing a chiropractor six days a week for 2 hours a day.
I now had an 8mm disc protrusion with injuries to my L3-S1, and sciatica nerve pain was radiating down my left leg. I had three spinal epidural injections that didn't work and was told again that my only option was surgery. Seeing what my mom had gone thru with spine surgeries in the past, I respectfully declined. I met with one of my other doctors to go over my options and was referred to a doctor who had a 100% pain relief rate on Prolozone Therapy. I immediately scheduled an appointment. Two sessions and $300 later, my back had never felt better.
By November of 2013, I was back in the gym lifting and working hard to get off the 20-30lbs I gained that past year.  Now let's fast forward ten months later to TODAY. Not only did I lose the weight gained but in the last four years I've lost a total of 153 pounds (starting weight was 380 pounds).
Currently, I am a member at The Pit Elevated in Orem, UT with access to some of the BEST trainers ever. I do CrossPit, which is a mixture of CrossFit & Martial Arts. I've also added running to my list of things to do and have started running longer distances. I placed 1st in my age group for a 5K in May,  3rd in my age group for a 10K in May, and completed my 1st ever Half Marathon June 2014. I finally feel I have control of my life. I am an example of what CAN be done. Some may say the surgical route is an easy out, but I can assure you; I worked hard and busted my butt, overcoming every obstacle thrown at me, to get to where I am today. My mission is to be a voice on how it can be done- emotionally, mentally and physically with all my heart. I always tell people, "You ARE powerful beyond measure! Use that power to make yourself better… stronger… and be an example to those around you!" My journey continues living an active, healthy lifestyle. I, aspire to inspire.
Instagram: @teresa_sarona
---
Update June 2016 – We've been following Teresa's story for almost 2 years and she's lost 164 pounds.
---
Feb 2016 –  Teresa wrote in to share a recent victory. "Non-scale victory: For the first time in about 20 years, I purchased my first size medium dress. Feeling pretty proud! Thank you for your daily inspiration."
---
Update June 2015:
"We are products of our past, but we don't have to be prisoners of it. I have stretch marks, cellulite, a flabby tummy from motherhood/weight loss and a saggy belly button. These marks prove I was blessed enough to carry my son for 9 months. This flab shows how hard I worked to lose 159 lbs (380 pounds to 221 pounds – height: 5'11"). I want to remind my beautiful fit sisters that we must love our bodies now while working towards the body we want."