Transformation of the Day: Ziyanda lost 71 pounds.  This South African mom of 3 got tired of using her kids as an excuse for not having lost the pounds. She put her health at the top of her priorities list, asked God for "divine courage" and took action to figure out what worked for her. Check out how she released the weight.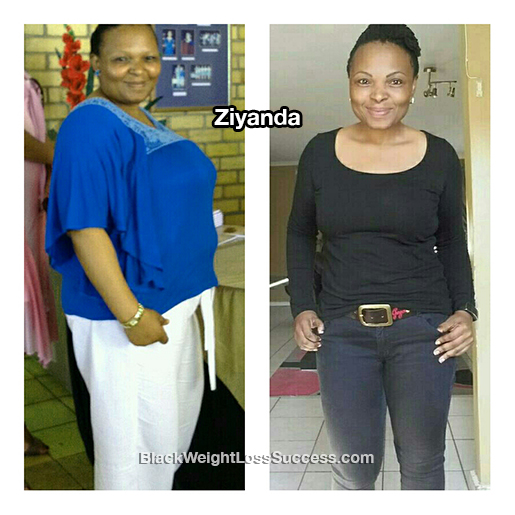 What was your motivation?
Me! I do not associate myself with failure. I also got tired of using the fact that I have 3 kids as an excuse. I knew if I didn't do something I would not get to see my kids grow up.
What inspired you when you wanted to give up?
I took it seriously and made it a project. It was my top prayer item. I knew I wouldn't be able to do it alone, so I went to my source of strength, which is God, and I specifically asked for divine courage.
How did you change your eating habits?
I knew that my relationship with food had to change. I tried all sorts of diets, and some made me sick. At some point, I tried a 7 day Japanese diet. I lost weight right but lost my memory too. I wasn't eating enough and was dizzy all the time. I am always on top of my game, especially when it comes to my work. However, with the diet I was forgetting important meetings, wasn't returning calls and didn't meet deadlines because everything was just slipping my mind. I decided to look for a more sustainable way of eating. I started with Herbalife and went on with it for a couple of months. What really turned things around for me was Banting (a form of low carb dieting). I am still Banting, but without a lot of fats. I mainly eat vegetables and protein. I make it a point I drink at least 2 litres of water a day. I cut sugar out completely and I don't eat any carbs.
What did your workout routines look like?
When I started, I worked out 2 times a day before work and after work, 4-5 times a week. I also took spinning and stepping classes. The treadmill is my best friend. When I started losing the weight, I slowed down and went to the gym once a day and 3 times a week. I took on swimming classes 3 times a week. After losing about 25 kgs (55 lbs), I hit the plateau. For 3 months, I wasn't gaining or losing weight. I started jogging every morning before going to work and each jog got me closer and closer to my goal.
Starting weight/Current weight
My starting weight was 99 kgs (218 pounds) and now I am weighing 67 kgs (147 pounds). My height is 1.57 meters (5'1″).
When did you start your journey?
I started my journey in December 2012. My transformation took 3 years, 5 months and I am still going.
What advice do you have for others who want to lose weight?
Set realistic goals for yourself. I got to a point where I was happy with losing 1 kg a month (2.2 lbs). Make it a lifestyle and transform your eating habits completely. Diversify your workout. Try out new things like swimming, hiking etc. I added tag rugby and mixed martial arts to my list of activities. The point is you are working on your body, so you might as well try out new things. Most importantly, associate yourself with people who are like-minded. The last thing you need is people telling you to slow down or you are overdoing it.