Transformation of the Day: Cre lost 85 pounds. After the birth of her child, she found herself overeating, being lazy and dealing with a lot of stress and emotions. When a cousin uploaded an unflattering photo of her to social media, that was her wakeup call. She could no longer stand being tired all the time and limited by her weight gain. It was time for a change. Here is how she took action…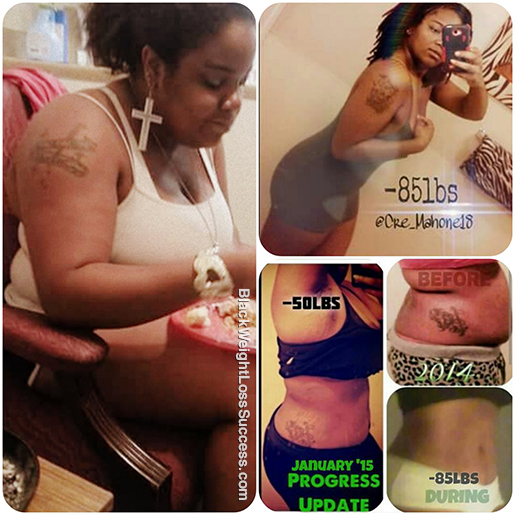 My name is Cre. Before gaining any weight my average weight was around 140-150 pounds max at a height of 5'4″. I had a child, began to overeat and became extremely lazy. Not to mention all of the emotions and stress I was going through at the time. I ended up at a total of 260 pounds! My wake up call was when I saw a picture (above) of myself that my cousin uploaded on social media where I had food in my hand! It got to the point where I was always feeling tired and I was unable to do certain things without stopping and that was the last straw.
After that, I tried everything to lose the weight. From skipping meals to even trying to eat nothing but water and bread (or crackers), but nothing worked!  My good friend finally introduced me to Herbalife Nutrition. I also decided to get more active and eat better. I completely cut out fried foods and pork. Pork is highly limited with my diet and has been since 2013. The digestive system of the pig alone should convince others to do the same. I avoid white bread, white rice, fast food meals, pasta, salty foods and most sweets and candy. Of course, the urge is there to eat certain things, but I rarely let that interfere with my routine. I try to be reasonable with myself and allow at least one cheat meal every other week but only if the cravings exist.
When I first started my journey, I did nothing but cardio. I practically lived on the treadmill and cycling bike at least 1-2hours a day. Once I lost most of my weight, I noticed that the weight started coming off in the wrong areas, so I added in weight lifting and strength training. Today, I balance out cardio and weight lifting to tone the body and build muscle. I try to train a different area of the body each day with light reps for the minor areas. I run 15-30 minutes before and after my workouts to get an even balance with weight lifting on full body days. Leg days are my absolute favorite days and I'm incorporating in weighted routines to continue to strengthen my core and slim the waist line. Instagram is the best place ever to get new exercise routines!
I ended up losing a total of 85 pounds within eight months to a year with the changes I made. I'm currently rocking 175 lbs and most don't believe I weigh that much.
I have completely kept the weight off since July of 2015. I now eat 5-6 times a day and workout 5-6 times a week. I love meal prepping and I've become more active by doing so. I have a shake for breakfast and eat a healthy serving of fruit, yogurt, granola, or vegetable packs as my following snack. The top foods that I eat for lunch and dinner preps are ground turkey, baked chicken, broccoli, black beans and grains and practically any vegetable steam pack I can find. Mrs. Dash is the perfect seasoning for flavor. I recently added brown rice bowls to my meals to try something a bit different. I try to eat every 2-3 hours to keep my energy high and mind focused. I drink as much water as I can through out the day and also add in teas and fruit & aloe detoxes for a regular digestive system.
I wouldn't change this experience for anything. I love motivating others and telling them the good things about building healthier habits and how I started at my rock bottom. I share my story for other women who just can't seem to find a solution that best fits them and their body types. I am not done yet. I have so much more toning to go and I am ready to take on 2016!  If I can do it, anyone can!
The main thing I try to tell others who want to lose weight is that you really have to want it for yourself. We all have to start somewhere but we all have to start. We have to want a change for ourselves and always push to be nothing but great. It's in us to be great.
Instagram: @Cre_Mahone18