Weight Loss Story of the Day: Proud mom Eddra lost 50 pounds. She says that she started a lifestyle change and not a diet to lose the weight.  Here is what she shared about how she did it: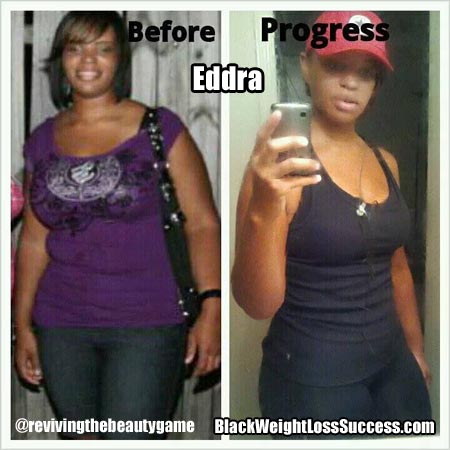 "My name is Eddra Davis. I am 29 years old and married with three boys, ages 8, 7, and 2 years old. My family is what motivated me to lose weight. I am only getting older, not younger and if I continued to go down the path I was going, I may not have been healthy enough to do the things I want to do with my children. Also, the fact that diabetes and high blood pressure run in my family motivated me to get healthy too. I want to give myself a fighting chance not to go through health issues like that and to teach my children how avoid them also. Who doesn't want to look good and feel good,not only for yourself but for your spouse.
I looked at my eating habits and started a lifestyle change not a diet. I simply made better choices. I would choose yogurt instead of ice cream, eat turkey, fish, or chicken instead of beef. I had water with lemon instead of soda or juice. It is the little things that we choose to eat that makes a difference. If we would stop and think before we eat that cake and ask "What can I choose that I like that would be a healthier choice with less fat, calories, and sugar that was still satisfy my craving?".  I exercised at the gym and did workout dvds at home, like Black Girls Workout Too
.
My starting weight was 245 pounds current weight is 195 pounds. No matter how long it takes keep going and never give up. It dosen't matter if it takes you longer as long as you get there everyone journey is different. Take at least 20-30 minutes a day to be active. Start out slow if you have to, as long as you start you will be surprised how much that little time will change you body, along with your water intake and changes in eating habits. Get people around you that motivate you even if you don't know them. Make friends on Facebook, Instagram, or Twitter because you will have your hard times. If you fall off its ok forgive yourself and start again. Follow me on instagram: revivingthebeautygame"