Eyezs lost 10 pounds and 3 dress sizes. In 6 months, she's gone from a size 18 to a size 12. This petite mom was tired of yo-yo dieting and not living up to her full potential. She got the support she needed from a personal trainer and a nutritionist. Check out how she took action to create a healthier lifestyle.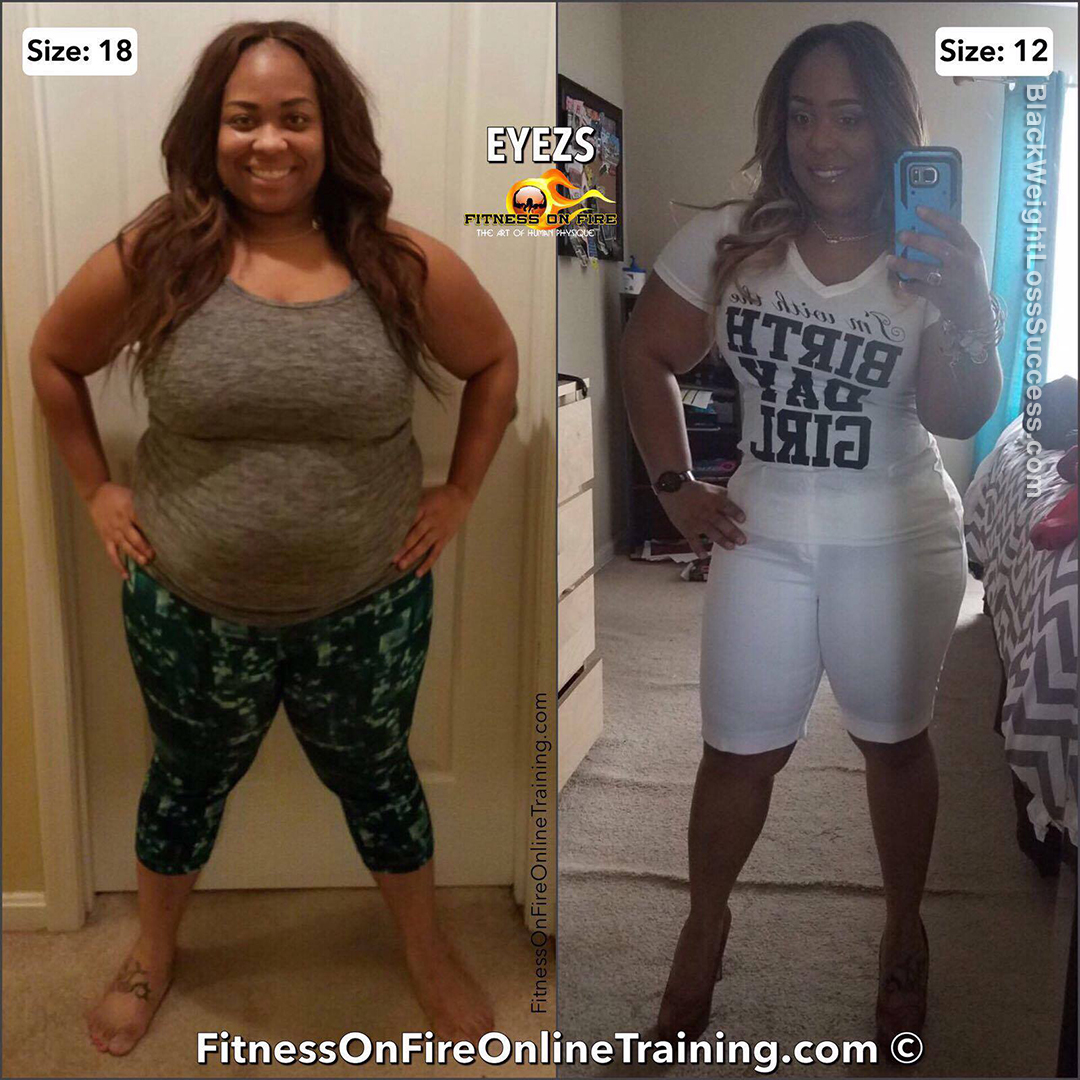 Age: 39
Height: 5 feet
Starting Dress Size: 18
Current Dress Size: 12
Representing: Greenbelt, MD
My motivation was wanting to be the best version of me I could possibly be. I knew I was not operating at my full potential. I got tired of the yo-yo diets and I wanted to for once and for all tackle this weight issue and win. I had completed one of the most challenging task of my life which was earning my degree and doing that just showed me I had what it took to lose the weight for once and for all.
What inspired me were my boys and wanting to live a long healthy exciting life. I always tell them to go after what you want and to always be the best you can be. I try my best to live by what I tell them. I want to be around to be able to take care of my youngest son, who has special needs, and be around to see my twins accomplish all of their goals. My children have always been a big part of what inspired me to go after my dreams, never give up and make what seems like the impossible possible.
The Fitness on Fire Online Training Program works for me because it provides me with round the clock support from both a nutritionist and a trainer. There are no tricks or quick fixes. I am always on the go, but anytime I need their help with making a decisions they are right there. There are very little restrictions, but the accountability and support is amazing. I sometimes throw certain stuff out there to make sure Nutritionist Guru is paying attention to me and every time I do she responds IMMEDIATELY. Every time I don't feel like going to the gym, she sends me a message saying "Knock out those gym visits my dear.". It happens on the days I was thinking about skipping the gym or when I am actually there. I think she has a camera on me.
I changed my eating habits by following instructions from Nutritionist Guru. I communicated whatever I ate to her and also used My Fitness Pal. The biggest change for me was accountability. I have to be completely honest; eating for me is the most difficult part. I love food, I am an emotional eater and I defiantly don't eat "clean" 100% of the time, but I am working on it.
I eliminated fast food, red meat, pasta (Omg, this was extremely difficult), pork, white bread and brown skin potatos. I also cut sodas out completely. I started adding more veggies, fruit and ate lamb to replace red meat.
My workout consists of resistance training. I followed the workout regimen given to me by my online trainer, King of the Fire, which was best suited to help me achieve my results. I did 90 mins of resistance training. I was doing it 4-5 times a week. Now I go 5-6 days a week.
My starting weight was 205 pounds at 5 feet tall. I refuse to step on the scale, but the last time was a few weeks and I weighed 195 pounds. I had only lost 10. But, those inches!
My transformation isn't over yet, but it has taken me 6 months to get to where I am now. I still have a ways to go. I started in Nov 2016. I personally didn't start seeing results until about 4 ½ – 5 months into the program. The first 3-4 months were hard. I wasn't seeing the results and I was busting my butt in the gym. I would express how I felt to NutritionistGuru and Fire and they would be right there encouraging me. I can't stop and won't stop. I am in it to win it and it doesn't matter how long it takes.
Advice for people who want to lose weight: Listen, first do it for you. Second, make sure you have a strong support system. I am blessed to have a circle of friends that love and encourage me to keep pushing. I also have the Fitness on Fire team to show me tough love when needed. Be ready to fight. Be prepared for the good days and the bad days. When you aren't feeling it and become discouraged, remember why you started and STAY OFF THE FREAKING SCALE. The scale is the devil. I have lost ONLY 10 lbs, but I've dropped at least 3 dress sizes and lost a substantial amount of inches. I don't ever need to get on the scale again!
Instagram: @Luvmy3bozs