Transformation of the Day: Diveonne (aka Samanthia) lost 29.6 pounds, going from a size 12 to a size 6. Her inspiration was her Father, who lost his life in 2016 to a tragic train accident. He lost about 50 pounds by going to the local YMCA and changing his diet before he passed. She got help from an online traning program and committed to transforming her eating habits and working out. Check out her awesome story. (…and a video below)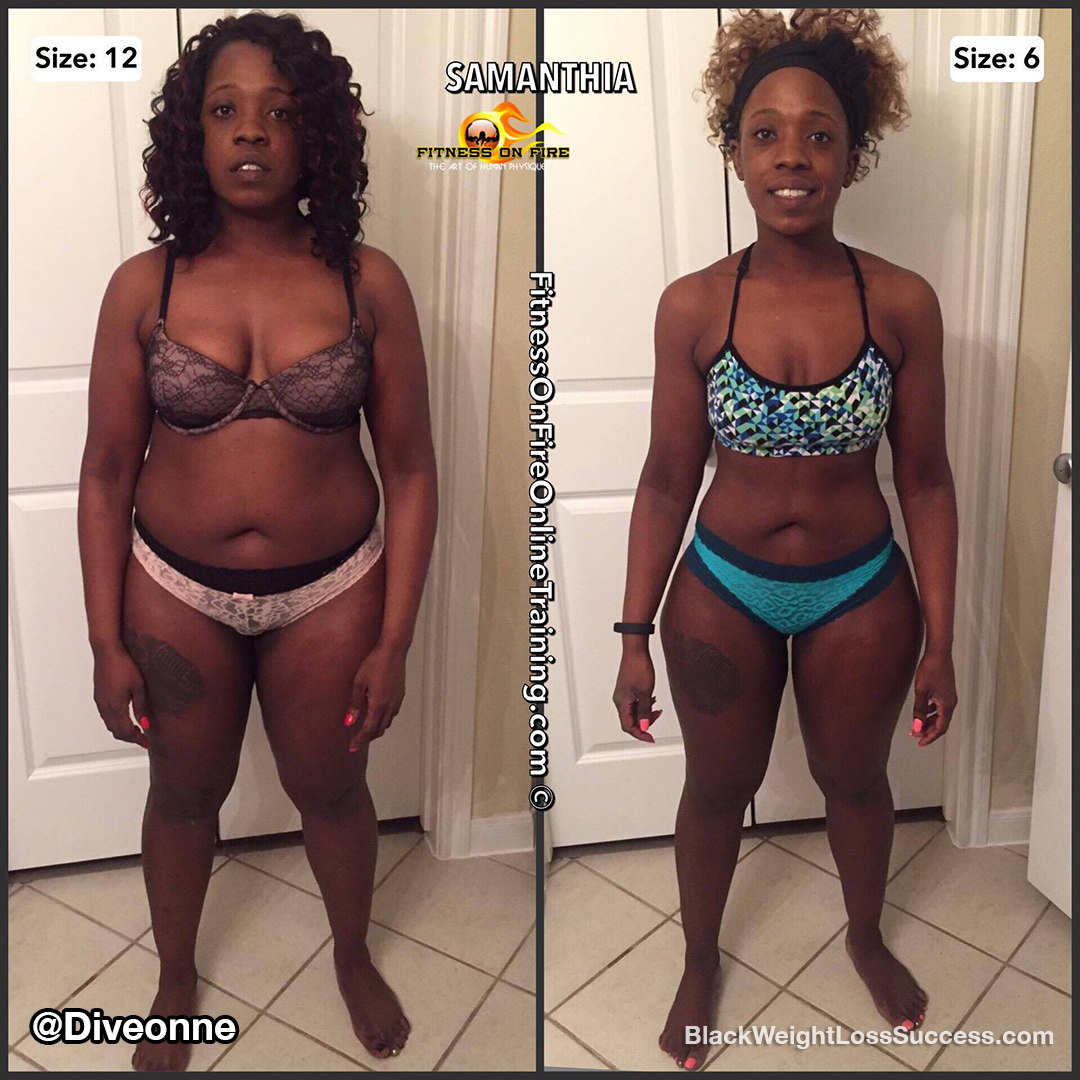 Age: 31
Height: 5'2″
Starting weight: 170.6 pounds
Current Weight: 141 pounds
Weight Lost: 29.6 pounds
Starting Dress Size: 12
Current Dress Size: 6
Representing: Hamilton, OH
What was your motivation?
My motivation was to lose the pounds that I had gained since losing weight in early 2016. I originally lost about 40 pounds in the time frame, around Nov 2015 to Apr 2017. Shortly after my father's passing, I gained about 20 of those pounds back. At that time my lowest weight was around 156 pounds, and I was very proud of that because I had never reached that level in my adult life.
What inspired you to start your weight loss journey?
My inspiration for my journey was my Dad, who recently lost his life in Jul 2016 to a tragic train accident. He had not too long ago lost about 50 pounds on his own regularly going to the local YMCA and changing his diet. Watching his progress motivated me to feel that it was something I could definitely do. One of the last pictures we have together is of me, him and my Mom at the gym. He was proud of me for what I had done so far and I couldn't let him down.
How did you change your eating habits?
I started to eat more by eating on a schedule of every 2 hours, about 5-6 times a day. When I started, I would set snack, dinner and lunch alarms to get through the day. Now, I am more aware of timing and don't need them. Before I started this journey, I would rarely eat breakfast and skipped meals most times, because of a busy schedule.
Sometimes I team meal prep with my fiancé so that I am ready to grab and go. It reduces the urge to stray from my plan. If I do go to a restaurant, I always make sure to customize my order to reduce calories. I also ask them cut my portion in half and box it immediately, so I am not tempted to clear the plate. For example, I would order a grilled chicken dish, but have the sauce kept on the side or a side of broccoli. I'd also request it not be cooked in butter. At home, butter is no longer used to cook and it is olive oil or olive oil cooking spray instead (I Can't Believe it's Not Butter spray is a good replacement). I use Pinterest a lot to find recipes or replacements for things that I used to eat that weren't necessarily the best in terms of nutritional value.
I stopped eating beef, pork, fast food, fried foods, ice cream, pasta, and brown skin potatoes. I also stopped drinking juice and alcoholic beverages, while increasing my water intake to 80 – 96 ounces a day. I started eating more lean meats, adding lamb into the mix and adding a fiber to meals at least twice a day. I am limited when it comes to lean meats, because I am allergic to seafood. So, I mostly stick to boneless, skinless chicken breasts, ground turkey and turkey bacon. I have also tried veal and duck. As a pasta replacement, I have been eating spiralized zucchini noodles and spaghetti squash. I often use whole wheat tortillas in replacement of bread and whole grain English muffins in place of biscuits. I cut out the cereals that I used to love (that weren't doing me any good), like Frosted Flakes, Fruity Pebbles, Captain Crunch, etc. Now, I eat cereals with more protein and fiber, such as Honey Nut Cheerios Medley Crunch, Cheerios Protein, Frosted Mini Wheats, and Fiber One flakes.
What did your workouts consist of?
My workout mainly consisted of the resistance training and HIIT training regimen given to me by my online trainer "King of the Fire". First, starting at 1 hour and increasing to 1 hour and 30 minutes. I am currently working out 6 days a week. I also incorporate Zumba into my routine, as I am an instructor.
How long did your transformation take?
My transformation took about 2 months or so. I started seeing results about a month in and that let me know I was on the right track.
What advice do you have for others who want to lose weight?
My advice is to set realistic goals for both nutrition and workouts. Write it down or put it somewhere where it can be visualized and become real. Monitor your journey regularly with progress pictures, celebrate the small victories and stay consistent. Don't let the scale dictate your life! No matter what the obstacles or setbacks, continue on and move forward. There is no one who can stop you but yourself. Once you realize that you are the only competition, your one and only main goal will be to push past your fears and take yourself to the highest level you can go. We often get lost in small things, like thinking about all the "what ifs" and "what could go wrong" in a situation vs trusting ourselves and the process. Don't compare yourself to others, because we are all different people with different capabilities. Make your journey personal and remember it is for YOU! Be the best version of yourself and not a second rate version of someone else. One Workout at a Time – One Meal at a Time – One Day at a Time (that's my mantra)
Why did the "Fitness on Fire" Online Training Program work for you vs other programs you've tried before?
The Fitness on Fire Program worked for me because of the direct guidance I'm receiving on a regular basis. I was given a full plan that was laid out for me and all I had to do is follow it. I am a self motivated, achievement type of individual. When something is mapped out for me and I have specific instructions, I get it done above and beyond. The Dream Team is what I will forever call the Nutritionist Guru and Fire because all the tools are provided for you. All it takes is to put it into action and watch the results!
Instagram: @Diveonne
Facebook: DashWithDiveonne

Trainer and Nutritionist: www.fitnessonfireonlinetraining.com