Transformation of the Day: Jamie lost 32 pounds. At the start of her journey, two of her loved ones faced significant medical challenges and she had every reason to quit, but she refused to give up. She worked with a nutrition coach, worked out consistently, and was accountable for her goals.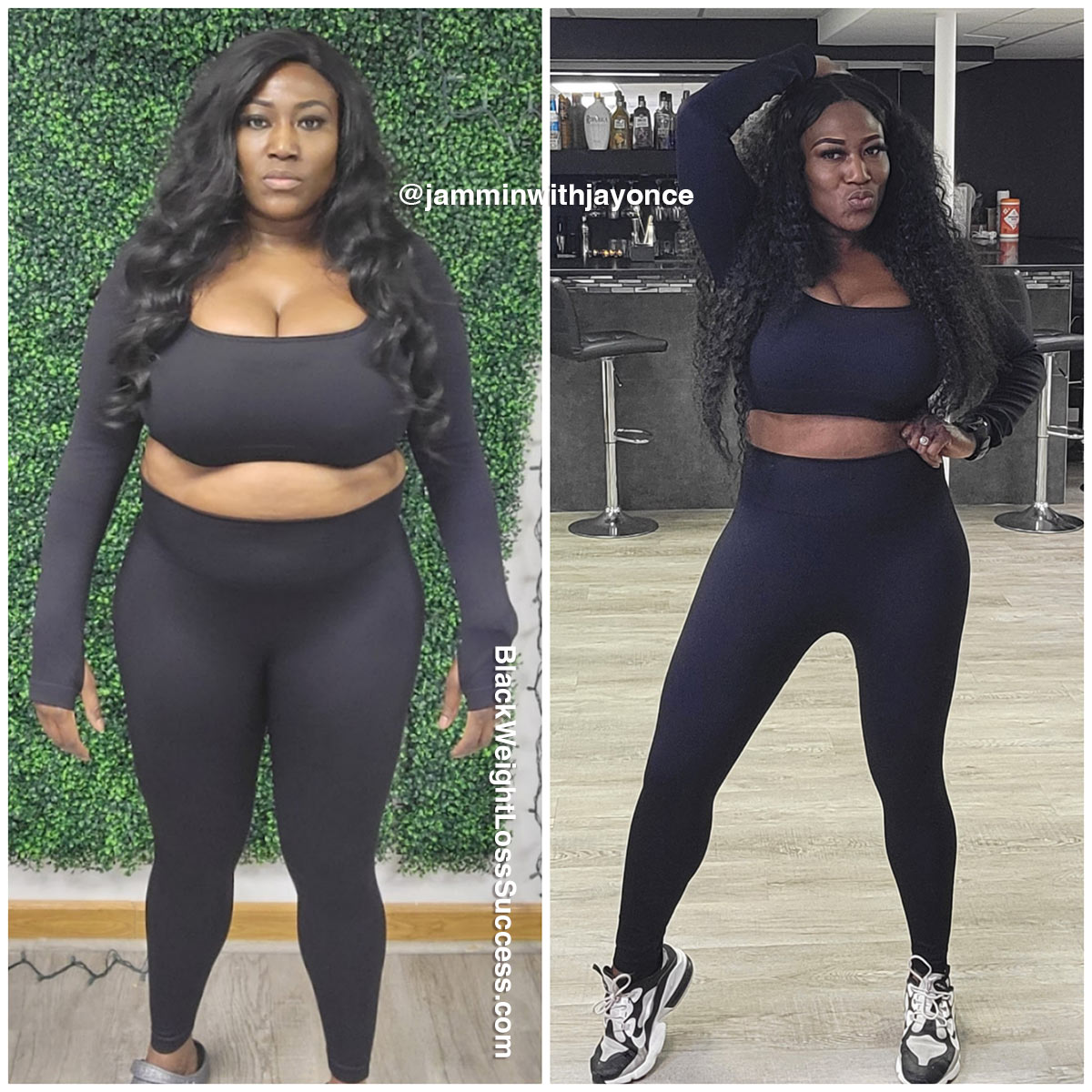 Social Media:
Facebook: Jamie Lynn
TikTok: jamminwithjayonce
Instagram: @jamminwithjayonce
What was your motivation? What inspired you to keep going, even when you wanted to give up? 
First, I would say you MUST have a made-up mind! After seeing the scale read 207 pounds, I had reached my breaking point. During phase 1 of the Terry Starks program, my father had just gotten out of 6-week medically induced coma!!! Then, on the 4th of July, my husband tore his patellar tendon and had to have surgery within days. His injury has a 6 to 9-month recovery process. 
I had EVERY REASON to quit, but that made me fight even harder for it. My life during this time was filled with many things I couldn't control. My meal plan and consistent workouts were the only things I felt I could actually control. My workouts became more than physical but therapeutic. Terry also sent daily emails that kept me motivated and helped to hold me accountable.
How did you change your eating habits?
I've always enjoyed working out, but as we know, that's only 20%. So I decided to contact Terry Starks, nutritional coach, for help and guidance on food. I have tried everything from keto, intermittent fasting, calorie counting, etc. The results were not there for me and my body type. 
The most significant light bulb moment for me was when Terry stated, "You are not eating enough." I was shocked to learn I needed to eat five meals daily to increase my metabolism. I set up alarm reminders on my phone for each meal. 
Another major lesson for me was that I stopped eating dairy. I didn't think I was a big dairy person, BUT this has been a game changer for me and my body type. Last but not least, and probably the HARDEST thing, was to no salt. I'm not talking about table salt but looking at labels to find food/seasonings with no salt. I never realized how salt is in EVERYTHING. Thankful that many products are not creating no-salt versions. My most exciting find is Ketchup with no salt added.
What is your workout routine?
Mainly, I do cardio, but last month, I started incorporating more light weights. I work out every morning during the week (5 days) at 6 am and use YouTube at-home workout videos. My favorites are Grow with Jo and Juice and Toya.
What was your starting weight? What is your current weight?
Starting weight: 207 pounds
Current weight: 175 pounds
What is your height?
I'm 5'7″.
When did you start your journey? How long did your transformation take?
I started in June 2023, while on a family vacation to the largest indoor waterpark, where I was forced to wear swimming suits for most of the trip. I decided to reach out Terry, whom I was following on Facebook, to begin my transformation journey. I had seen him post several weight loss transformations, but in June I got enough nerve to reach out and see what his program was all about. I had never worked with a nutritionist before, so was curious to learn more about the process.
Is weight loss surgery part of your journey? 
No
What is the biggest lesson you've learned so far? 
To lose weight, you have to eat more. More of the right things, of course, but don't starve yourself or try and do one big meal earlier in the day.
What advice do you have for women who want to lose weight? 
Just start and be consistent. My weight loss journey taught me about faith. Being able to see past right now to where you want to be. A lot of times, we don't think things are achievable because we don't see them. Keep going and pushing in spite of because you got this.  
WATER! Even if you think you drink a lot of water, drink MORE!! I truly try to drink a gallon of water a day. 
Sometimes, start with one change. Then, in a couple of weeks, add on another goal so you can have a sense of accomplishment. This is how I motivated myself.