Transformation of the Day: Brenda lost 60 pounds by switching up her eating habits and walking twice a day. She worked with a weight loss specialist who gave her the fitness and nutrition guidance she needed.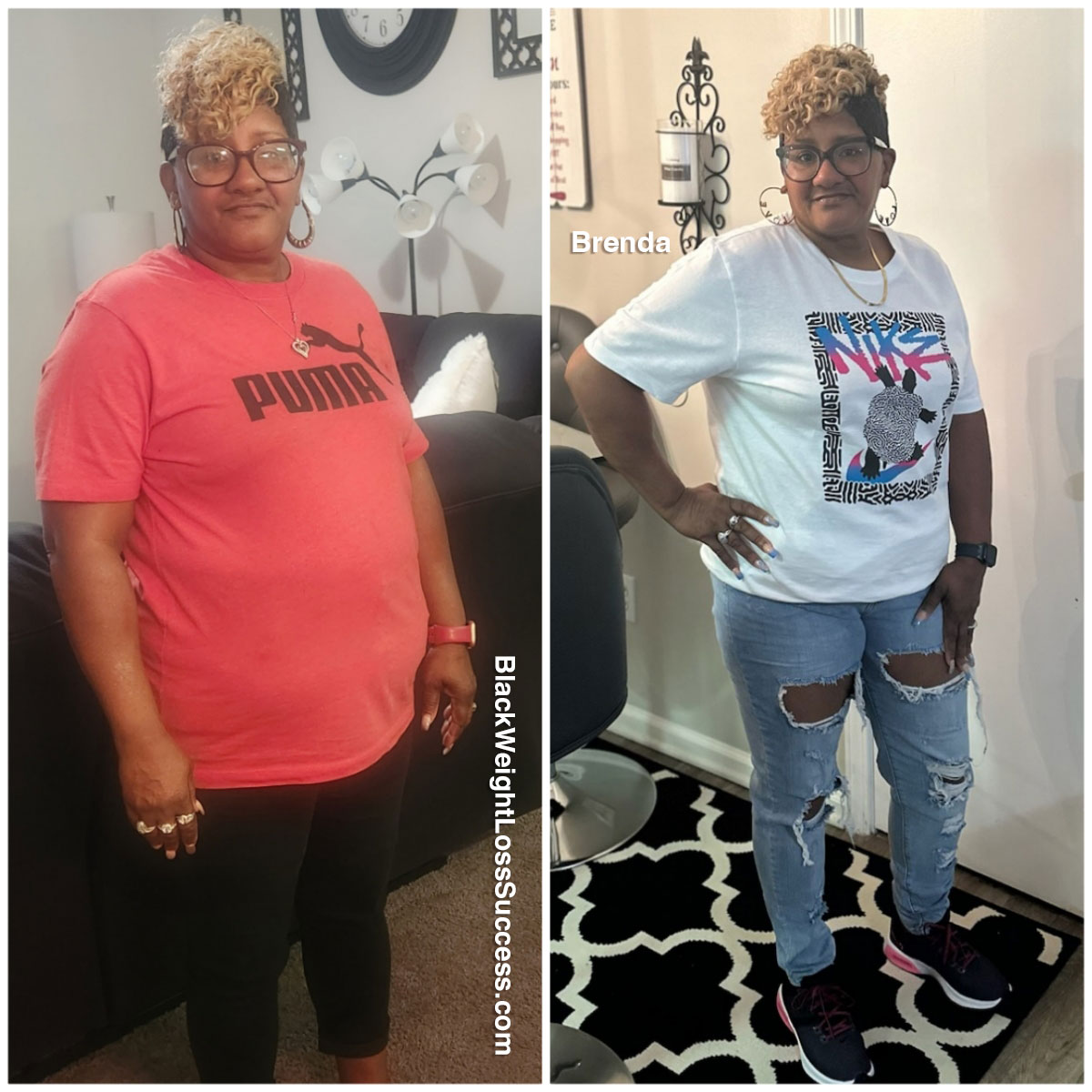 Social Media:
Facebook: Brenda Dixon
What was your motivation?
My motivation was to better myself through my health. I decided, Hey, I'm gonna lose this weight!" So I got with a good friend of mine, and I told him I was really miserable with all the weight. He was like, "Ok let me connect you to a nutritionist. His name is Terry Starks."
I tell you, once I got connected it was a real challenge. Once Terry told me how his program worked I was like, "Wow can I really do this." There were certain foods that I really liked to eat on a daily basis but I was determined, I focused my mind, and said, Yes! Yes, I can do this."
What inspired you to keep going, even during the touch times? What inspired me to keep moving was that I had a good support team; my husband, my family, and my best friend. They exercised with me and helped me focus.
How did you change your eating habits?
Changing my eating habits was a challenge for me. I was worried that I wouldn't be able to eat meals without salt and seasoning.
I stopped eating canned vegetables, starchy foods, sodas, fried foods, and take-out orders. I'm now eating fresh vegetables, baked white fish (such as cod fish and tilapia), and ground turkey.
I'm currently on Terry Starks weight loss program, and I feel fabulous I wouldn't change Terry's program for nothing. It's so worth it, and I feel great when I get off work. I don't feel as tired as I did before I lost weight.
What is your workout routine?
I work out twice a day for 40 minutes. I walk before I go to work in the morning and every evening for 40 minutes.
What was your starting weight? What is your current weight?
My starting weight was 219 pounds. My current weight is 159 pounds and it's nice to fit in clothes that are comfortable.
What is your height?
My height is 5'4″.
When do you begin your journey?
I started my journey in August 2023 and I don't regret it. I'm loving my new look. I lost 60 pounds in 10 weeks thanks to Terry Starks.
Is weight loss surgery part of your journey?
No pills or surgery needed for Terry's program. Trust me, once you get motivated you will never want to be the old you again.
What is the biggest lesson you've learned so far?
The biggest lesson is to never (even for a minute, ladies) let yourself think that you can't lose weight. I'm a witness and I am so proud of myself.
What advice would you like to share with women who want to lose weight?
Ladies, I recommend Terry Starks for your health and for guidance on living a better, healthier lifestyle. You will not be disappointed. Just follow his instructions and you will see the difference each week.

Disclaimer: Reference or link to any specific product, diet plan, exercise plan or service mentioned in the weight loss stories we share is for the information of our readers, and does not constitute an endorsement or recommendation by Black Women Losing Weight.