Transformation of the Day: Rachel lost 20 pounds and several dress sizes. She decided to restart her journey because her clothes didn't fit anymore. Over the course of 4 and a half months, she used an online training program to change her eating and exercise habits. She learned that making yourself a priority is a must.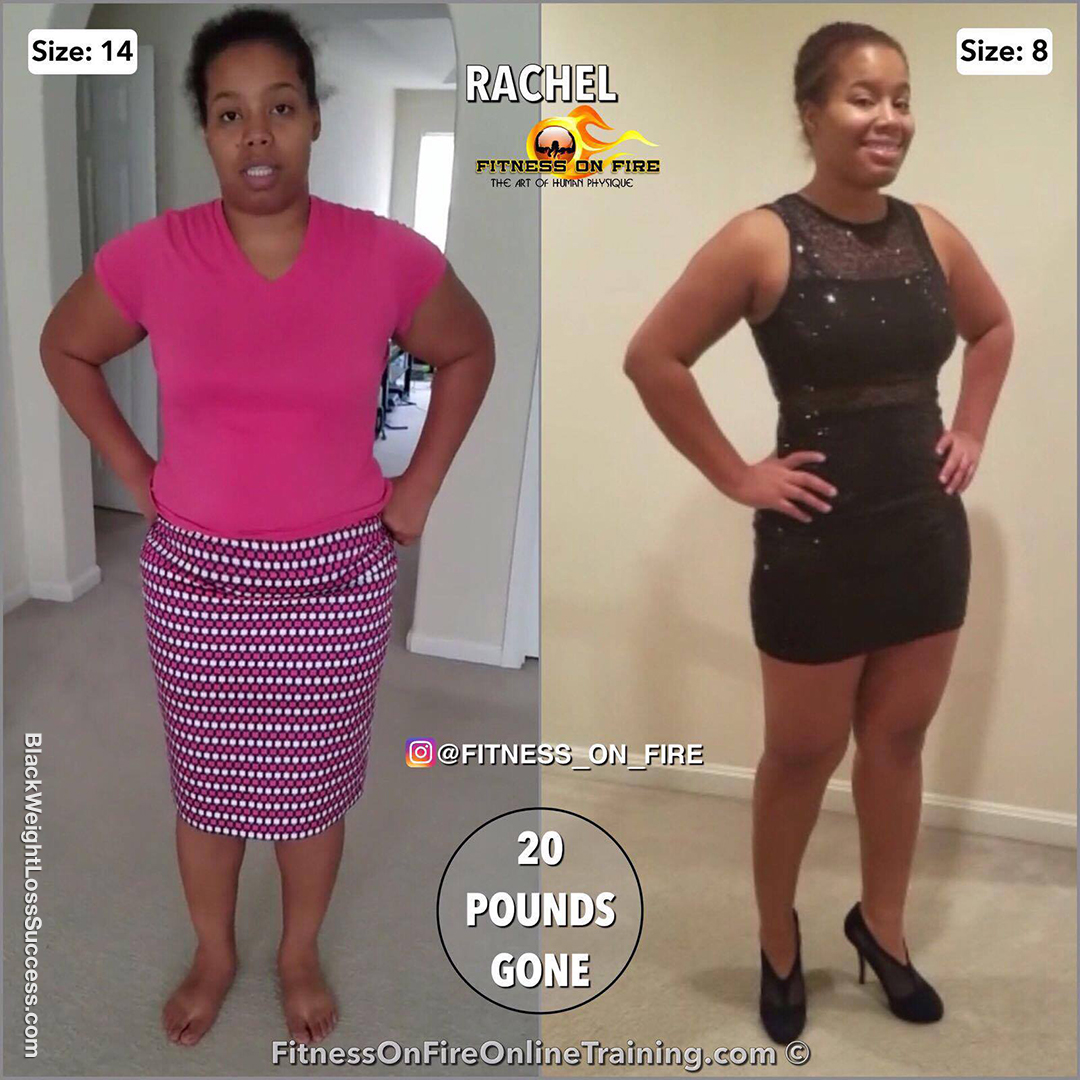 Age: 36
Height: 5'6″
Starting weight: 194 pounds
Current weight: 174 pounds
Total weight loss: 20
Starting Dress Size: 14
Current Dress Size: 8
Representing: Virginia
What was your motivation?
I was motivated to get healthier when my clothes didn't fit me anymore. I pulled all of my clothes off of my shelf in my closet because they didn't fit. I also noticed that I was getting sick with colds a lot and I was tired of it. I needed to do something drastic and get healthy for me.
What inspired you to start your weight loss journey?
Three years ago, I lost weight using a different program. Later, I noticed that the clothes that once fit me were not zipping anymore. My jeans were not going above my thighs and my love handles were back. I didn't want to go back to weighing almost 200 pounds again.
I saw a picture on Facebook featuring a participant in the Fitness on Fire Online Training Program and I started stalking their page. After a month, I reached out to NututrionistGuru. After speaking with her, I signed up the following month and the rest is history.
How did you change your eating habits?
I went from eating a mostly Keto diet to eating 6 times a day. I eat every 2-3 hours and feel famished if I do not stick to the schedule. I stopped eating fried foods, white products and tons of candy. I started eating brown rice, a lot of seafood, fruit and healthy snacks, like mini rice cakes.
What did your workout routine consist of?
I workout 6 days a week doing resistance and HIIT training, which is the regimen that my online trainer, King of the Fire, gave me to drop the excess body fat. I workout between 90-100 minutes daily. I named my favorite exercise machine "Ricardo".
How long did your transformation take?
My transformation took 4 1/2 months. Fitness on Fire worked for me because I was sick of trying program after program. I told NuturitionistGuru and Fire what I wanted out of the program and they have been supporting me. I chose Fitness on Fire because it doesn't require a lot from me. All I have to do is stick to the program and watch my inner and outer self change for the better. The program works best, compared to other programs, because you have access to so many successful participants. The participants actually answer you back when you reach out. The Fitness of Fire program is family and that's the biggest difference of all.
What advice do you have for other people who want to lose weight?
I would tell anyone who is looking to transform their body and mind to be selfish. Being selfish means you will have a slice of your day carved out for you to work on yourself. Having "me" time is so important. I am a wife, mom and friend. Without time to myself, how can I show the best version of me. For those starting their journey believe in yourself. When it gets hard reach out to someone, I did. It's not always easy but staying motivated and consistent is key.
Disclaimer: Reference or link to any specific product, diet plan, exercise plan or service mentioned in the weight loss stories we share is for the information of our readers, and does not constitute an endorsement or recommendation by Black Women Losing Weight.