Update January 2018: Vanessa wrote in to share how she's maintained her weight loss and lost an additional 10 pounds since October. Check out her awesome transformation.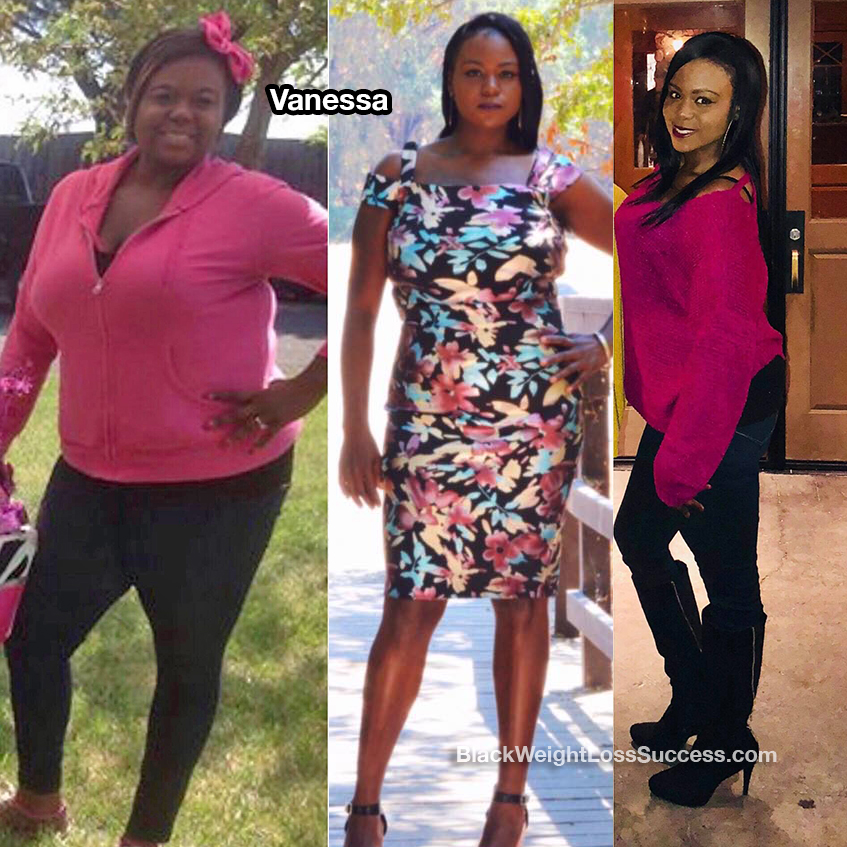 How have you maintained your weight loss/continued to lose weight?
My journey has not been easy and I've seen my share of challenges and setbacks. One thing that has kept me going in terms of weight loss and in life is God. My faith in him has given me the strength to continue this journey of becoming my best self. Knowing that if I mess up, it is not the end of the world has lessened the stress on me and helps keep my weight down. I continue to focus on keeping my mind healthy, which shows up in my physical being as well. It's all about whole wellness. Focusing on one thing without addressing the other cannot produce positive results. Starting my wellness group, Pounds For Purpose, has also helped me push myself, and be accountable for what I eat and how I live.
What has worked in terms of eating habits and what worked in terms of exercise?
When it comes to eating and exercise, I have adapted to a lifestyle of eating lots of protein, veggies and fruits. Cutting out process foods and sugar has helped me continue to reach my weight loss goals. Also, drinking lots of water has been the key to keeping up my energy levels, along with vitamins. My exercise routine consists of going to the gym, hiking, taking dance classes and walking during my lunch breaks at work. I try to mix it up. If you continue to do the same thing, eventually you will grow tired of it. Shake it up!
What are the biggest lessons have you learned on this journey?
The biggest lesson I have learned so far on this journey is that you have to be willing to meet a new person every step of the way. I continue to meet a new woman everyday. Sometimes I don't even recognize her. Sometimes I'm like, " I knew you were always there." It's all about of evolving on this journey.
At this point, would you offer any new or different advice to others who want to lose weight?
Start this journey by believing that you will win on every level you face. Being positive about your wellness journey all the time is not realistic. However, being hopeful and knowing that no matter what challenge you face, you will get through it will push you to dig deep. That mindset will keep you going in the hardest of times. Keep going!  It's time to trade in your Pounds for your Purpose.
---
Transformation of the Day: Vanessa lost 80 pounds. For her, the journey has been about much more than just pounds. She focused on her faith, achieving complete wellness and seeing her mindset tranformed. The physical results she achived are a reflection of the spiritual and mental work she has done. Check out her journey.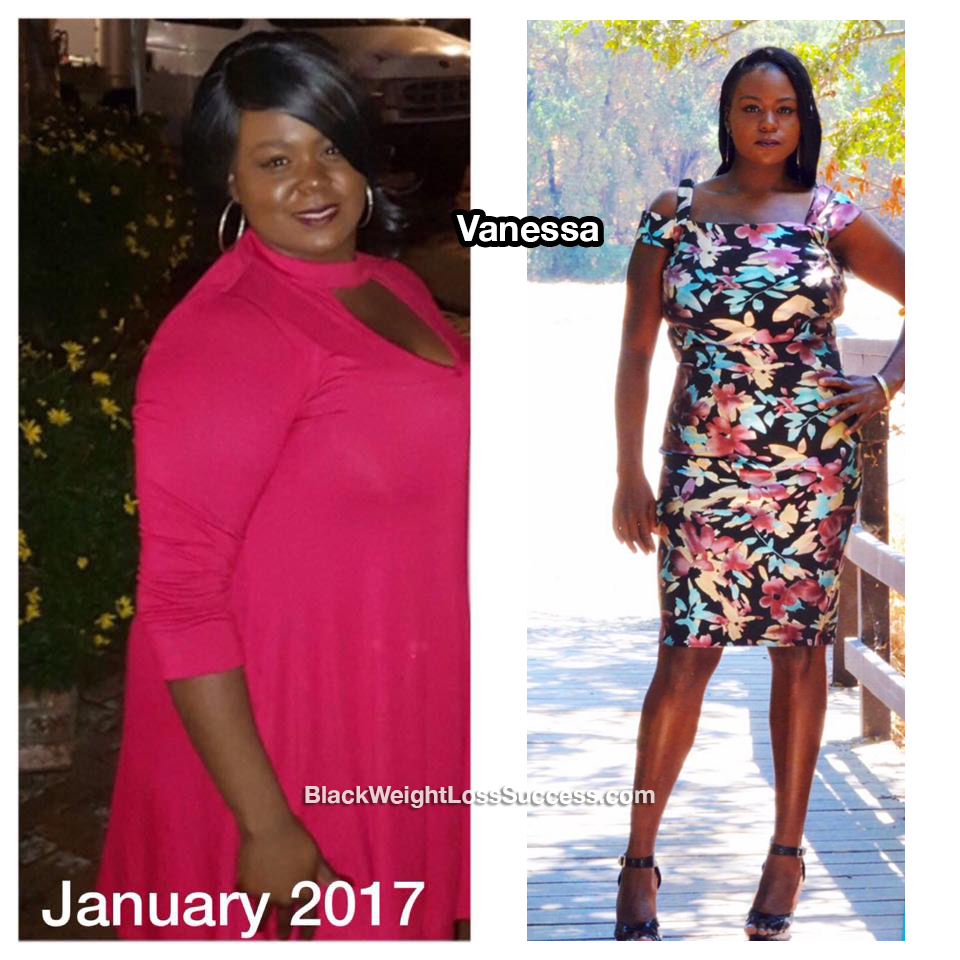 My name is Vanessa Williams and I am 5'6″. My starting weight was 262 pounds at my heaviest and my current weight is 182 pounds. I have lost 80 pounds since January and counting.
My motivation for losing the weight was complete wellness, not just a desire to lose pounds. I lived my life going up and down in my weight due life's challenges and stressors. I decided to take control of not just my weight, but my whole wellness after going through a mentally, emotionally and spiritually abusive situation that ultimately has led me to become the person I am today. It not only made me stronger but wiser in my everyday walk.
What truly inspired me when I wanted to give up was remembering all the pain I felt. I  realized that if I could make it through all the terrible things I've been through, I can surely make it through this. Holding on to God was key for me. I can not and will not walk this journey without him.
I decided to embrace a pescatarian lifestyle because I realized that meat was no longer something my body desired to intake. I started by cutting out all red meat, chicken and pork. Eventually, I cut out all junk food, such as chips and candy, diary products, etc. For me, it was not an easy process to cut out the sugar but I took small steps each day. Detoxing my body of sugar truly helped me stay on course. I make vegan recipes and drink lots of water. My diet now consist of lots of protein from seafood, beans and vegan meat (which is an amazing alternative), as well as lots of fruits and vegetables.
My workout routine started out by just going to the gym three times a week. I decided to make my workouts fun by trying something new each day. For example, I would sometimes take a Zumba class, practice regular cardio and do resistance training. For me, it was about making sure that I felt empowered while working out, even on the days I didn't want to not foot into the gym. Now, I run, hike, resistance train and spar box with my trainer.
This journey wasn't easy and it still presents a daily lesson. I believe that the more you fight for what you want, the more confidence you build within yourself.
If anyone is in a place where they feel like this journey is to much or it's not worth it, let me tell you this: Don't believe the lies. Your complete wellness is important and key to how you feel and view yourself. I had to realize that this journey is not about losing weight to look good. Although that is a bonus, that cannot be the main focus. I had to work from the inside out. My mind had to come first; it truly all starts in the mind.
After dealing with depression, anxiety, and so many other struggles in life I decided to take my life back. Make the decision to take your life back, not for anyone else but for you. This is your life and you deserve to live it to your fullest potential. This is not about physical appearance, it's about mental repair. Take the time to start loving you first, because through that self love your mind will automatically want to start treating your body better. The biggest lesson I have learned is that no one can do this for you. You have to want to do it for yourself. You can't expect people to go hard for you if you don't go hard for yourself.
Jeremiah 30:17 "But I will restore you to health and heal your wounds,' declares the LORD". This scripture is one that God gave to me years ago and told me that not only would he do this for me but for others as well. I believe there is power in your pain, struggle, hardships, trials and disappointments. When these things happen, it sets the stage for God to show you who he truly is in your life. The woman I was at the beginning of this journey was hurt, fighting for her peace and holding on to God with dear life. She was in the process of starting one of the biggest comebacks she had never witnessed before in her life.
The woman I am now is someone who has continued to push through no matter the cost because God told her she would be free and she trusted that. The point is, do not give up on the promises God has spoke to you. At the moment, it may not seem like he is working but trust and believe he is setting you up for a major comeback. Trust him. It's so worth it.
In this process of whole wellness healing and transforming, I developed one of my callings which is wellness motivation. I truly believe in the power of prayer and wellness. God has brought me to far for me not to use what he has given me. I started a non-profit organization back in 2013 called Divine Passion Ministries Inc. that caters towards helping women and young girls who have experienced or is experiencing life's pressing issues. Through the non-profit was birthed a wellness program called Pounds for Purpose. Pounds for Purpose is about trading in your pounds that have weighed you down for your purpose that can raise you up into the destiny you were called to walk in.
Divine Passion Inc's Facebook Page
Pounds for Purpose Facebook Group