Transformation of the Day: Janae lost 121 pounds. Working full time, going to Law School and a lack of sleep, created a lifestyle that led to rapid weight gain. After years of trying various methods to lose weight, a co-worker's success inspired her to try something different. Now, she is commited to fitness and helping her mother to reach her goal weight. Check out her story.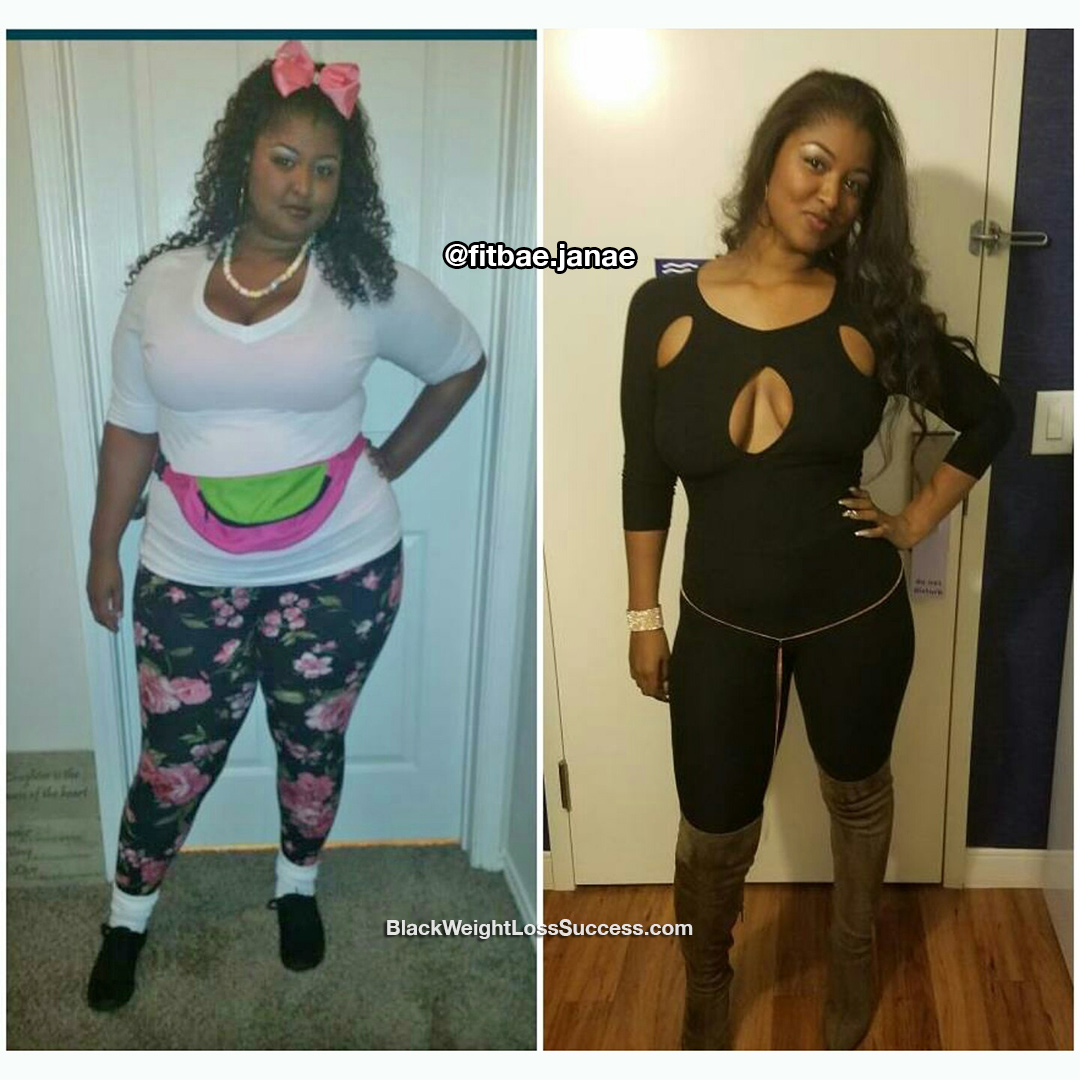 I have always struggled with my weight for as long as I can remember. I have been on so many fad diets and tried so many lifestyle changes that I have lost count. I hit rock bottom in 2014 when I was working full time and was in Law School part time. Between my studies and commutes to work, I had absolutely no time for exercise or meal prepping. Also, I was only getting 3-4 hours of sleep each night. I gained weight rapidly and refused to buy any pants larger than a size 20 (I could no longer fit those at the time).
Then, one of my co-workers had Vertical Sleeve Gastrectomy surgery, lost a huge amount of weight and that truly inspired me. I told myself that I would look into the surgery when I had free time and put the though out of my head.
I received a promotion to a new job that required me to quit school and move out of state. I decided that this was a great option for me because I disliked Law School and needed a fresh start. About a month after my move, I started going thorough the pre-approval stages for weight loss surgery. I told myself that if I could lose this weight before my surgery date (6 months down the line) that I would not need to have surgery. During the first month, I gained 10 lbs and knew that this surgery would be my saving grace. I had finally reached my highest weight of 295 pounds and refused to let myself get to 300 pounds. I had to keep motivating myself, because I did not get the reaction tha I expected from my friends and family when I shared that I was going through with the surgery.
I dropped 20 pounds during my pre-op diet and I had VSG surgery on 12/28/15. I was so excited because I knew that a year after the surgery I would look nothing like I did before. My first six months were rough because I still struggled with healthy eating and food addiction. After my six month checkup with my surgeon, I was disappointed in my progress (only down 50 lbs after surgery) because I knew that I could do better. I started the JJ Smith's 10 Day Green Smoothie Cleanse to reset my stomach and bad eating habits. It was difficult, but just the right kind of momentum that I needed to kick start my next six months. I also completed a full 60 day round of the Insanity program at home. The workouts kicked my butt, but I was so excited that I had finally followed through with the workouts after having the DVDs on my shelf for 4 years.
Half way through my second round of Insanity in November 2016, I decided to switch things up and joined gym that focused on high intensity group interval training, that includes heavy weight lifting. I wanted to become stronger and tone my body to battle loose skin. I am currently working out at 5 a.m. Monday-Friday and on Saturday mornings (that's right… six days a week). I have grown to love working out and have inspired my mother to start on her weight loss journey as well. My diet is a bit erratic, because I have been doing the JJ Smith Green Smoothie Cleanse the first 10 days of each month and eating high protein, low carb for the remainder of the month.
I currently weight 173.8 pounds (a number I haven't seen since high school) and would love to reach my goal weight of 150-160 pounds. During second year of my journey, I am more focused on my relationship with food, and helping my mother get to her goal weight. Since I am accustomed to working out six days a week, I will continue that. (Sometimes I workout twice a day with my mother in the evening.)
My best advice to someone trying to lose weight is to test out the waters until you find a plan that works for you. I hated working out in the beginning and now I could not picture my life without it.  I guess you have to fake it until you make it. I would also suggest that you find a good support system, whether it be through immediate friends, family or social media. Consistency is key. You are going to make mistakes along the way, but always find a way to get back on track.
Follow me on Instagram at @roxxy1988 @fitbae.janae  I need support and motivation just like the next person.