Transformation of the Day: Jana'e lost 80+ pounds by adopting a new lifestyle. She began her transformation journey after being diagnosed with diabetes, high cholesterol, depression, and heart issues. She focused on making healthier food choices and scaled her workouts from walking to HIIT/strength training. Also, she didn't use the scale to measure her progress.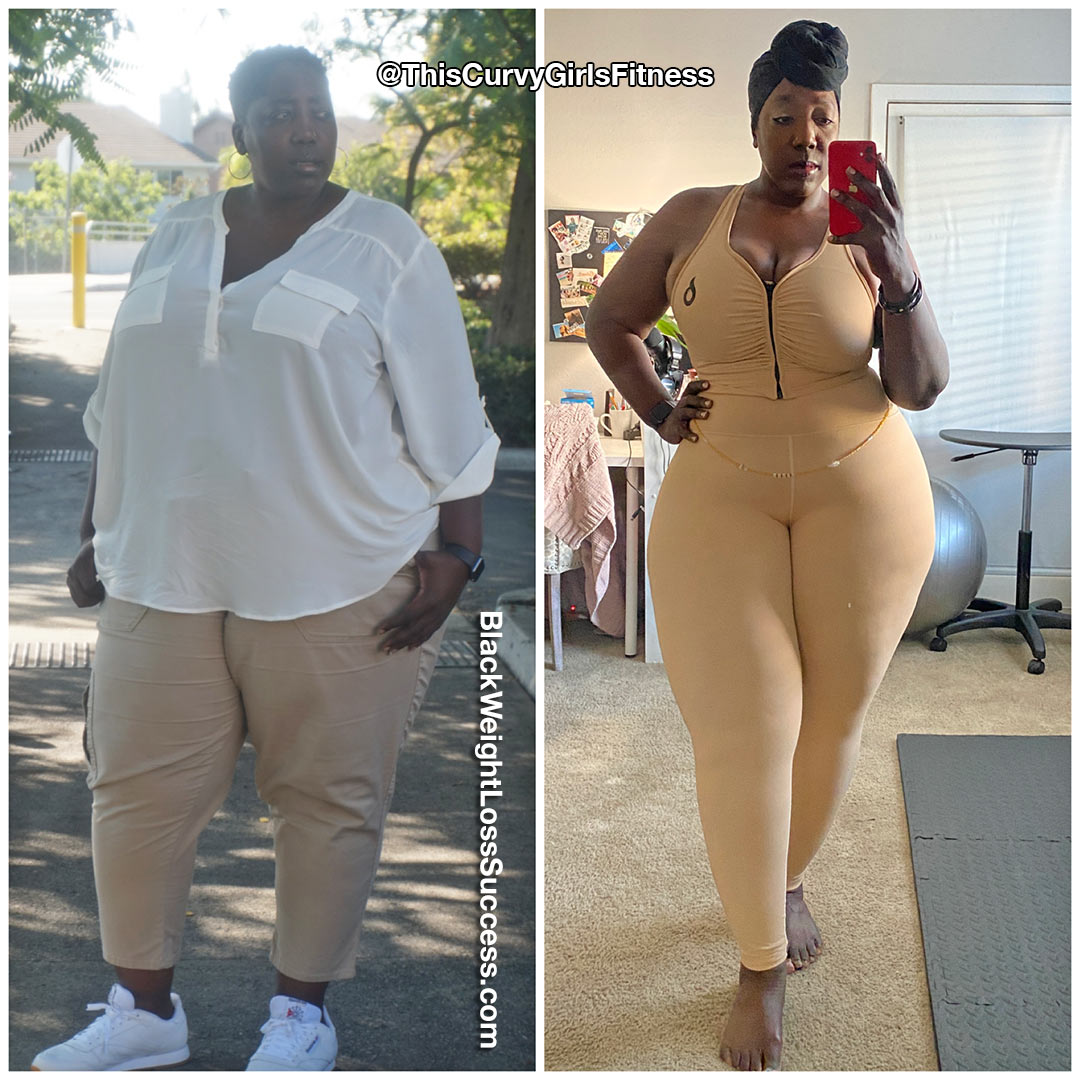 What was your motivation? What inspired you to keep going, even when you wanted to give up?
My motivation is my health. After being diagnosed with diabetes, high cholesterol, depression, and heart issues, I knew it was time to make a change. Whenever I'm feeling like giving up, I remember that moment in the doctor's office and pray that I will never hear those words again. 
Motivation is ever-changing. Some days you're motivated, and others you're not, so you have to find the thing that keeps you dedicated to your journey. For me, it was my health.
How did you change your eating habits?
I don't do well on diets. Anything that restricts me just doesn't work. So, my goal became to change my lifestyle and be the healthiest version of myself possible. However, I still wanted to be happy and not feel deprived. So, I made simple changes. 
I reduced my portion sizes, started incorporating more fresh fruits and vegetables into every meal, and drank a gallon of water each day. Luckily, I'm not into sweets too much, so that was easy to reduce. My weakness is potatoes, rice, and pasta. I still eat them in moderation, and I started making substitutions such as cauliflower rice, whole grain pasta, or zucchini noodles. Since this is a lifestyle change, I have to find things that I can sustain, and dieting is something I knew I couldn't sustain.
What did your workout routine consist of? How often did you work out?
When I first started working out, I was at my heaviest. I knew that if I started something too strenuous that I would give up. I started simply by walking on the treadmill. When I first started, I could barely last 5 minutes. Every time I went to the gym, my goal was to beat my time from the day before. Before I knew it, I was walking for an hour. Once I started feeling a little more comfortable at the gym, I tried the Smith machine and started doing squats. For a while, I walked and did squats 5-6 days a week. 
Now my workouts are much different. I focus on various areas of the body during each workout, or I do HIIT workouts to keep my heart rate up. I'm still working out 5-6 days a week.
What was your starting weight? What is your current weight?
Because this journey is about living a healthy lifestyle, I didn't want to incorporate weighing myself on the scale. I know who I am, and I knew that the scale would make me feel defeated if I didn't see the number going in the direction I was hoping for. I opted not to use a scale throughout my journey. 
When I started my journey, I weighed 391 pounds, and when I last weighed myself in early 2020, I was down about 80 pounds, and I'm sure I've lost more weight. I will weigh myself soon because I have a birthday goal to skydive, and I need to be 250 lbs.
What is your height?
I'm 5'11"
When did you start your journey? How long did your transformation take?
I started my journey in May 2019, so it's taken about 1 1/2 years for my transformation.
Is weight loss surgery part of your journey?
No, I have not had any surgery.
What is the biggest lesson you've learned so far?
To love me at any size. I thought I would be happy if I lost the weight, but my sadness was deeper than my weight. I had to do some deep soul healing during my weight loss journey. I realized that loving yourself and taking care of yourself is very important because it allows you to love more and deeper for the people around you.
What advice do you have for women who want to lose weight?
Find your "Why." Why do you want to lose weight? It's usually more profound than wanting to look good. It may be for your kids, for your health, or to heal something within you. Once you find your why, it will be a little easier to keep going on those days when you want to give up. Your "Why" keeps you dedicated and empowered to keep going. There will be days when it's a struggle, and the motivation isn't there, but your "Why" will keep you dedicated.
You can find me on my Instagram Page @ThisCurvyGirlsFitness, and online at www.ThisCurvyGirlsFtiness.com