Transformation of the Day: Kayelyn lost 80 pounds. A lack of self-esteem was eating away at her, and she was tired of making excuses. While her boyfriend was deployed, she focused on loving herself more and changing her lifestyle. She used one of Shaun T's workout programs, traditional Keto and intermittent fasting, to release the weight.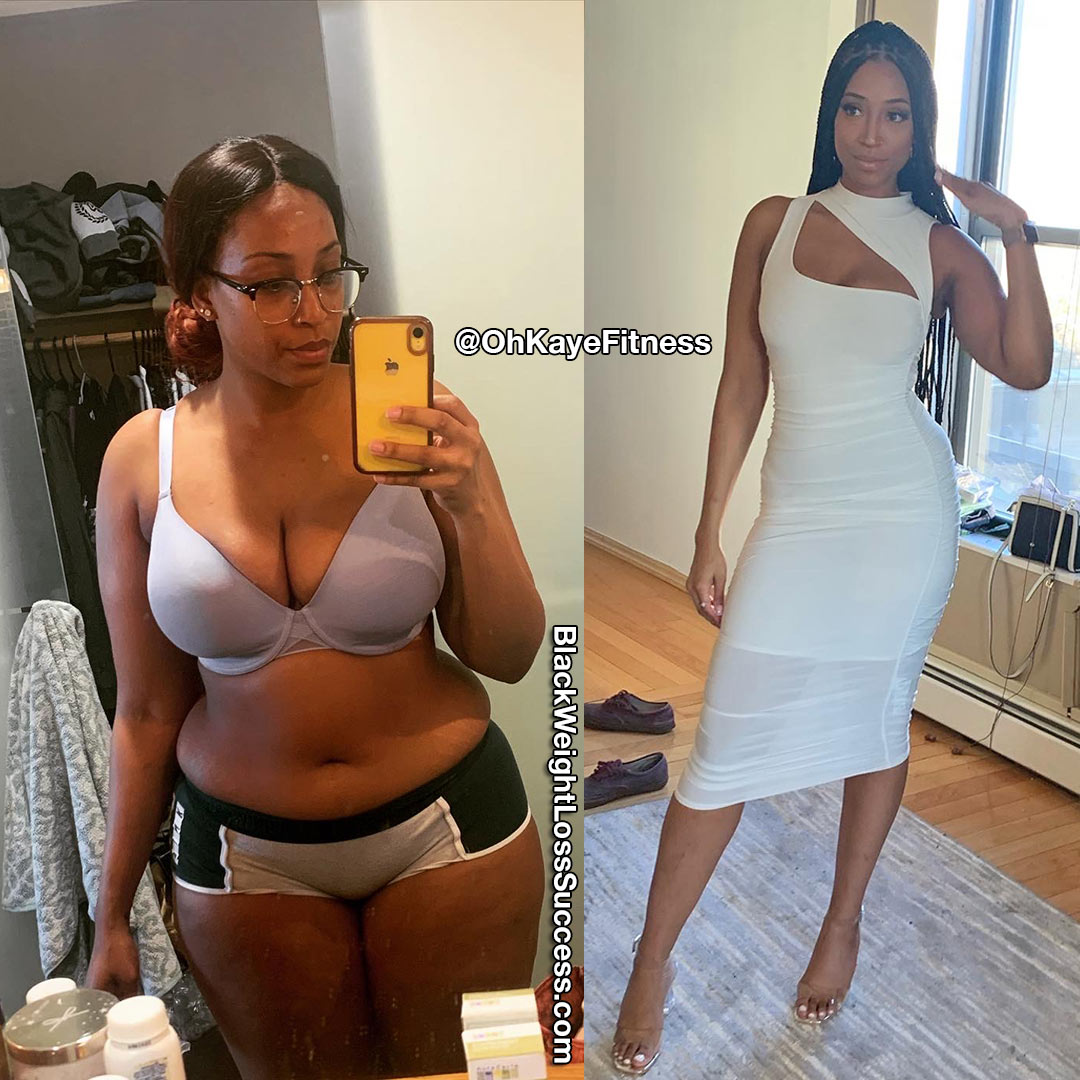 I've never shared these pictures before, so this is SUPER emotional for me. In September 2019, I was at my lowest point mentally and my highest wait physically. The impact of my weight gain affected every aspect of my life. At this time, instead of continuing to make excuses, I decided to make a change. Every day was a fight mentally, spiritually, and physically, but I could not, did not, and will not quit. 
In 2019, My boyfriend and I were having a conversation, and he asked me, "Tell me one thing you love about yourself?" At that moment, I could not answer him. My lack of self-esteem was slowly eating away at every good thing I had in my life. We found out he was deploying to the Middle East. I decided that during the time he was gone, I would learn to love myself, which began with weight loss. 
I started my journey weighing in at 230 pounds. I decided that if anyone could get my body right, it was Shaun T, so I started doing the Insanity workout program alongside the Keto diet. I wasn't the person who did the "dirty" keto diet, though. I stuck to leafy green vegetables, cauliflower, avocados, fish, lean meats, and every keto snack I could find! 
I am the type of woman who LOVES (as in would sell a kidney for carbs). To succeed, I knew I would have to find healthy alternatives for the things I loved most. I've created a cheesy bacon cauliflower mash that would make you slap your mama! 
Between the Insanity program, intermittent fasting, and Keto, I lost about 30 pounds. After that, due to Covid, I focused mainly on my diet. I continued with the diet that I stuck to during Insanity for about seven months, and I lost about 40 more pounds. 
It's been about a year and a half now, and I am down a total of 80 pounds, weighing in at 150 pounds! Today I focus on mental and physical health and overall wellness. I'm learning to develop a healthier relationship with food by eating healthy and clean during the week and eating the foods I love in moderation on the weekends. I also make sure to work out six days a week. I feel like a new woman.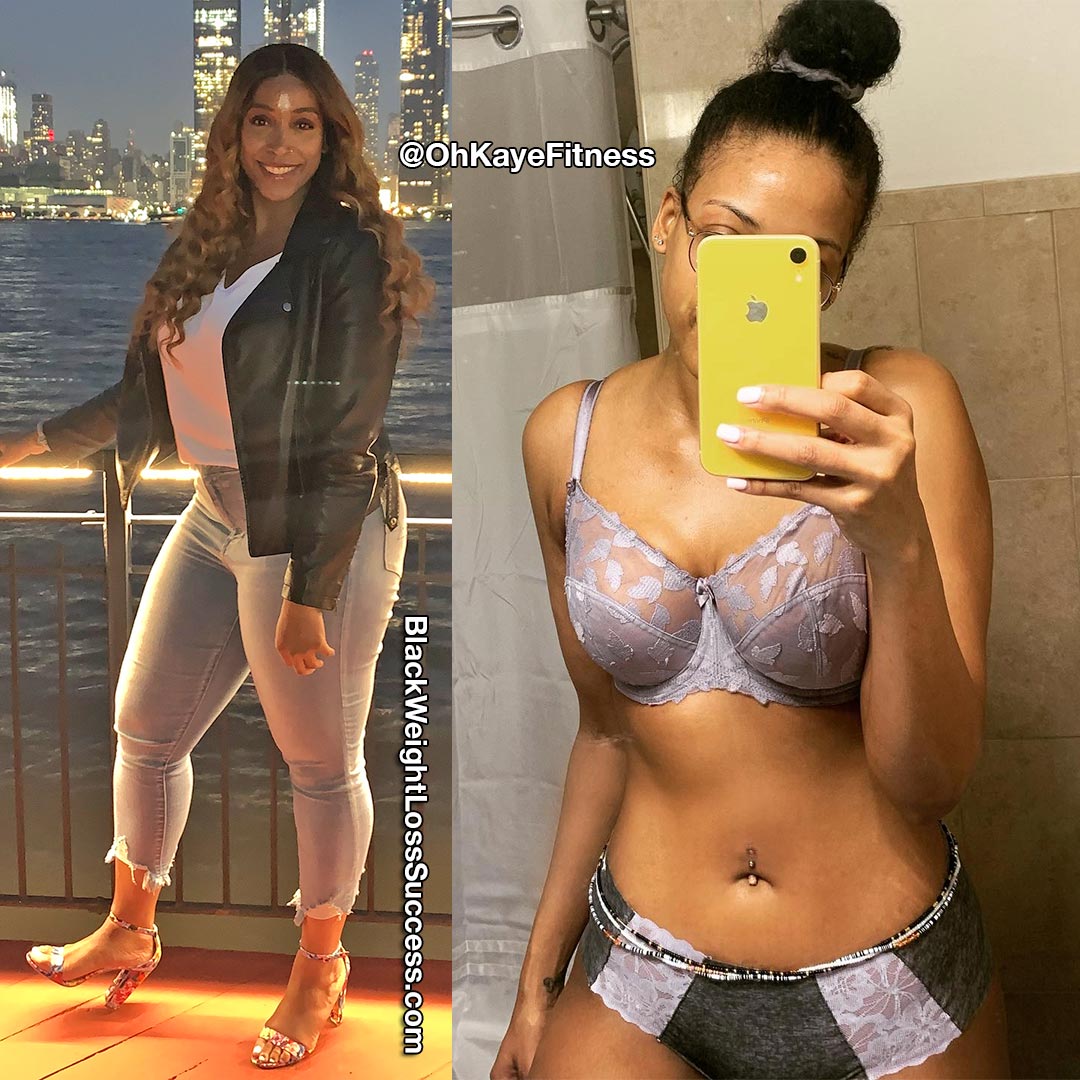 Do you still work out using the Insanity program, or has the content of your workouts changed?
The content of my workouts has definitely changed. I used the Insanity program as the first step to my journey. I still utilize different components of the Insanity program, such as the HIIT workouts and stretching techniques. Now my workouts are centered around weight lifting, focusing on different muscle groups each day. My workouts begin with 15 minutes of cardio (stair master or 15 minutes of sprints for 45 seconds at a 10 speed and rest for one minute)
What is your height?
My height is 5 feet, 7 inches.
How long did your transformation take?
I started my journey in September 2019, and my journey to lose excess weight and took until about December 2020. Now my current journey is maintaining my weight as well as toning my body. Stay tuned!
What is the biggest lesson you've learned so far?
I think the biggest lesson I've learned is to take everything one day at a time. I started my weight loss journey (not by choice) in 2011. Every time, I would begin to think about what I would look like in one month, three months, six months, etc., I would feel overwhelmed. I was overwhelmed thinking about what if I didn't look like what I wanted to look like in that time frame. 
When I started focusing on the 24 hours that I was in and not thinking about the what if's, I found it much easier to make it through the months! I also had to learn not to care AS much about the number on the scale. I was never satisfied even after hitting all of the goals I wanted to hit. I was the person who would look at the scale five times a day every day. Instead of focusing on that number, now I look for muscles that I've never seen before. Now I focus on setting new goals and loving what I see in the mirror. If I love what I see in the mirror, I don't care about the number on the scale. 
Is weight loss surgery part of your journey?
I did not have weight loss surgery. 
What advice would you like to share with women who want to lose weight?
For any woman struggling to lose weight, I will tell you what I have told everyone who asks me about my weight loss: Take it one day at a time. The only obligation we have to ourselves on this journey is to make it through the 24 hours we are in. Don't think about tomorrow or what your body will look like in a month. Get through the 24 hours you are in and make conscious choices about your health. 
I never thought that I would be able to do it. I feel so good and am working on inspiring women to feel good about themselves through my new personal motivational blog, OhKayeFitness.
Instagram: @OhKayeFitness