Transformation of the Day: Kenya lost 97 pounds. This Alpha Kappa Soror lived up to her affirmation of #allthingsnewat42 this year. After battling the pounds for her entire adult life, a combination of the gastric sleeve, a personal trainer, therapy, determination and healthy eating habits has transformed not only her body, but her whole life. Check out her story.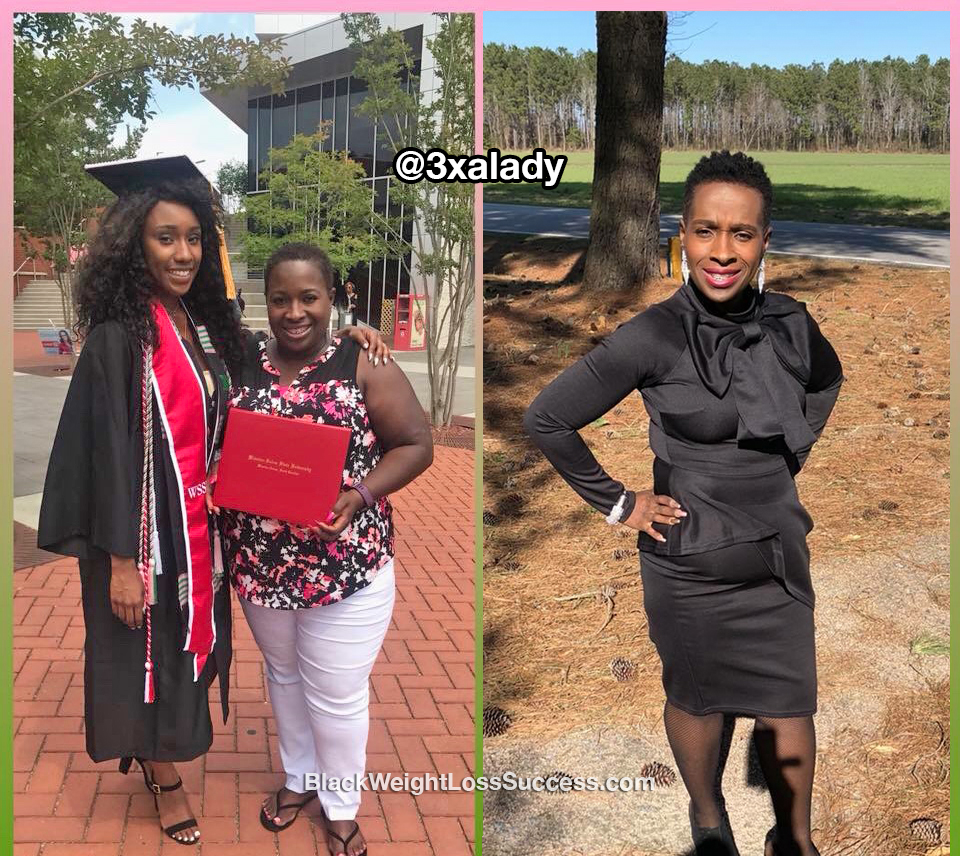 Heaviest Weight: 242.6 pounds
Current  Weight: 145.2 pounds
Height: 5 feet tall
When I use the hashtag #allthingsnewat42 I had no idea that I'd live up to my affirmation this year!
I've been battling weight for my entire adult life. I've tried most diet trends and pills. After having complications with high cholesterol and my life insurance policy not being approved, I knew I had to make a change.
My two children motivated me to change my lifestyle. The thought of them living without me was unbearable, especially when I knew I had the power to change my situation. I was so ashamed of my weight. I used my daughter's College Degree to hide myself in a photo .(truly all mental because I couldn't hide at all)
My personal trainer Dequarius Dawkins keeps me inspired-when I have days where I'm not motivated, he reminds me of where I was compared to my life now. My workout plan consists of 4-5 days of training (cardio plus strength training) and 2-3 days of running with my run group! My biggest accomplishment so far in this journey was completing my first 15K in February.
My eating habits changed as a result of having the gastric sleeve procedure on June 6, 2017. Immediately after surgery, I started using Herbalife products for maintenance and they are currently used in my daily program. I also invested in weekly meals delivered to my home to encourage me to cook instead of eating out. I juice weekly and set reminders to drink water. As of March 28th, I've lost a total of 97 pounds and 61 inches!
Seeking professional help (therapy) has been one major component in my success! Obesity just doesn't start in the kitchen. I feel that our minds trigger us to engage in unhealthy living which spills over to eating. Staying positive and around those who bring positive energy is a must! My church family has been a huge support system as well.
The biggest lesson I've learned is that you have the power to control your destiny; however, everyone needs help! Reach out for help, no matter what it takes! Your weight loss journey is simply yours. Figure out what works for you and fight everyday to maintain. If you need to start over, it's okay. Celebrate where you are! Everyone has their opinion on your life, but remember they aren't living it.
Stay active, drink water, eat clean, detox, go to therapy, invest in yourself, listen to your doctor, listen to your nutritionist, have a support system that really supports, Pray, and celebrate your accomplishments-big or small. Most importantly, find a motto for where you are and own it!
Instagram: @3xalady