Transformation of the Day: Lagacia lost 58 pounds. She is no stranger to the ups and downs of releasing the weight. This time, she decided that she didn't want her journey to be miserable. She shared with us the powerful rules and tools she used to achieve lasting success. Check out her story.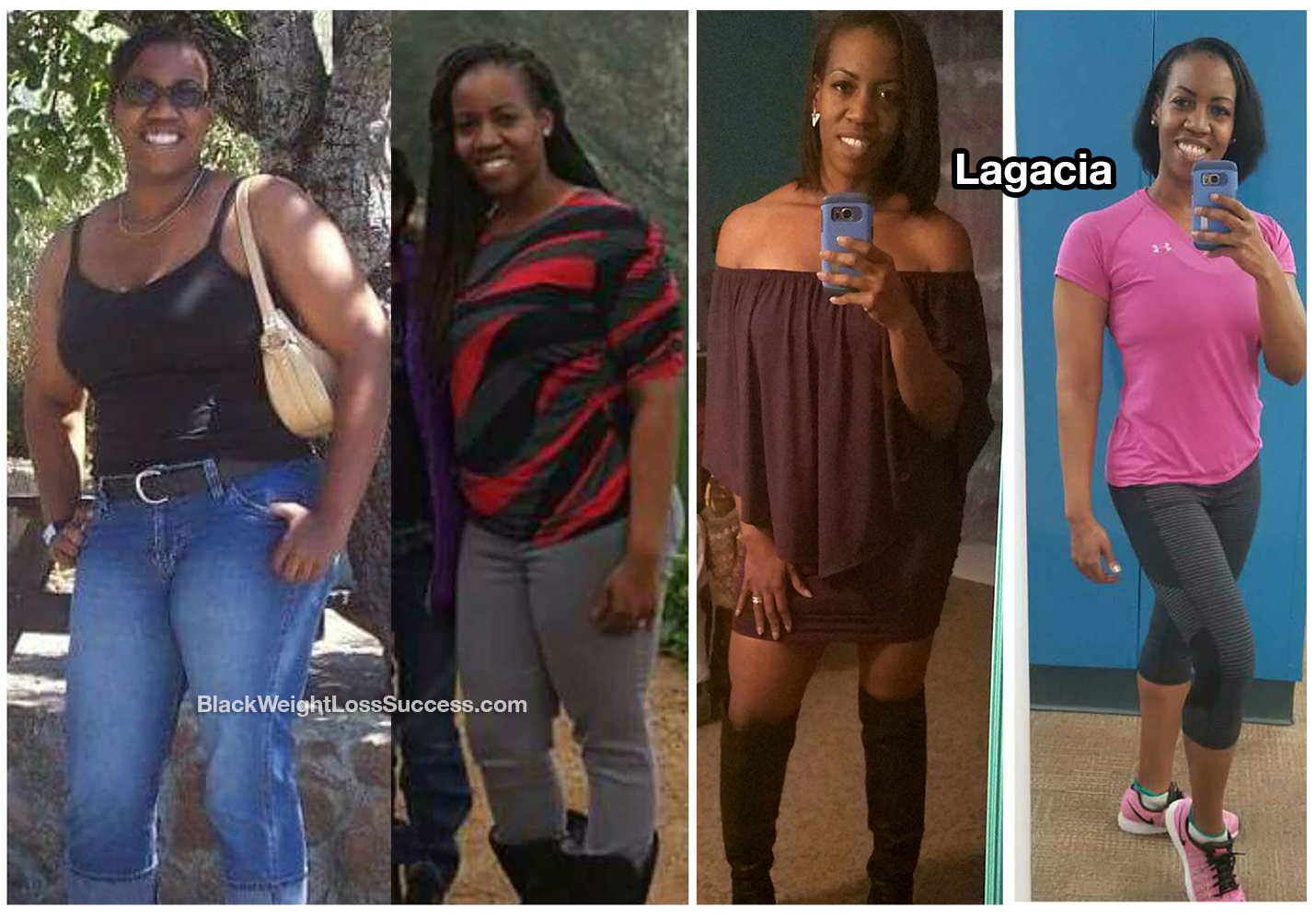 Starting date and weight: October 2015 at 218 pounds
Goal date and weight: June 2017 at 160 pounds
Total loss: 58 pounds
Height: 5'7"
Let me start by saying that I've been at my current weight twice. The first time in 2006 and second time in 2013. I used to believe that I didn't have a problem losing weight. Instead, I felt that I had a problem keeping it off. So, I would continually do the same thing to lose and try different things to maintain the weight loss. I would be miserable while losing. Essentially, I rid myself of my social life out of fear that I would overeat or "cheat". I totally cut out all of my favorite foods, and ate foods that I didn't like because of the supposed health benefits. I also worked out incessantly. Some days I would cry myself to sleep. Of course, after all of this, the weight would fall off slowly but eventually come back because I would simply get tired of being miserable.
This time, when I decided to lose weight, I vowed to myself that I would change a few things.
There will be no deprivation. Instead, I would learn how to balance.
If I'm not going to give something up for a lifetime, then I'm not giving it up temporarily just to lose weight.
Speed of weight loss is unimportant.
I'd focus on my victories off the scale, no matter how small they may seem.
I'd treat the journey as if I was already at my goal rather than waiting until I got there to teach myself all new habits.
I'd realize that when I stumble, it doesn't make me a failure… it makes me human.
I'd work primarily on strengthening my mind and secondarily on decreasing my waistline.
Now, I can honestly say that this is the first time I've truly enjoyed my journey. No tears of unhappiness, disappointment, or frustration have been shed. I am proud to say that I reached my goal in June and have successfully – and happily – kept the weight off.
I started this journey by joining a gym in October 2015 with a target of working out at least 3 times a week. I also tracked my food intake using My Fitness Pal. I lost 11 pounds on my own before deciding to rejoin Weight Watchers in May 2016. Essentially, I rejoined to support a friend who wanted to join and was curious about the program. I reached Weight Watchers' Lifetime status in June 2017. That means I don't have to pay for the meetings and eTools as long as I do not go 2 lbs or more over my goal weight. Lifetime status continues to be a source of motivation.
For workouts, I try to exercise 3-4 times a week, doing either HIIT cardio or strength training. Honestly, I haven't been very regimented in that regard. These days, however, I am in the midst of a 12 week free program from Bodybuilding.com to work more on my tightening and toning.
Biggest Lesson Learned: It's funny how it just clicked into my head one day that I needn't be perfect all the time in order to get the results I seek. Consistency is essential for long-lasting results, not perfection. I've had days where I ate more than my food intake goals. I've had full weeks where I didn't track my intake at all. I've had weekly weigh-ins where I've gained. I've had weeks where I didn't work out at all. I've given into temptations. I've made plans to be on track while on a vacation or at an event… and then didn't.
Through all of this, I have never "restarted". It's all a part of the same journey, and that same journey will last a lifetime. For me, steering off a perfect path and getting back on track is not considered a restart. There will be ups and downs. I will slip and that's ok. What separates successful from unsuccessful is what I choose to do after a slip.
Advice for other people who want to lose weight: Negative talk serves absolutely no purpose in the short or long term. Practice getting away from those thoughts. I've been there. Looking back, it was no fun and certainly unnecessary. Now don't get me wrong, from time to time those thoughts creep back in but they don't stay overnight… not even on the couch! They gots to go! No freeloading!
Be kind to yourself. It really makes a world of a difference in how much you enjoy the journey.  Happiness is not a destination, and trying to reach the unreachable expectation of perfection isn't going to get you there. It will just drive you closer to the brink of insanity. You can experience happiness when you decide that, in this moment, there is no better time to be happy. That means unconditionally accepting yourself in this moment and moving forward, just the way you are – flaws and all.