Update: Nathia lost 25 more pounds for a total of 100 pounds gone.
---
Transformation of the Day: Nathia lost 75 pounds. She simply wanted to be healthy, physically, spiritually and emotionally. Tired of yo-yo dieting, she exercised and ate healthy food to transform her body and her lifestyle. Check out her story.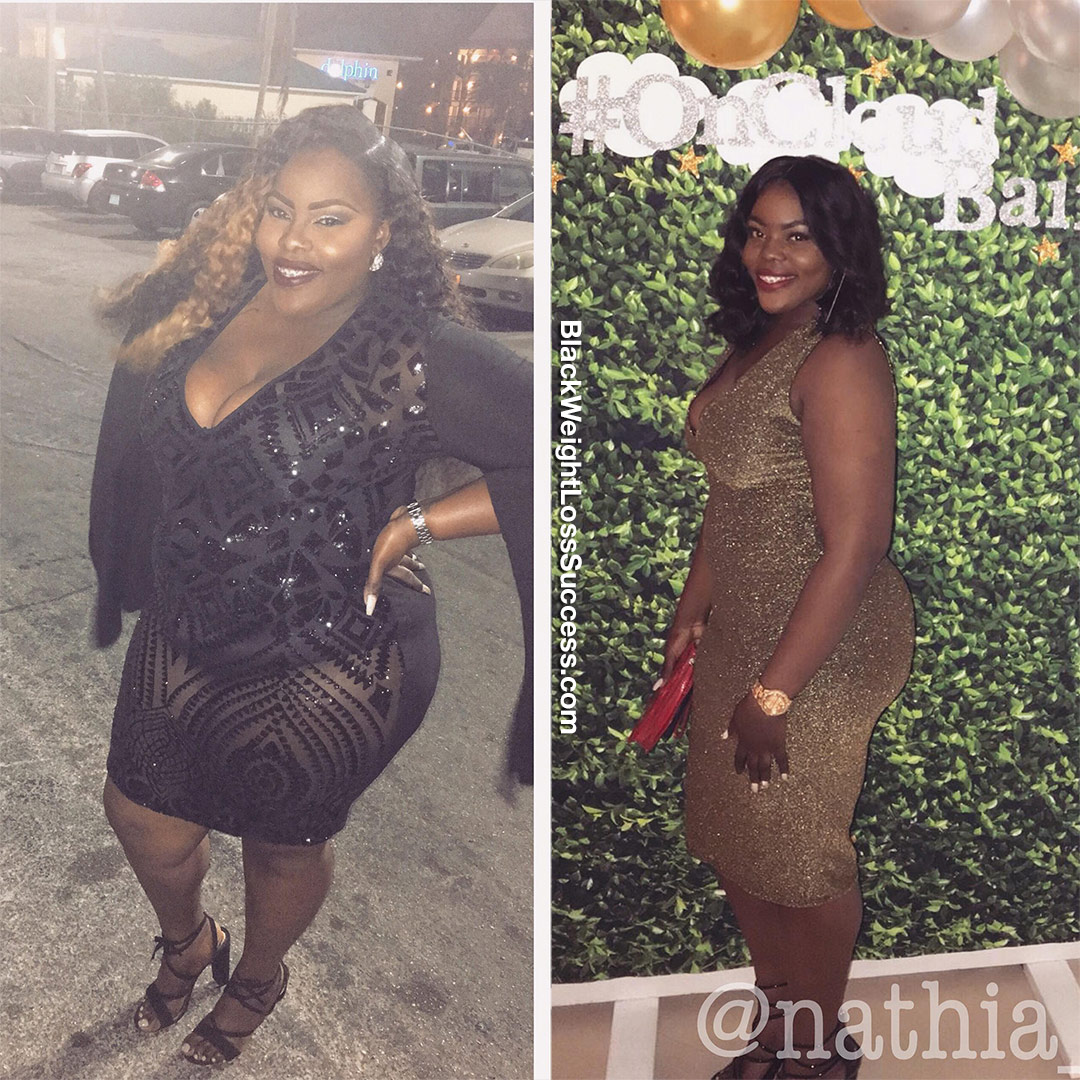 What was your motivation? What inspired you to keep going, even when you wanted to give up?
Many people have asked what motivated me to start this journey and how I remained consistent. Honestly, I wanted better for myself and to simply get healthy! Physically, spiritually and emotionally healthy. As a young woman with no kids and a bright future, I had to get it together. I was tired of starting and stopping — yo-yo dieting. I want to see what happens if I don't give up this time.
Following various people on Instagram who were on the same journey as myself was my inspiration when I wanted to give up. Also, my sister was on a weight loss journey as well. We motivated each other daily to never give up.
How did you change your eating habits?
I changed my eating habits by incorporating more vegetables with every meal and fruits mainly at breakfast. I enjoyed making smoothies and eventually fell in love with juicing. I also stopped eating pork and beef. I always knew the dos and don'ts when it came to healthy eating, so I did not follow any plans or programs.
What did your workout routine consist of?
At the beginning of my journey, I mainly focused on cardio. After a few months, I started to explore. I worked out six days a week, sometimes twice a day. Apart from cardio, I included total body sculpting classes, cycling, Soca Blast dance, weights, and weight training. Yoga is my new found love.
What was your starting weight? What is your current weight?
My starting weight was 300 pounds, and my current weight is 225 pounds. I lost 75 pounds naturally — no surgery whatsoever.
What is your height?
I am 5 feet, 10 inches tall.
When did you start your journey? How long did your transformation take?
I started my journey in November 2017, but it was a bit rocky up until March 2018 when I got serious about losing the weight. My transformation took about nine months.
What is the biggest lesson you've learned?
The biggest lesson I have learned is that the only person who can stop you from achieving your goals is you. If you can believe it, you can achieve it!
What advice do you have for others who want to lose weight?
Never compare your journey to someone else's. Everyone is different. Do what works for you and watch the results show. Also, never doubt yourself. You can do anything you put your mind to. Realize how powerful you are.
Instagram: @nathia_