Update: ShaToya is still going strong in 2019!
---
Transformation of the Day: ShaToya lost more than 140 pounds/10 stone. 3 years ago, photos from her birthday celebration turned into a big wakeup call for her. This sista from the UK joined a gym, changed her eating habits and found the drive within to push through. Check out her story.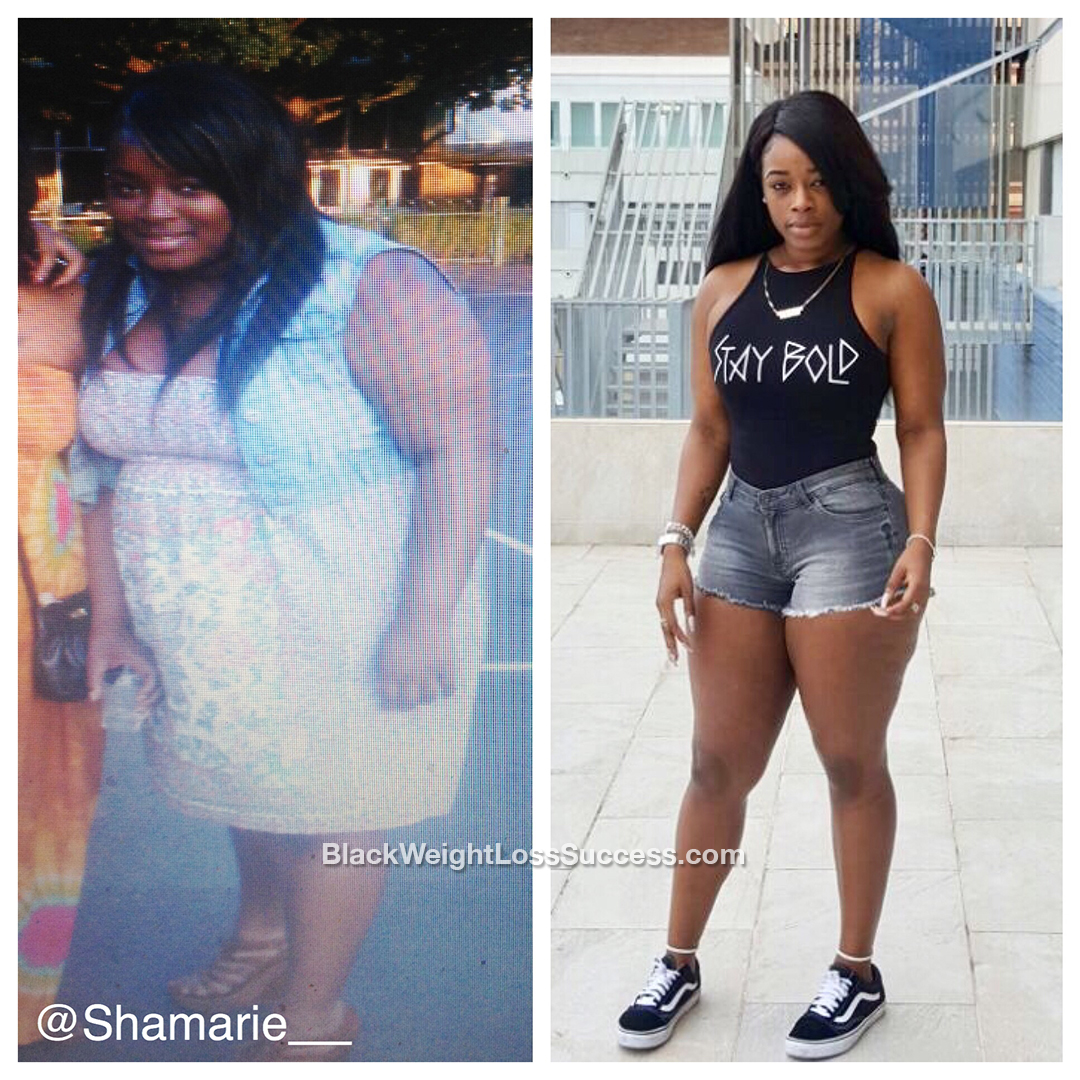 What was your motivation?
My name is ShaToya Marie and I am 23 years old. My motivation was that I was tired of being the "big friend" in the group when I went out. After my birthday, I saw the pictures from that night out. After seeing the photos, I literally woke up and said, "I can't do this any more." Two days later, I signed up at my local gym.
How did you change your eating habits?
I completely stopped eating junk food and drinking fizzy drinks or alcohol. At the start of my weight loss journey, I only had 3 meals and two snacks each day. I would have porridge in the morning, salmon salad for lunch, and brown rice, chicken breast and salad for dinner. One of my favourite snacks is natural yoghurt with natural honey and granola.
What did your work out routine look like?
My workout routine at the start of my journey was simple, but still very hard. I started going to the gym for 4/5 days a week for one hour. During that hour, I was only doing cardio. I wanted to burn the fat off, so eventually I started spending 6 days a week in the gym for two hours. Still, I was doing a two hours of straight cardio. Some days, I would do 1 hour on the treadmill, 30 minutes on the bike and 30 minutes on the elliptical machine. On other days, I would do 30 minutes on the treadmill, 30 minutes on the bike, 25 mintues on the stepper, 25 minutes on the cross trainer and then 10 minutes on the rowing machine. I made sure that I was working my body the whole time I was in the gym.
Starting weight/Current weight
My starting weight was 22 stone/308 pounds. I went down to 10 stone/140 pounds, but didn't like being that small. I currently weigh 12 stone/168 pounds. I lost all the weight naturally, no surgery. My height is 5'6″.
How long did your transformation take?
I started my journey 3 years ago. It took about two years for my transformation to happen.
What is the biggest lesson you've learned?
The biggest thing I've learned from losing weight is that if you want something, you can get it! You just have to give it your all. For weight loss to work, you have to be determined and strong. You may get discouraged when you see that you haven't lost weight, but you know you've been working your ass off in the gym. You can't stop! You've got to keep pushing through and keep going! Something will eventually give.
What advice do you have for other people who want to lose weight?
My advice for those who want to lose weight is to make sure you are ready for this change, both mentally and physically. Losing weight is a lifestyle change. You can't just do it for 6 six weeks and stop. It's a lifestyle. You will have to keep going, so you have to be motivated, dedicated and consistent for it to work. Don't focus on others while you're on your own journey, because we all have different bodies and people lose weight differently. Stayed focused on yourself and the goals you've set for yourself. Remember that nothing is impossible.
I was once so lazy. I used to sign up for a gym, go once or twice and then cancel my membership. I wasn't serious about weight loss. I never thought I would ever lose the weight, but I did! It's only when it clicks for you that you'll understand that this journey you are about to embark on is something that is going to truly better you!
Instagram: @Shamarie___
www.shatoyamarierose.wordpress.com