Weight Loss Story: It can be hard to get on track with healthy habits and lose those last few pounds after having a baby. Shanta lost a little over 20 pounds in 4 months by embracing working out at home and learning to indulge with moderation when it comes to food.  I hope her before and after inspires those who have 20 pounds or less to lose and feel like they are making no progress.  There is hope.  You just have to find what works for you.
Here is what she shared with us about her journey…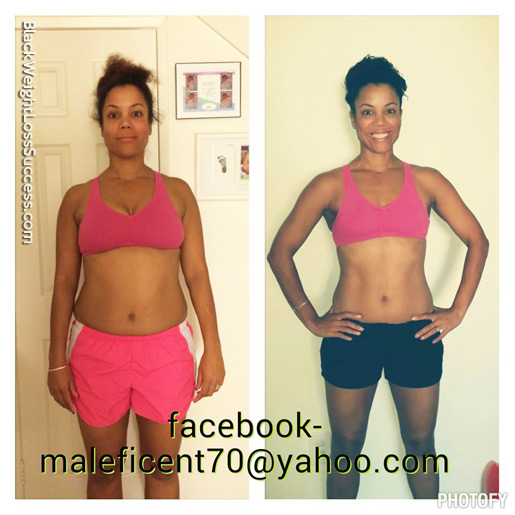 I've had a tricky relationship with food and working out all my life. Food and exercise have been abusive—I've used them against my body, rather than for it. I loved being active–and losing the weight successfully after having my daughter became an obsession. I lost a little doing what I'd always done, but was no where near where I wanted to be.
Since the birth of my daughter in 2013, I was struggling to find my way back to healthy eating and a fit lifestyle. I work full time, and was exhausted. I've been a vegetarian for 17 years, but my sweet tooth and love of carbs was out of control. Sugar to pick me up! Sugar to keep me steady during the day! I love sweets and bread and rice and potatoes and pasta and cheese! Keep in mind that I still do, but I'm able to eat them in moderation now without immediate guilt or negative self-talk.
I learned about Beachbody Fitness through a colleague, who lost over 20 pounds in a (seemingly!) short time. As a previously fit person, I was reluctant to take suggestions and change my habits. Amazing, right? I still didn't want to follow what was clearly a winning path. Stubborn, I am!
Still, I joined a Challenge Group. With accountability and working out, I saw changes. I work out 6 days a week with the videos. I fell in love with Sean T from Insanity, and learned there were so many other videos. It feels a little silly saying that I follow workout DVDs, but if it's crazy and it works, then it's not crazy!
I've lost a little over 20 pounds, and am still moving forward. Now, I'm a Beachbody coach, I'm staying accountable, working out, and seeing clients make the same changes I did! It's amazing! My sweet tooth did not go away. My love of carbs is still strong. What is stronger, though, is the love of myself and the backing of my team. I now have a solid foundation, which motivates and inspires me to be better for my family, and myself.
I'd love to make friends more fitness friends. You can reach me through my Facebook account, Shanta Wilson, or maleficent70@yahoo.com (I'm a Disney fan, haha). We all need each other to thrive!