Transformation of the Day: Amber lost 70 pounds. The passing of her dear mother due to cancer motivated her to invest in getting healthy. During her journey, she became a pescatarian, hired a personal trainer and worked hard to get results. Check out her story.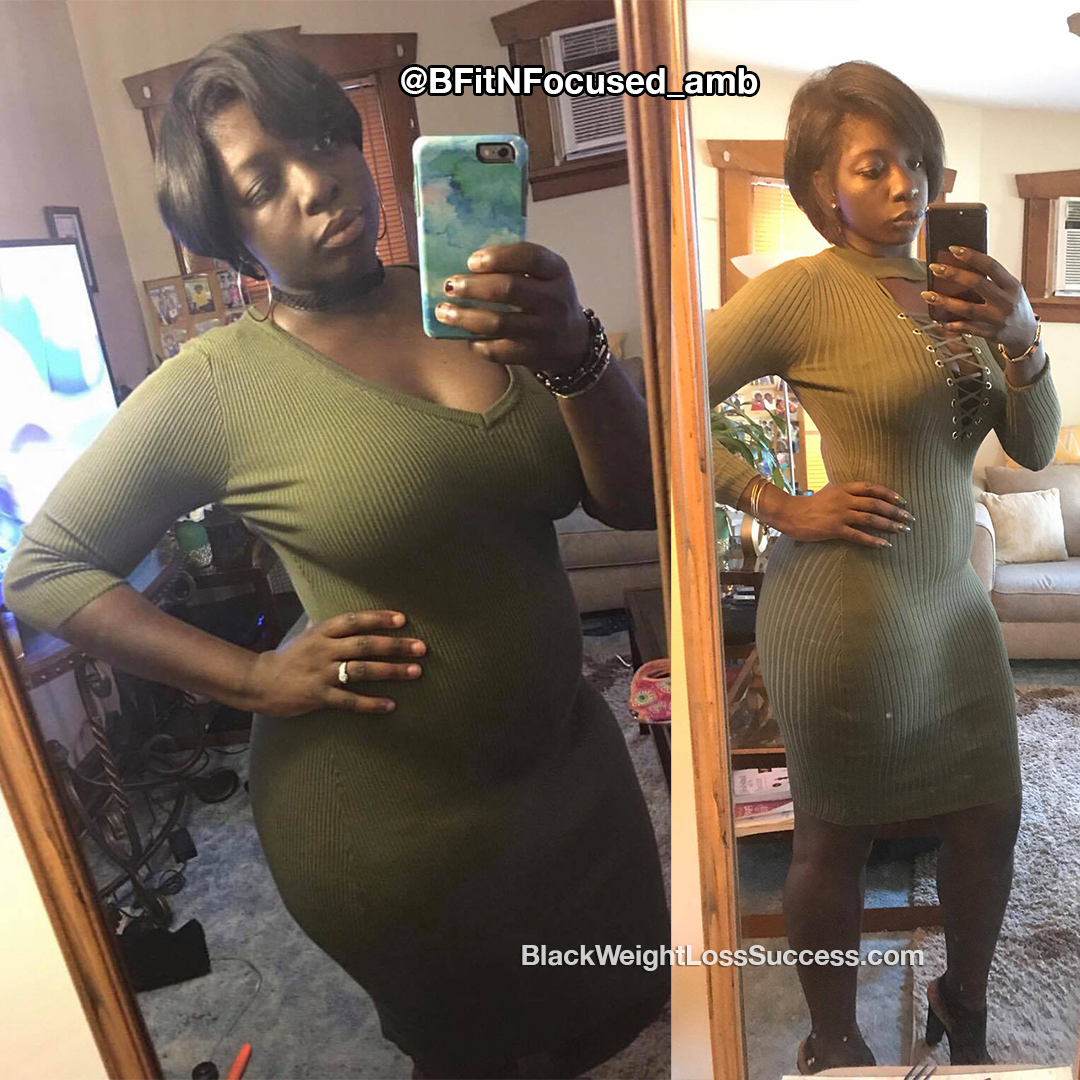 Starting weight/Current weight
My starting weight was 258 pounds. I currently weigh 188 pounds. I've lost a total of 70 pounds from January 2017 to October 2017.
What was your motivation?
My greatest motivation to begin my weight loss journey was the unfortunate loss of my mother who passed away from Cancer at the young age of 57. That was a very hard time in my life, but I wanted to use her passing as a way to turn my life around health wise.
This journey helped me to be a motivation to others. As black women, we tend to put too many people and too many things before ourselves. It's important that we make time to be healthy and happy.
How did you change your eating habits?
Changing my eating habits was a huge piece of my success. I began to follow a pescatarian diet [vegetarian who eats seafood]. I ate less heavy carbs and more vegetables and fruit along with lean protein. I learned that food doesn't have to be boring. I created my own personal meal plan. I make food fun and different, yet healthy, great to eat and satisfying.
What did your workout routine look like?
My workout routine consisted of hiring a personal trainer named Dieudonne Merceus (@donne176 on FB and Instagram). He has helped me tremendously with his workout routine that allows me to maintain my curves while becoming leaner and stronger. His training consists of a great combination of cardio and strength training. I train with him 3-4 times a week.
What is the biggest lesson you've learned?
The biggest lesson I've learned is that you are no good to others unless you take care of yourself first. My journey has allowed me to inspire others. I've started my own business as a result, and I'm helping others to obtain their health goals. I provide meal planning, juicing and meal prep services. My business is called "B Fit N Focused" and it helps me to share all the greatest things I have learned during my journey to help others obtain the same goals.
What advice do you have for people who want to release the weight?
My advice is to stay consistent and stay dedicated. Understand that your health is an investment. Natural weight loss takes time, but the rewards are amazing. Most may say it is expensive to eat healthy or hire a personal trainer. However, if you sacrifice something for a small time, you will find it is cheaper to take care of yourself than it is to take medication, pay for doctor visits and pay for hospital bills. Striving for greater health is the greatest investment you can make into yourself. I want to live to see my generations flourish and teach my children to be the best healthy versions of themselves.
Instagram: @BFitNFocused_amb