Weight Loss Transformation of the Day: Deborah lost 50 pounds. Having faced abuse as a child and domestic violence, she had to cleanse herself spiritually and emotionally as the first steps on her weight release journey. Releasing the emotional weight led to a "physical transformation" for this busy mom and advocate for victims and survivors of abuse. Check out what she shared with us…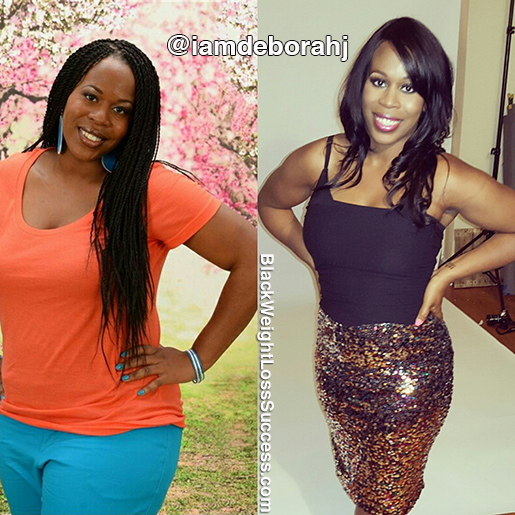 At my heaviest, I was 228lbs (height: 5'4″). I was super depressed and my weight constantly fluctuated. I just couldn't keep the weight off no matter how hard I tried. I finally decided at the beginning of this year that enough is enough. I had to cleanse my life spiritually and emotionally first! I began to love myself more and understold what it truly meant to treat my body like a temple. I started exercising regularly, eating clean and would you believe that I lost 50 lbs in just 4 months! The weight is still coming off! No diet pills, no surgeries… ALL NATURAL! I hope that my story motivates someone.
Spiritual and Emotional Cleansing: Being abused as a child and enduring domestic violence, had a profound impact on me. I had to work through that hurt. Also, any extra weight that impacted me negatively emotionally and spiritually had to go! I finally chose to LIVE FOR ME! Living for other people and constantly trying to please them led to more stress and more eating as comfort.
Once, I got rid of most of the emotional weight, I began to love and value myself more. This led to the PHYSICAL transformation. I didn't need someone to hold my hand to lose weight, I could do it all on my own! I always thought that I needed a gym buddy, but all I needed was my inner strength!
Eating Habits: I cut all soda and processed foods. My diet mainly consisted of;
Fresh Fruits and Vegetables (watermelon, bananas, blueberries, spinach, kale, squash, zucchini, broccoli etc.)
PROTEIN (Chicken, Fish & Eggs)
Water, 100 % Juice & Herbal Tea
Whole Wheat Wraps
NO SALT (Ms. Dash has been a LIFE SAVER)
*I DO TREAT MYSELF WHEN EVERY NOW AND THEN*
Exercise: My workouts consist of;
Running (I recommend going running at least 3 to 5 days out of the week)
Burpees
Squats
Lunges
Sit-Ups & Crunches
Push-Ups
Planks
Yoga (On Occasion)
DANCING and lots of it!
My Advice : If you want to lost weight then GREAT! Do it for you. Do it so you live a long and healthy life—Long enough to watch your kids and grandkids grow. Do it to feel great. Don't do it to "even the score" with someone or if you feel like you have something to prove to the world. PROVE IT TO YOURSELF because then, you will CHERISH the journey and never allow yourself to go back down the path of dead weight ever again!
Website: www.deborahj.com (more info about her weight loss journey)
Deborah is the founder of "Be The Voice", an organization with a mission to give victims and survivors of abuse a VOICE.
Instagram: @iamdeborahj
Facebook: IamDeborahJ
Twitter: @iamdeborahj