Weight Loss Success Story:  Hayet lost 90 pounds.  This Instagram diva and proud Ghanaian shared her weight loss story with the world was able to inspire ladies here and in the motherland.  This is yet another example of how telling your weight loss story can be powerful. Here is what she shared with us: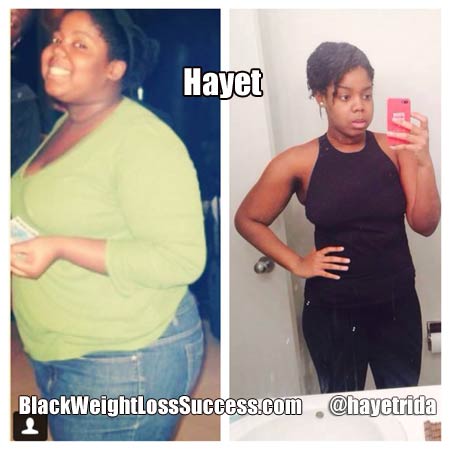 "I was always overweight but I actually wasn't miserable. I was a curvy Ghanaian woman who spent 20 years building rock solid confidence to go with it. In 2010, it all changed when I underwent gall bladder surgery. The experience in itself was a big change for me and I decided to try and lose just a little weight. It took me 5 months, and I dropped about 40 pounds. Once again, I was completely satisfied and spent the next two years simply maintaining a 245lb average.
In 2013, it all changed. I got bored and wanted to make a change again. I knew there were two things I loved – taking pictures and sharing my life through them … and there was no better place to do it than Instagram!
A colleague once told me that when you make something public, you have to go through with it! And that is exactly what I did! In May of 2013, I announced my journey to a healthier body and started sharing my journey with my Instagram followers.  From time to time, I would post recipes, workout photos and my favorite gym clothes. To me it seemed like I was talking to myself, but the joy came when I went home to Ghana in December 2013 and people actually recognized me!  Women told me how my posts really changed the way they viewed fitness … apparently I made it look easy!!!! HA! The positive responses, the likes, the comments, the shares and the reposts have been the fuel of the entire journey. Since returning, I started a few groups on WhatsApp that have brought women in Ghana together to live a healthier life! The women get to ask me questions and together we learn to navigate the seemingly foreign concept of being healthy!
My eating habits in itself have been a journey of their own – I continuously change them as a way of challenging my body. When i first started off, my biggest challenge was putting fruit or veggies into my body. I fell in love with smoothies and my life has changed.  In terms of what I stopped eating, I would definitely say that I cut out all non-natural food products. Most importantly, I started to cook even more. I believe that when you cook you develop a new relationship with food, it is no longer the enemy, as weird as it sounds.
For excercise I joined lots and lots of group classes. Everything from Zumba, bootcamp and kickboxing. I make sure to go to the gym at least once daily…even if one of the sessions is 20 minutes.
In terms of my weight, I never really weighed myself. I didnt want to know. I would say I was pretty close to 290 lbs. At my most recent weigh in was at 201 pounds.I have lots of women who depend on me to post their routine so that gets me in there all the time! My instagram name is @hayetrida you can also see my posts using the #hayetisonadiet hashtag."