Jennifer lost 31 pounds and 10.8% body fat. When her doctor warned her that she would need medication for weight-related health issues, she immediately signed up with a local fitness program recommended by a friend. With clean eating, high intensity cardio, weight training and the support of her fit family, she has created a new, healthy lifestyle. Check out her journey.
Starting: 186 lbs, 33.5% Body fat
Current: 155 lbs, 22.7% Body Fat
Height: 5'6″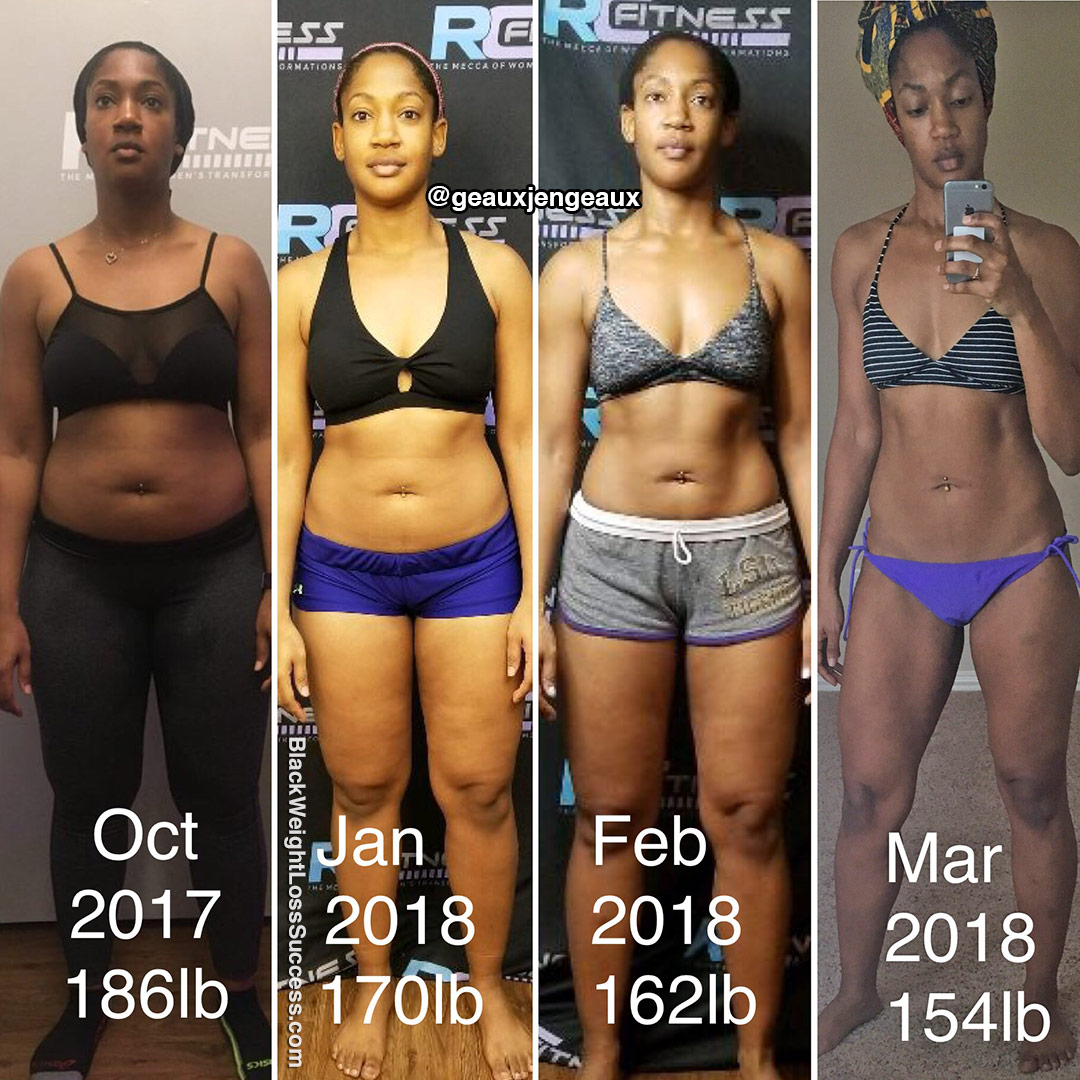 What was your motivation? What inspired you to keep going when you wanted to give up?
In the beginning, my motivation stemmed from a negative state. As my weight increased over a short period of time, I noticed that my energy, concentration, motivation and overall functionality had decreased significantly in all areas of my life. I wear multiple hats that require me to be at my best (fulltime engineer, CEO of Hair CraQ, wife, etc). In addition to regressing in the fore mentioned areas, I was always exhausted, felt winded and my knees would constantly pop.
In October 2017, my doctor warned me that I would need to begin taking medication for health symptoms derived from added weight if I did not improve my overall health. The VERY NEXT day, I drove straight to Reggie C Fitness and joined based off of a friend's recommendation. During my first week, I lost 3 lbs. After week two, 2 more lbs dropped. By the end of October, I'd lost a total of 10 pounds.
After the 10 lb drop, the source of my motivation changed. My motivation was the feeling of regaining control of my life. The physical changes, the increase in endurance and an overall improvement in every area of my life was an added source of motivation as well.
During the times that I wanted to give up, I had a huge support system that consisted of RCF Facilitators, gym friends (AKA fit sisters), and MOST of all my husband! (I think he should be an accountant because he's awesome at serving up reality checks, Lol.) The days that I didn't go straight to the gym from work, he'd ask me, "Why are you here? You know where you need to be!". There were a couple of times when he even had to wrestle food (cookie, ribs, etc) out of my hand or threaten to report me to my RCF Facilitators, Lol.
How did you change your eating habits?
I began eating smaller quantities more frequently. I avoided sugar and salt. I ate loads of green vegetables and other nutrient rich foods. I did not use any paid meal plan or weight loss supplements. I only ate cleaner.
What did your workout routine look like?
My workout was a combination of high intensity cardio and weight lifting. At a minimum, I completed 6 days a week at an average of 3 hours of exercise a day.
When did you start your journey? How long did your transformation take?
Journey Start Date: I began in October 2017 at 186 pounds, 33.5% body fat. By the end of March 2018, I weighed 148 pounds, 24.7% body fat. Transformation Time: 6 Months Currently, I weigh 155 pounds and have 22.7% body Fat.
What is the biggest lesson you've learned?
Mental fortitude outweighs the scale! Fitness is so mental. Your mind will tap out long before your body does, if you let it. Reboot the way you think and the things you say about your abilities. For instance:
"I can't." to "I can do more than yesterday."
"I'm too fat." to "I am capable.";
"I'll never be able to." to "I can and I will."
Basically, renewing your mind will improve your relationship with fitness.
What advice do you have for others who want to lose weight?
My top 5 tips;
Start – Don't overwhelm yourself with your current fitness status, how far you have to go, or how it's all going to work out. Just start at whatever level you're at.
Document – Take photo's routinely. It's great when you experience a huge drop in weight in a short span of time, but there will come a time when your results become more subtle. In these times, it's very important to take pictures and compare them to the previous weeks. This will serve as a morale booster in the times when you think your body has stopped responding. Don't worry it hasn't! Keep going!
Consistency – Again, in this exact moment, the level you are at does not matter. However, repeatedly showing up does. This is probably the most important tip of all.
Eat Clean – Meal prep at home using as little salt and sugar as possible. Many "healthy options" on restaurant menus are racked with lots of sodium, sugar, fat, etc. It's okay to eat out every once in a while, but do so more like once a month rather than once a week. I still struggle with this at times.
Reward – Many people associate rewards with food. ("I've done well this week so I can have a burger") Practice rewarding yourself without using food. For instance, a relaxing Spa Day for meeting your weekly fitness goals, a concert for remaining consistent, or maybe even beach getaway if you meet your overall goal weight to show off your gains!