Transformation of the Day: Kaila lost 125 pounds. Her weight reached 300 pounds in high school and she worried that her high school sweetheart would stop loving her. When she decided to make a change, her mom made the entire household switch up their eating habits and she started working out every day. Now, 4 years later, she's developed a love for fitness and learned the value of patience. Check out her transformation journey.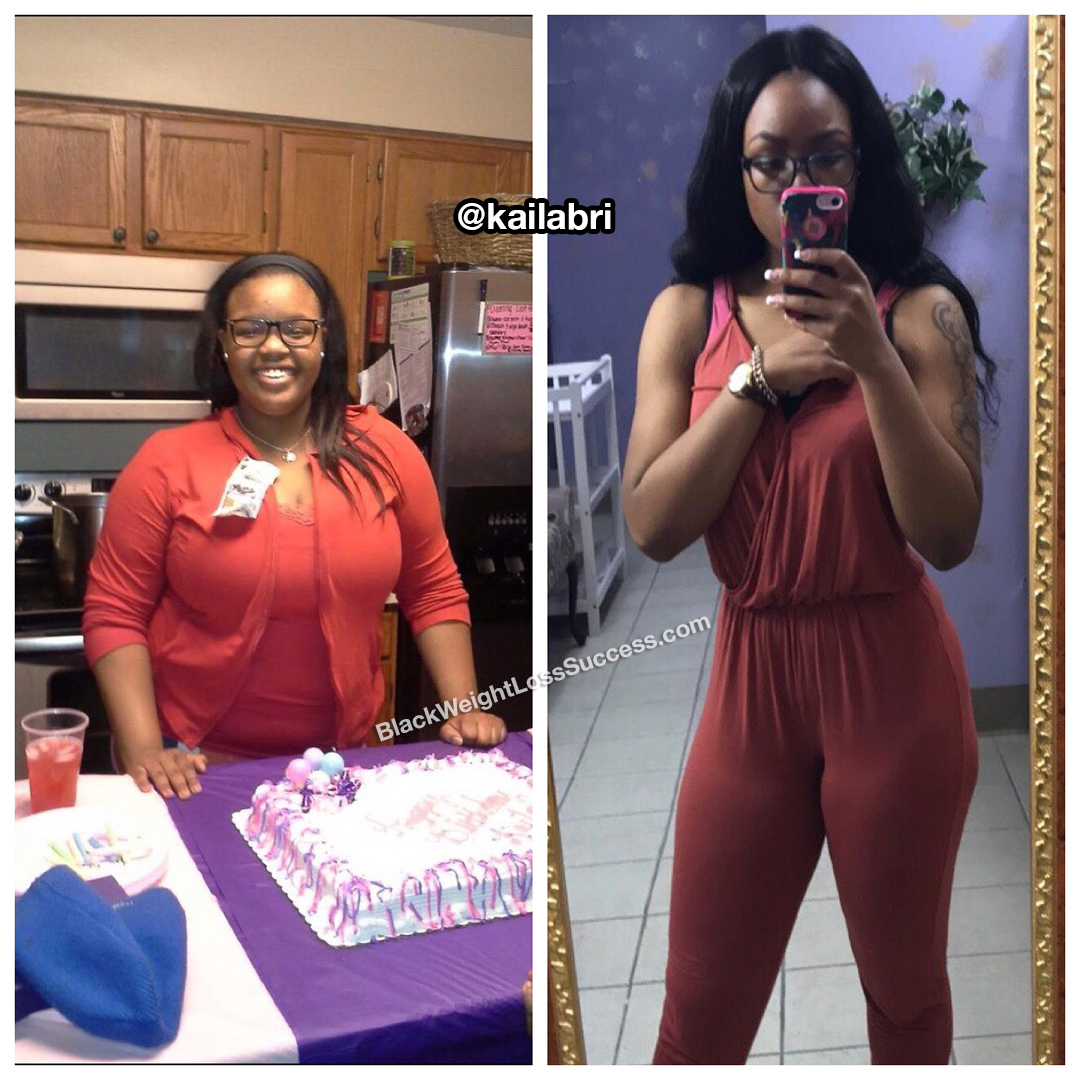 What was your motivation? What inspired you to keep going when you wanted to give
up?
At one point, I weighed 300 pounds at the age of 16. My high school sweetheart Chase, whom I am still with today, had always been smaller than me. He was literally half my size. I gained a lot of weight when we were
together in high school and I felt like he wouldn't love me anymore. However, he never made me feel that way. It was just a mental block for me. So, I decided to get this weight off of me.
Looking back on my progress motivates me to keep going. When I feel like I am about to eat something that I really shouldn't be eating, I look at my screensaver which is my before and after photo. It says "Moment on the lips, lifetime on the hips SO DON'T EAT IT!"
How did you change your eating habits?
My mom made my entire household change our eating habits. We did little things like switching from 2% milk to Skim milk or baking everything instead of frying our food. I stopped eating A LOT of fried foods and I stopped indulging in carbohydrates and gravies. I started eating steamed, fresh vegetables and lots of baked fish and chicken. I used MyPlate to make sure that I ate the right amount of food. One of my main struggles was portion control.
What did your workout routine look like?
My workout routine consists of 15-20 minutes of cardio every single day (if I'm going to the gym) and weight training. Weight training is how I was able to get this coke bottle figure. Some days, I also do HipHopFitness for 1 hour here in Columbus, Ohio taught by Mike Nicholson. On average, you burn about 1,200 calories per class. I workout every single day. NO DAYS OFF!
What was your starting weight? What is your current weight?
My starting weight was 300 pounds even. I am currently sitting at 175 pounds. I am 5'8"
When did you start your journey? How long did your transformation take?
I started my journey in the Summer of 2014, so I'm going on 4 years into my transformation and I am still transforming.
What is the biggest lesson you've learned?
The biggest lesson I've learned is that you have to want it for yourself. People will lie to you and tell you that you look fine and all of that. Nothing about being 300lbs looks healthy or is healthy in general. You have to push yourself.
What advice do you have for other people who want to lose weight?
My advice is to stay consistent and be patient. You CANNOT rush greatness! Practice makes progress, and we all want to see progress. Whenever you feel like giving up, always remember why you started.
Instagram: @kailabri