Transformation of the Day: Pamela lost 132 pounds. Her journey began in 2018 when she was facing several health challenges. With guidance from her coach, she embraced a holistic approach that focused on various aspects of her lifestyle, including nutrition, exercise, sleep, and hydration.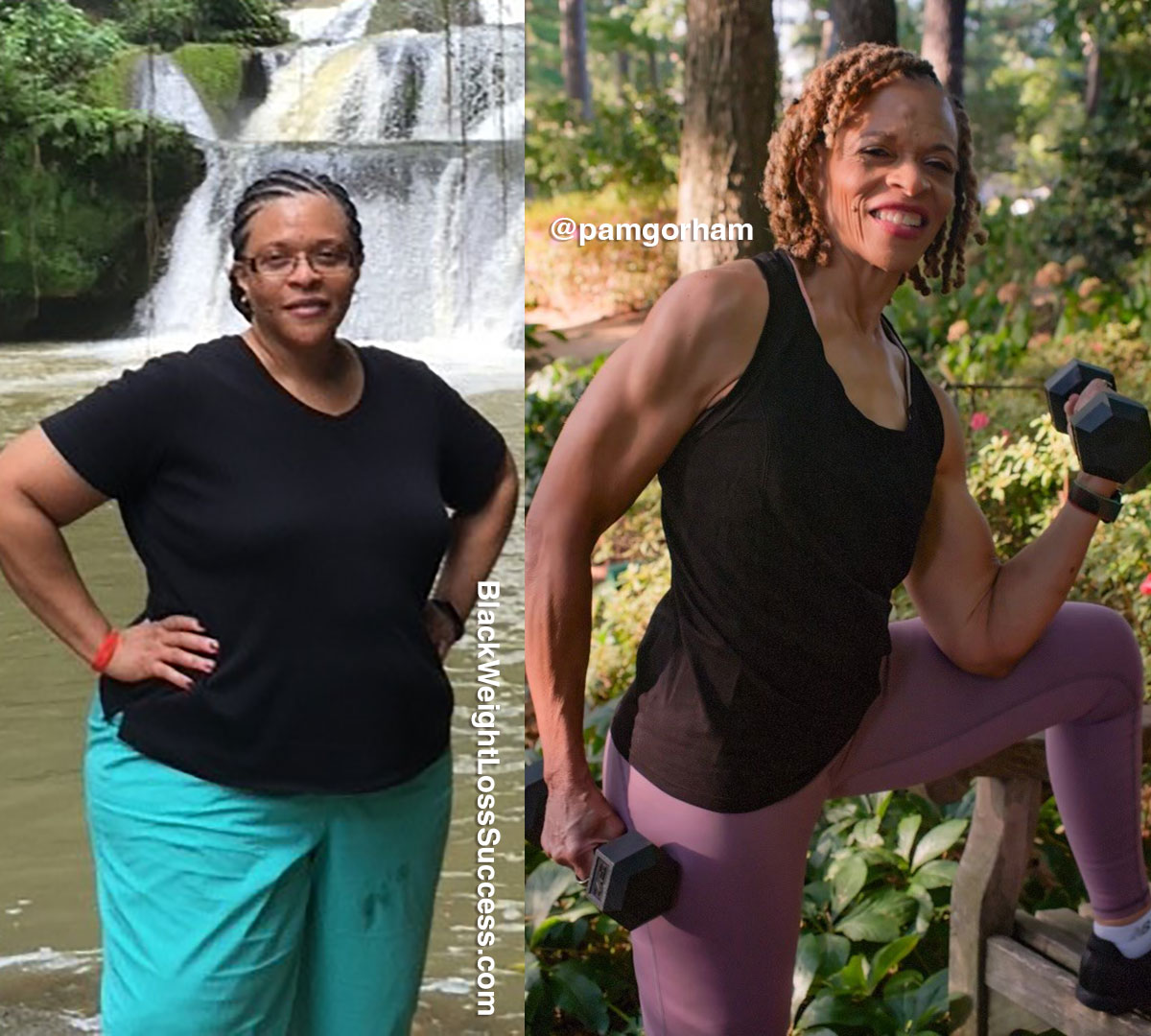 Social Media:
Instagram: @pamgorham
FB: www.facebook.com/pam.gorham
Pamela's Coach – IG: @brooktreeconsulting
FB: www.facebook.com/brooktreeconsulting
What was your motivation? What inspired you to keep going, even when you wanted to give up?
The increasing health challenges, especially the consistent weight gain despite my efforts, were a significant motivation. I was diagnosed with conditions like severe osteoarthritis in both knees, moderate sleep apnea, and pre-diabetes. These health issues, combined with the pain and difficulty in walking and climbing stairs, served as a wake-up call.
My self-worth took a hit with my increasing weight, and this was a driving factor in my desire to make a change.
Once she started working with Kurt (@brooktreeconsulting), I began to see improvements in my health, which provided continuous encouragement. The combined focus on sleep, hydration, movement, nutrition, and exercise led to me feeling better, losing weight, and getting out of the pre-diabetic and obese range.
Having a professional like Kurt, who introduced me to a sustainable lifestyle change and provided a structured approach, played a crucial role. This structure and support acted as a safety net during challenging times.
Seeing the results of Kurt's work on other clients served as a visual testament to the program's efficacy, which can be highly motivating.
While my family initially didn't understand some of my choices, their eventual respect and support for my journey provided a significant emotional boost.
In essence, the combination of health concerns, a deep desire for change, professional guidance, positive results, and internal and external support systems kept me inspired and prevented me from giving up.
How did you change your eating habits?
I used to have this routine of going to Bojangles for their chicken dinner with French fries and lemonade, followed by a large slice of cake from Nantucket. I stopped consuming that and all of those high-calorie, less nutritious foods.
When I went out for family gatherings, I refrained from eating restaurant food and chose to bring my own prepared meals instead.
My coach, Kurt, introduced me to different spices and ways to eat healthily, which helped me diversify my diet with various flavors and nutritious ingredients.
I learned it was very important to have prepared meals and a schedule to eat those meals, so I started meal planning and preparing in advance, ensuring I always had nutritious options available.
I worked closely with my coach and adhered to the meal plans he provided, which emphasized balanced and healthy choices.
Beyond just what I ate, when I ate also became important. Sticking to a consistent meal schedule helped me to stay on track and made it easier to avoid unplanned or unhealthy snacking.
I developed an awareness of my emotional relationship with food. Recognizing stress-induced cravings and contrasting them with actual hunger helped me achieve a deeper level of mindfulness about my food choices.
In summary, I made a significant shift from unhealthy comfort foods to a more structured, nutritious, and home-cooked diet. Under Kurt's guidance, I adopted a holistic approach that included a combination of proper nutrition, meal planning, and a consistent eating schedule.
What is your workout routine? How often did you work out?
My health has improved, and my right knee has been replaced. I weight train five days a week and do some type of cardio daily.
What was your starting weight? What is your current weight? How tall are you?
My weight was as high as 250 pounds. I am currently at 118 lbs. I'm 5'1″ (really 5′.08″)
When did you start your journey? How long did your transformation take?
I started this journey in late May 2018, and it took me 18 months to reach an optimal weight of 125lbs. However, my body composition wasn't ideal. I continue to work on increasing lean muscle mass.
What is the biggest lesson you have learned so far?
The biggest lesson I have learned is the importance of a holistic approach to health, encompassing multiple aspects of well-being, such as sleeping, hydration, movement, nutrition, and exercise. I realized that focusing solely on one aspect, like only dieting or only exercising, wasn't effective for me in the long term.
I learned that being persistent and committed, and I realized that it's never too late to make positive changes. It's very important to focus on the journey and enjoy the process rather than being solely outcome-oriented. My experiences taught me that getting professional help can be invaluable, and it's essential to drop pride and recognize when assistance is required. I believe that investing in your health upfront can save on the costs, both emotional and financial, of being sick in the long run.
What advice do you have for women who want to lose weight?
1. Focus on the Journey: Emphasize the importance of enjoying the process and the journey rather than strictly focusing on the end goal or outcome.
2. Seek Professional Help: Recognize when you need assistance, and don't be afraid to seek help. If you've tried over and over again 'to do it by yourself', recognize that you just may need some help.
3. Holistic Approach: It's essential to adopt a holistic approach to health, considering all aspects like sleep, hydration, nutrition, movement, and exercise. You can't rely solely on dieting or exercising; it has to be a comprehensive strategy.
4. Commitment to Lifestyle Change: It's not about short-term diets or fads but making a lifestyle change that is sustainable for the long term.
5. Cook at Home: I found value in cooking at home, experimenting with different spices, and discovering ways to make healthy meals that are also flavorful.
6. Consistency: Consistency is key, whether it's maintaining a sleep schedule, eating habits, or workout routines.
7. Drop the Pride: It's essential to admit when you need assistance and not let pride prevent you from getting the help you need.
8. Prioritize Health Over Cost: Investing in your health is crucial. Being sick can be costlier in the long run, not just financially but emotionally and physically as well.
9. Believe in Yourself: Understand that as long as you're alive, it's never too late to make positive changes and live a healthier lifestyle.
In summary, It's about a holistic and sustainable approach to health, recognizing when to seek help and the importance of consistency and commitment.