Transformation of the Day: Rainy lost 107 pounds. Her wakeup call came when she almost had to request a seat belt extension on a cross country flight. This mom of 4 using early morning workouts, intermittent fasting and ketogenic dieting to get results. She has transformed her body and her mind. Check out her story.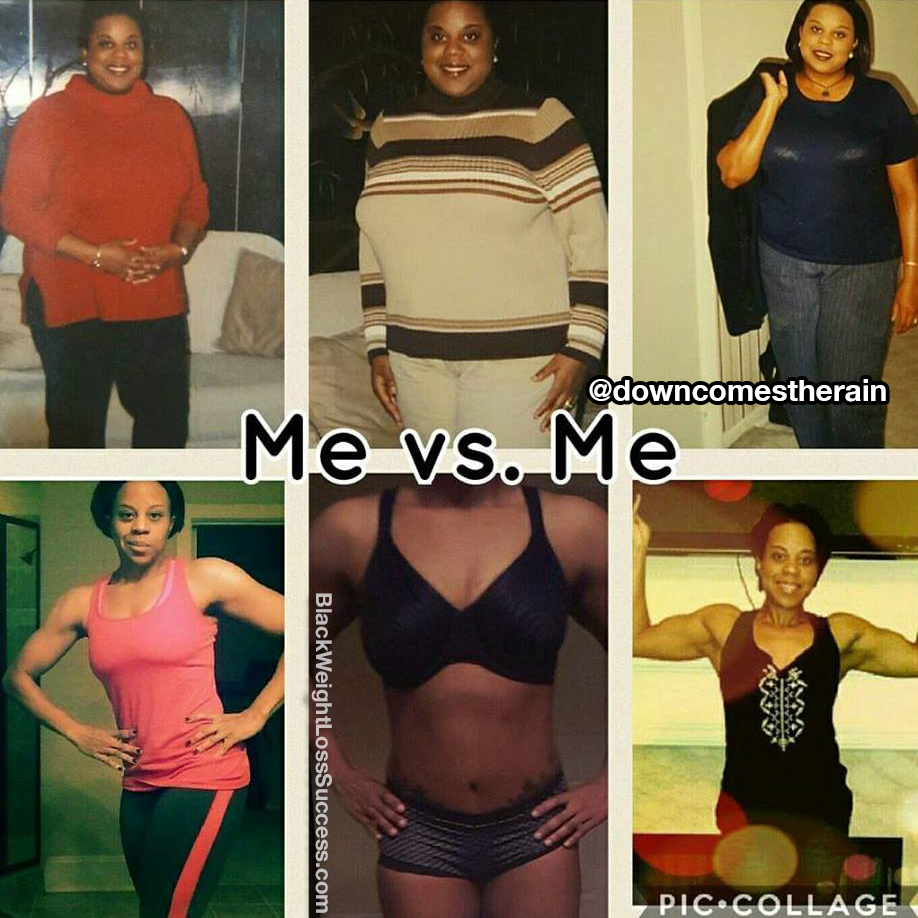 Highest weight – 245 lbs
Lowest Weight – 138 lbs
Current weight – 145 lbs
Height: 5'4″
I started my weight loss journey in August of 2012 at a whopping 240 pounds. I wore a size 22/24. My lowest weight is 138 pounds at a size 4, but I usually maintain somewhere between 138-148 lbs.
I reached my rock bottom while traveling across country and coming dangerously close to having to ask the flight attendant for a seat belt extension. At that moment on that plane, I knew it was time to take action! I am so grateful to God that I have not given up along this difficult journey. My transformation has been worth every tear I've shed, every 5am workout, every step I've taken, and every rep I've completed. I am not done and I NEVER will be done.
This truly is a journey and not a destination. I've come to enjoy the process of transforming my body. I will never be perfect and I will always have what I perceive to be flaws, but I'm learning to embrace the woman I am becoming. I compete with NO ONE. I am my own competition. It is Me vs. Me.
How did I do it?
It all started in my MIND. I disciplined myself to getting up at 4:15 am every morning so that I could workout before work, between 5 am – 6:30 am. I found that this is the best time for me to work out because I have a husband and 4 kids. So many issues/activities can happen over the course of the day and that could throw me off.
I started with brisk walking for exercise, but my husband challenged me to begin weight training very soon after I started my journey. Lifting weights has made all of the difference in contouring and shaping my body, as well as increasing my overall metabolic rate. My typical weekly workout schedule looks like this:
Mon – Chest/Triceps and 45 minutes cardio
Tues – Back/Biceps and 20 minutes HIIT cardio
Wed – Cardio – 60-75 minutes
Thurs – Shoulders and 45 minutes cardio
Friday – Legs and 20 minutes HIIT cardio
Sat – Cardio – 70-75 minutes
Sun – Rest Day or Leisurely walk with the dog and kids – 45 minutes
My Diet – Intermittent Fasting/ Low Carb/ High Protein – My IF (Intermittent Fasting) schedule varies. Some days, I will fast for a 20 hour window with a 4 hour eating window. Other times, the fasting window is 16-18 hours. It really depends on what my goals are at the time. In order to drop body fat quickly while retaining muscle mass, I go for longer windows for a longer stretch of days.
I alternate this with a Ketogenic diet where I aim to take in no more than about 20-25 grams of carbs per day. When I restrict my carbs this low, I find that usually it is not necessary to do a strict calorie count. Also, the longer that I stay on a Keto plan, my appetite normally subsides and that makes the IF much easier to tolerate. The above circumstances are optimal. There are times when I deviate and eat more carbs, which will stall weight loss if I am trying to lose or cause me to plateau.
My advice for women who want to lose weight would be to establish consistent eating habits and a solid exercise plan which consists mainly of strength training more so than cardio. Cardio has its place, but if you are trying to lose weight, then you must build muscle. This muscle will help to increase your overall metabolic rate, even when the exercise activity stops. Building muscle is key, not only for weight loss but for contouring your body/losing inches. Cardio alone will not give you a sculpted/chiseled body.
Lift often, lift heavy, eat clean and drink lots of water. Learn to trust and enjoy the process!
Instagram: @downcomestherain