Update Sept 2017: Sharon has gone from a size 22 to a size 8. She's lost 27 more pounds for a total of 127 pounds gone.
I lost 27 more pounds and I've gone from a size 22 to an 8. My starting weight was 304 pounds and my current weight is 177 pounds. I hit a plateau at 204 pounds, but I broke past it this year by increasing the number of days that I exercise and even further restricting my carb intake.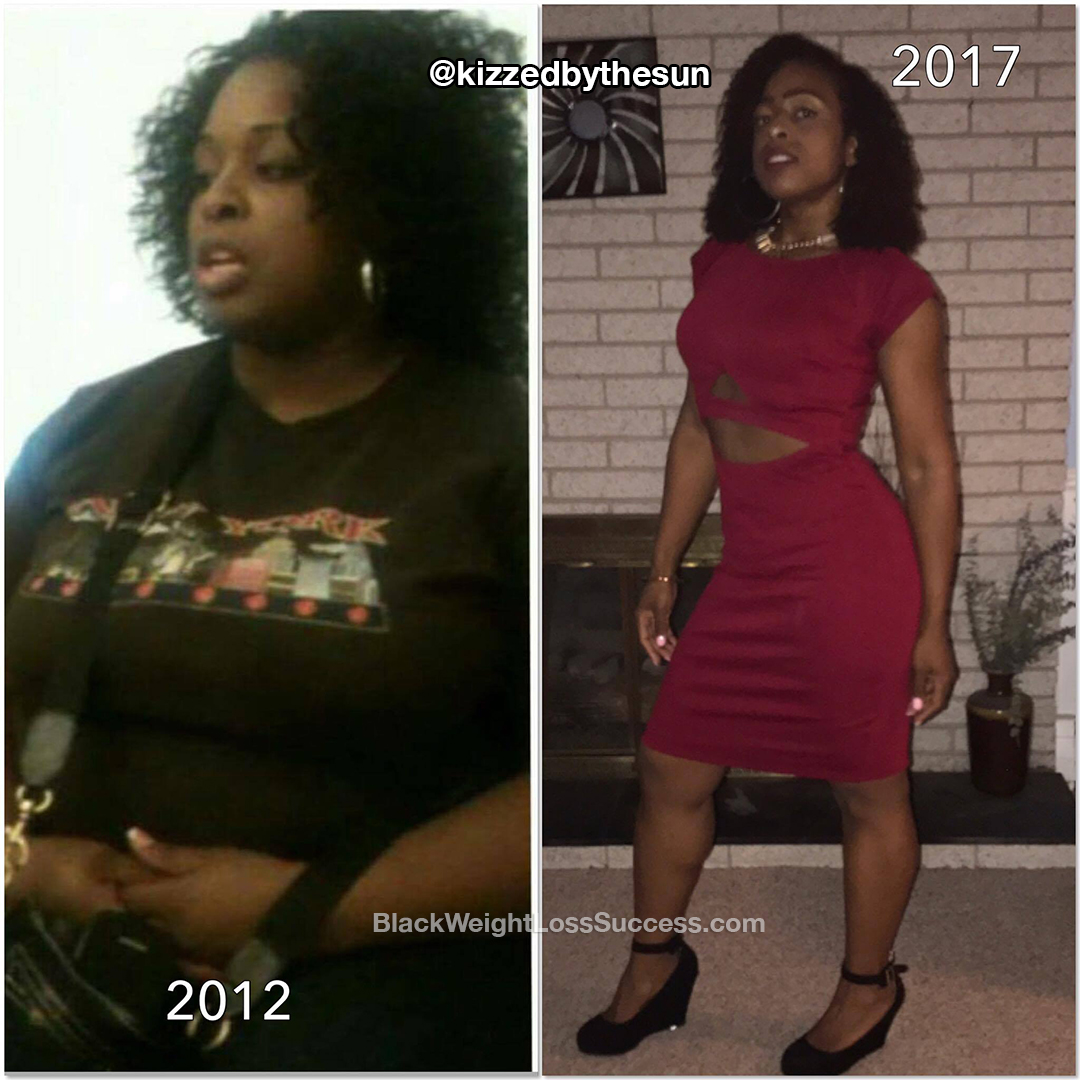 Transformation of the Day: Sharon lost 100 pounds and went from a size 22 to a size 10. She saw a video and didn't recognize herself in it. Severe knee pain was also a motivating factor. Putting in the work and figuring out what eating and exercise habits work for her has paid off big time. She says, "If you mess up, don't give up." Check out what she shared with us about how she achieved this awesome transformation.
What was your motivation?
In May of 2014, I saw myself on video and didn't recognize myself. I also had severe knee pain and my doctors were telling me that I needed to lose weight. I strongly considered getting gastric bypass surgery. Instead, I opted to join a gym just to see how much weight I could lose on my own. I became more and more motivated every week when I stepped on the scale and saw my weight steadily going down. I was dropping a dress size a month. When I wanted to give up, I would look at old pictures and remember where I came from. I would buy a new dress one size too small and envision myself in that dress as I ran on the treadmill. I never believed that I could lose 100 pounds with no help, but I've done just that.
How did you change your eating habits? 
I changed my diet to low carb but high fruits and veggies. I drink plenty of water each day (6-8 glasses) and have one cheat meal per week. I began tracking my food on the MyFitnessPal app. I cut out sodas, juice, bread, red meat and white rice. A typical meal of mine consists of a lean protein like a turkey burger, chicken breast, or salmon, paired with vegetables and fruit. I started eating more vegetables than I ever had before and eating several salads a week.
What did your workout routines look like?
I joined a gym and began to workout 4-5 days a week. Initially, I started by walking on the treadmill slowly for 45 minutes. The first time I tried the elliptical machine I only lasted 5 minutes. Over time, I built up my endurance and speed. I began to do high intensity interval training where I would walk a few minutes, then run a few minutes, then repeat. I would add the elliptical and exercise bike on top of that. After a few months, I started weight training, starting with 5 lb. dumbbells, and that's when I really started to see my body change. The weight loss accelerated and I was losing 5-7 pounds a week. Two years later, I now work out four days a week doing weight training and cardio. My total workout lasts about 2 hours.
What was your starting weight? What is your current weight?
My starting weight was 304 pounds. My current weight is 204 pounds. I went from a size 22 to a 10 and I have maintained a 100 pound weight loss for over a year. I'm 5'6″ tall.
How long did your transformation take?
I started my journey in May of 2014. I was able to lose 110 pounds in 14 months. I have gained back 10 pounds since then, so I plan to lose 20 more pounds.
What advice do you have for others who want to lose weight?
I would recommend that anyone looking to lose weight just take it one day at a time. If you mess up one day, tomorrow is a new day. Celebrate small successes. I would buy a new dress every 10 lbs. and do a mini photo shoot. The biggest lesson I learned is to not try to set huge goals. Take it one day at a time. I never set out to lose 110 pounds. It happened because my goal was just to change my unhealthy lifestyle. If you mess up, don't give up.
Instagram: @kizzedbythesun