Weight Loss Transformation of the Day: Yalonda lost 107 pounds. At 300 pounds, walking and eating clean helped her release lots of pounds, but pregnancy and overeating caused much of the weight she lost to come right back. After giving birth, she recommitted to the healthy habits that worked for her and is now in "One-derland", under 200 pounds.  Here is what she shared with us about her journey…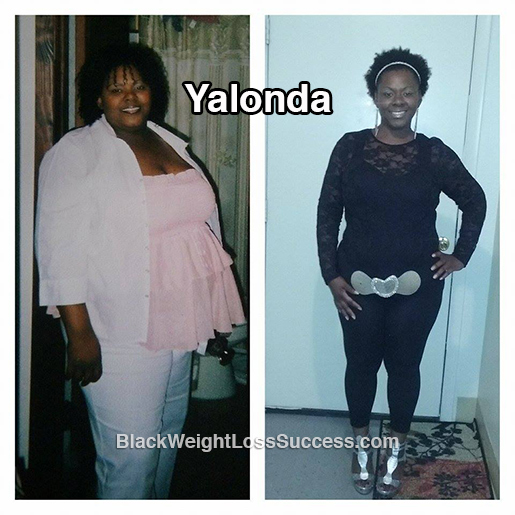 Hi, My name is Yalonda. I remember when I first started losing weight back in 2007. I decided to lose weight because one day my son, who was 3 at the time, asked me why he couldn't put his arms all the way around me when he hugged me. I did know how to answer that question, but from that day fourth I knew I had to change and be serious about it, so I started walking regularly and eating clean.
I started to loose the weight and had gotten down to 235 pounds from 300 pounds. My weight loss journey was at stand still for awhile, so I started drinking lemon water and apple cider vinegar. I also cut out sugar, started counting calories and kept walking. I got down to 199 pounds and then found out that I was pregnant. Oh wow! The weight was going to come back and it did. My weight was 260 pounds after my baby was born in May 2014, but I was determined to get the pounds off again.
I started walking several miles a day, eating clean, cutting sugar and drinking green smoothies. I was still drinking my lemon water with green tea and apple cider vinegar too. I started eating more fruit, vegetables and baked more of my meats. I only eat chicken, turkey and fish. For my workouts, I didn't do anything major. I just walk/jog about 5-7 miles, Monday -Friday. I also do sit ups and squats. I sometimes do the different challenges you guys have going on your site.
This journey has not been easy, but is t'll worth it. I had to learn what works for me and I found out that I needed to stop eating sugary things, like cakes, candy, cereal, cookies and sodas. I also cut out chips and anything else that wasn't good for me. I learned that I had a problem with overeating. Take pizza for example; 1 or 2 slices should have been good enough but I would have 3 to 4 slices along with Pepsi. I would eat pizza maybe 3 times out the week. Fast-food was a weakness of mine and because of eating this way the weight just started coming on and wouldn't stop.
Now, I weight 193 pounds and I'm still on this journey to be healthy (height: 5'3″). I'm feeling better, looking better and loving myself. My advice to the people who want to lose weight is go for it! You can't change without challenging yourself. If you don't try, how would you know whether can or can't be done. I know because I did it! Love yourself enough to live longer.
I have a motivation page on Facebook: A Healthier New Lifestyle With Londa. Go check me out and like my page. Thanks so very much. Let's get healthy!