Danielle lost 30 pounds. Her weight fluctuated over the years, and during the pandemic, she reached her highest weight. She decided to restart her journey in October. Being a vegetarian, drinking green smoothies, and practicing intermittent fasting are three ways she got results.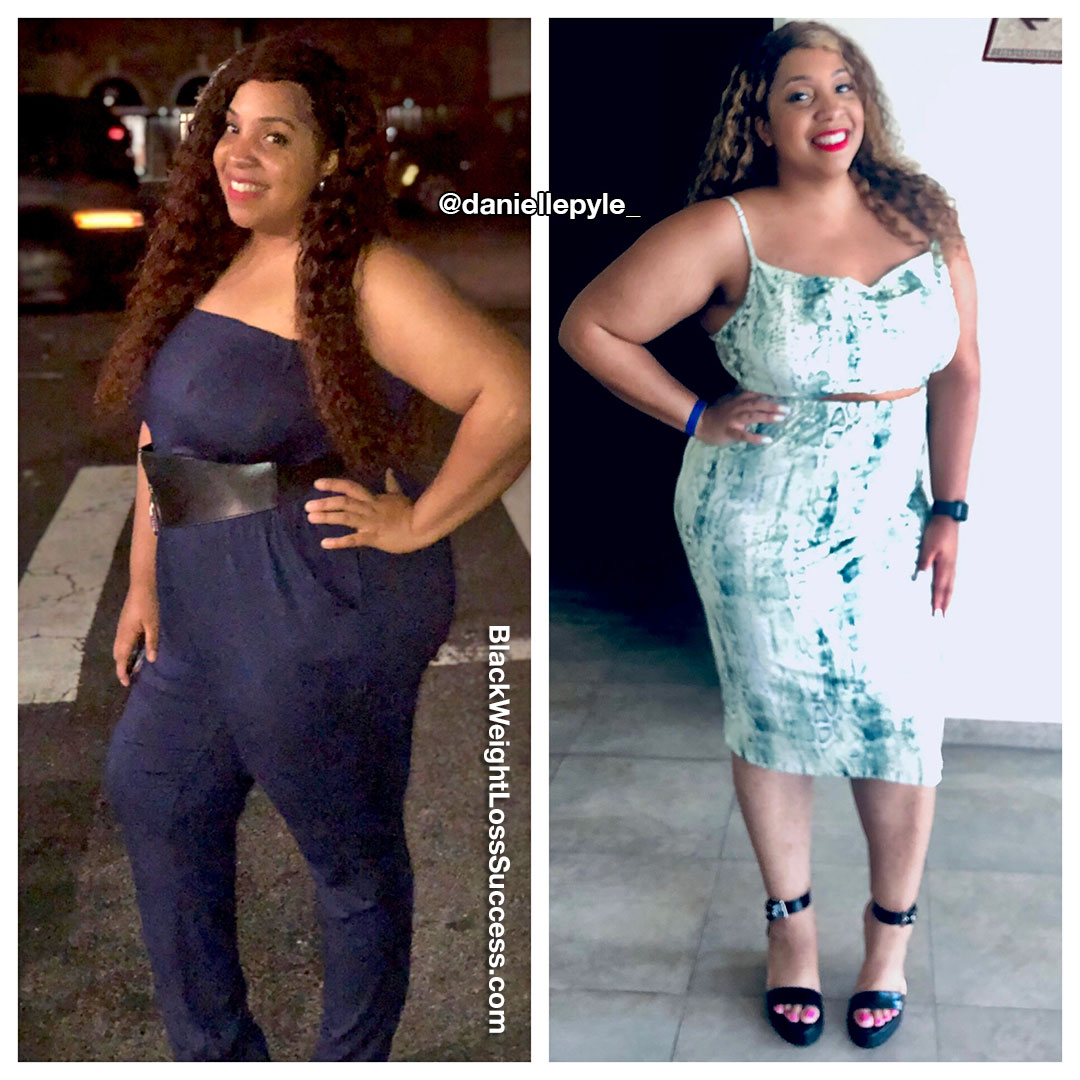 My weight fluctuated throughout the years. I would successfully lose weight then gain it all back. During the pandemic, I gained a lot of weight and reached my heaviest weight ever. So, I decided to work out twice a day, walking and working out. Today I'm happier, I have a stronger mindset, and I love to work out. 
What was your motivation?
The rise of Covid 19 cases in the black community motivated me to take my health more seriously. During the pandemic. I was also having some mysterious muscle pain in my body. 
Once I started to get active, the pain disappeared. I was more energetic, happier, and healthier. I wanted to push myself harder than I ever pushed myself before physically.
What inspired you to keep going, even when you wanted to give up?
One of my gifts from the Lord is to encourage and empower others. As a Life Coach, I encourage people on a daily basis. Whenever I wanted to give up, I will always think about someone I'm called to serve, empower, and motivate. I keep the perspective that my journey is not just about me but about others.
How did you change your eating habits?
I have been meatless for nine years. At the beginning of my journey, I was a strict vegan. I'm currently a vegetarian. During my journey, I did the JJ Smith green smoothie cleanse. I started to drink green smoothies daily packed with protein. Once I increased my protein intake and decreased my carbs, my weight came off rapidly. I also do intermittent fasting.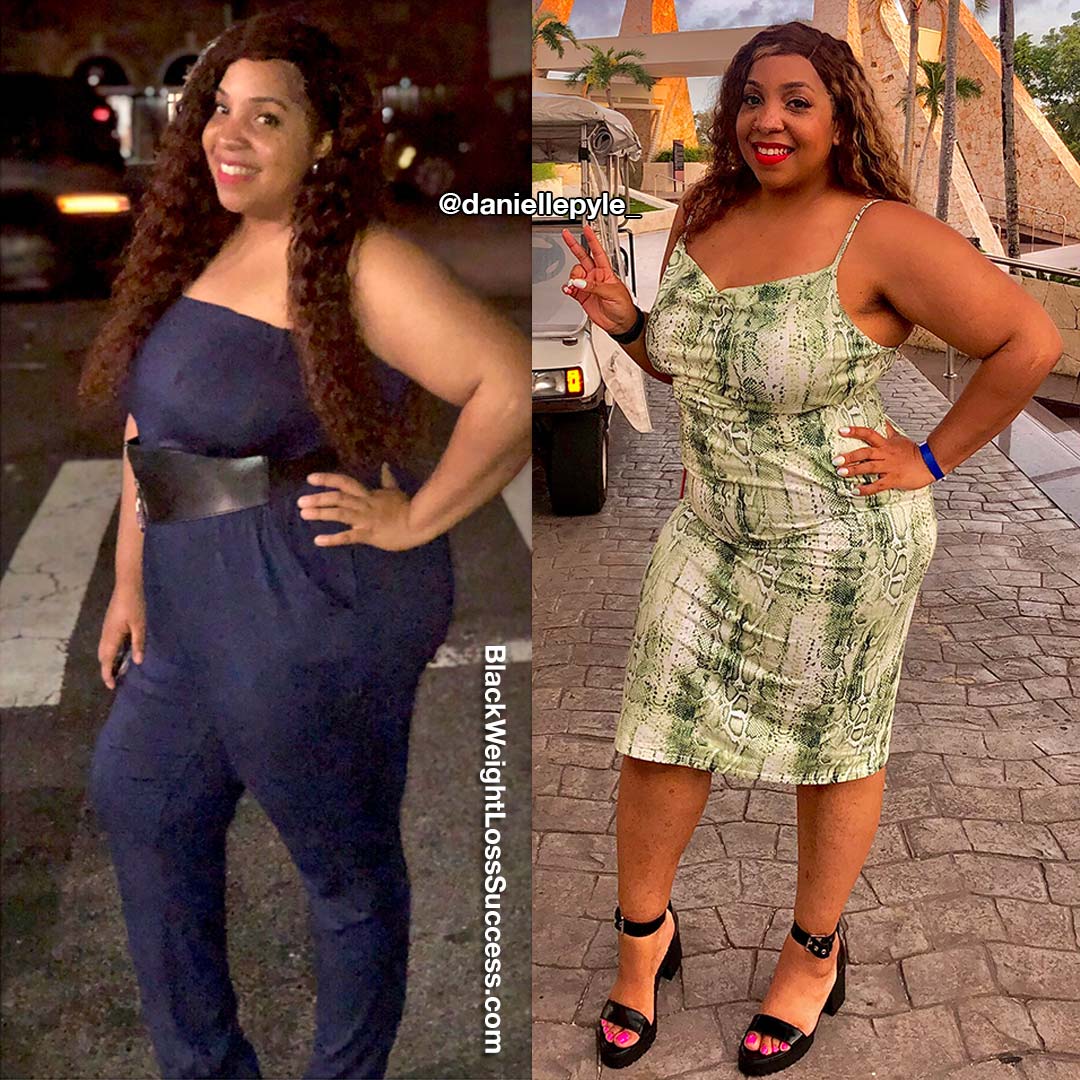 What did your workout routine consist of? How often did you work out?
My indoor workouts consist of HIIT, cardio, dancing, glute exercises, stretching, strength training, and anything fun! My workout routine consists of one indoor workout and one outdoor workout. I currently work out 45-60 mins a day, seven days a week.
What was your starting weight? What is your current weight?
My starting weight was 260 pounds. My current weight is 230 pounds.
What is your height?
I'm 5'6″.
When did you start your journey? How long did your transformation take?
I started back in 2016. I was actually featured by BWLW before. My weight fluctuated for many years after that. I restarted my journey in October 2020. My transformation took about seven months.
What is the biggest lesson you've learned so far?
My biggest lesson is to tune out your critics and tune into the creator. Many people will have opinions on how you should live your life and how you should do this and that. You have to isolate yourself from the opinions of people and do what is right for you.
What advice would you like to share with women who want to lose weight?
Achieving any goal in life doesn't happen overnight. Stay true to your goals. Stay consistent. Define your own idea of your success. Don't let bad days throw you off course. Surround yourself with like-minded individuals. Find weight loss groups and online communities.
Sometimes it's not places, things, or people who are stopping you from reaching your goals. It's you! Don't listen to yourself when you say you can't do it. Don't let YOU stop you from reaching your goals today. – Coach Dani 
Instagram: @daniellepyle_