Update Sept 2017: We featured Danielle back in 2015 and she has worked hard to maintain her success and keep the pounds off. Check out how she did it.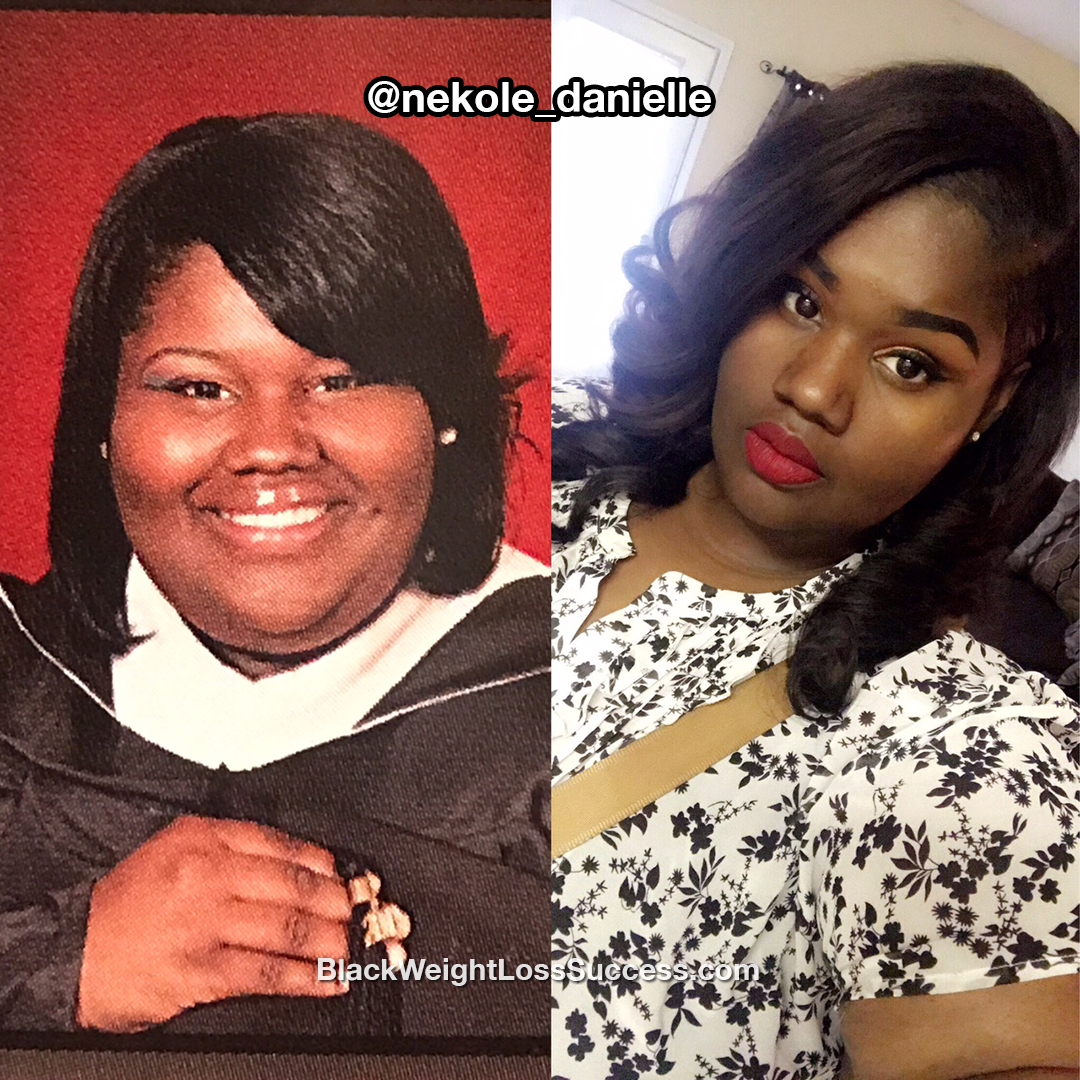 I was featured on your page before about 2 years ago. I'm a currently back on my grind like never before. I just wanted people to see this before picture, because this is where I came from. I'm currently down 50 pounds and I'm still shrinking. I just want to help motivat young girls out there.
I have tried my best to maintain my weight by staying under at least 2000 per day. Now. I have gotten to the point where I burn between 600-900 calories when I go to the gym. I workout at least 4-5 times a week. On the days when this journey gets hard, I try to remember why I started. I often look at my old pictures for motivation. Lately I've been pushing myself a lot more.
My advice to those who are just now starting out would be to stay positive and surround yourself with positive people and positive situations. It's so easy to get discouraged or stop, but the more you stop the harder it is to start again.
Instagram: @nekole_danielle
Weight Loss Transformation Story of the Day: Danielle lost 95 pounds. Starting in 2012, she is a true example of someone who knows that slow and stead wins the race.  Here is what she shared about her weight loss journey…
I contemplated for a while about sending this picture. I started my weight loss journey in July of 2012, and it's still a struggle. I started out weighing 413 lbs and I'm now 318 lbs. For about two months, I stopped working out and I reverted back to eating unhealthy. To be honest, I gained almost 40 lbs back out of the weight that I'd lost. Sometimes we let our situation get the best of us, unknowingly we allow the devil to come back and take what you have worked so hard for.
About a month and a half ago, I had to put my foot down and re-dedicate myself to my health. Of course I had to start working out again, and I had to train myself to be positive about my future and where I want to be. The picture on the right was taken about a week ago. I look at the picture on the left to remind me of where I do not want to be ever again.
I changed my eating habits by first changing my portion sizes. I would eat only 2200-2500 calories per day. I stopped eating fast foods…I'd indulge every now and then, but I still try to stay on track. No junk foods like chips, cakes, NO SODAS!! I don't keep sugary drinks in my house. When I first started working out, I was walking 1.5 miles around the track 5 days per week. I switched it up when I got bored. Then I began dancing for 30 minutes per day with my Wii (Just Dance).  After I lost about 60 more pounds, I started going to the Gym. I am currently 318 pounds at 5'6″ tall.
We all struggle with something, but weight-loss has to be one of my biggest struggles that I have ever encountered. My message to everyone is that whatever happens, just keep going because it's so easy to quit and it can be so hard to start back again. Life is filled with temporary forevers, and promises that are broken, but if you commit yourself to you and you only, then you'll have so much to gain by losing what you don't need.