Transformation of the Day: Erika lost 213 pounds. At 430 lbs, her weight was severely impacting her health and her mobility. She was also in an emotionally and mentally abusive marriage. One day, while visiting a place that held positive memories, she began walking and never turned back.  Check out what she shared with us about her inspirational weight release journey.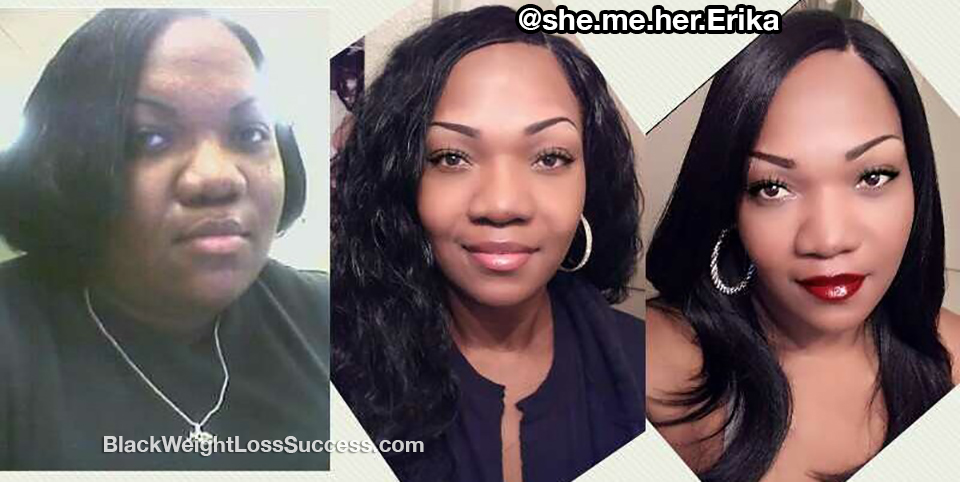 While my journey I still a work in progress, I've managed to lose 213 pounds and keep it off. I officially started my journey shortly after the beginning of 2005. I got to my goal weight by the summer of 2008.
At 430 pounds (height: 5'5″), I couldn't walk as far as 20 feet without losing my breath or needing to sit down and rest. I couldn't keep up with my 4 year-old year old daughter. I couldn't sit in regular seats at the movies. I had to have a special chair at work, and I had severe lymphedema in my left leg. Most of all, I couldn't find happiness within myself.
I was stuck in an emotionally and mentally abusive marriage with someone who consistently told me how lucky I was to have him. He told me that I was so big and fat that no one else would ever want me.
One day, I found myself at my old high school, a place where I had nothing but happy memories. In the middle of reminiscing about the girl I used to be and feeling sorry for myself, I started to walk around the track. I counted how many steps I could take before I had to stop because I was out of breath and my back hurt. I did this several times until I was too tired to go on. Each day, I decided to go back to that track walk further than I had the day before. I did that until it became easy for me to circle the track several times without stopping. With my water in hand and determination on my mind I walked that track for hours, day after day. I also drank lots of water and did my best to control my eating. A little over a year later, I had walked off my first 100 pounds.
A new me was born. I went on to find a new job, a new love, and I had a new baby. I've never looked back.
What was your motivation?
My motivation was a desire to be a better, more active mother to my daughter and a better me to myself. Every time I wanted to give up and give in, I did. However, at the next meal, I would wipe the slate clean and start again. The occurrences of giving up started to happen less and less.
How did you change your eating habits?
I limited my drinking to nothing but water and Crystal Light. In the beginning, I didn't change the foods I ate. Instead, I divided everything into four pieces and purposely left the fourth piece uneaten. I made sure to drink 16 oz of water or crystal light before and after each meal. When I just wanted to eat for no reason or wanted to have something fatty and sweet, I would chew gum instead. Man oh man, did I chew a whole lot of d*** gum… lol.
Did you do any other forms of exercise along with walking?
Other than walking, I never really worked out. I took every opportunity to walk more. I would do things like parking far away at stores, taking the stairs instead of the elevator, walking to places that were within a reasonable distance instead of getting in my car and walking around my building on my breaks at work.
Did you ever consider weight loss surgery?
I attempted to get weight loss surgery in the beginning, but the surgeons wanted me to lose 10% of my body weight to show them that I could change my eating habits to get ready for the surgery. I couldn't do it, so I was never approved. I love competition, and I love to be challenged so when I started to lose the weight on my own I kept challenging myself to see how much weight I could lose without the aid of the surgery, and I just kept going. I never considered the surgery after that.
What is the biggest lesson you've learned so far?
The biggest lesson I've learned is patience. In the past, when I didn't see instant results, I would always give up. This time, I was the tortoise instead of the hare.
What advice would you like to share?
The best advice I have for others who want to lose weight is don't focus solely on the total amount of weight you want to lose. Start with something small like 1, 2, or 5 pounds. Once you reach that goal, set your next small goal.
Instagram: @she.me.her.Erika