Update Nov 2017: Gwendolyn has keep the weight off. It's been 2 years since she started her journey on March 31,2015. To maintain her weight loss, she exercises 3 times a week on the treadmill. Eating healthy and low carb has also been a big part of her maintance plan. No bread, no fast food and no pop.
Weight Loss Journey: Gwendolyn lost 119 pounds. This mom of 3 opted for weight loss surgery so that she could live a longer, healthier life. It's been a little over a year since her surgery. She's seen the pounds drop off and seen her health improve. Check out what she shared with us.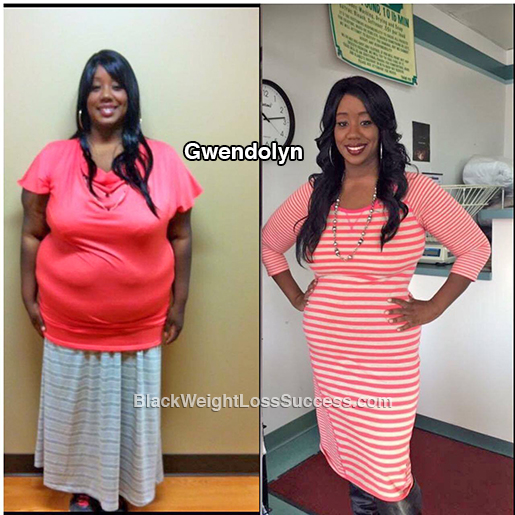 Highest weight: 310 pounds
Current weight: 191 pounds
Height: 5'5″
Hello, My name is Gwendolyn C. A little over a year ago, I decided to have gastric bypass weight loss surgery. I was the best decision for me. I made the decision to have surgery to save my life and to live longer for my family.
My inspiration was my three beautiful children. To create a healthier lifestyle, I embraced a high protein eating plan. I stopped eating fried foods and I started eating more vegetables and fruit. For exercise, I started working out on the treadmill three times a week. In the beginning, I did 15 minutes on the treadmill and worked up to 40 minutes per session. Currently, my incline is 45 and it used to be 25.
My highest weight was 310 lbs and my current weight is 191 lbs. My transformation started on March 31 2015, the date of my surgery. Since then, I have lost a 119 pounds… forever. Now, I thank God for my surgery, because I have more energy to play with my children. I also thank God because I no longer have to take blood pressure pills.
My advice to anyone who wants to lose weight is to have a positive attitude and stay motivated. Know that when you put your mind to do something positive, you can achieve it.
Gwendolyn's Facebook Group: Gastric Bypass and Sleeve. You Can Do It