Transformation of the Day: Ruby lost 52 pounds and several dress sizes. Tired of being out of shape and not liking how she looked in her clothes, she decided to try the same online program that gave her daughter amazing results. Her hard work and determination has paid off. Check out her story.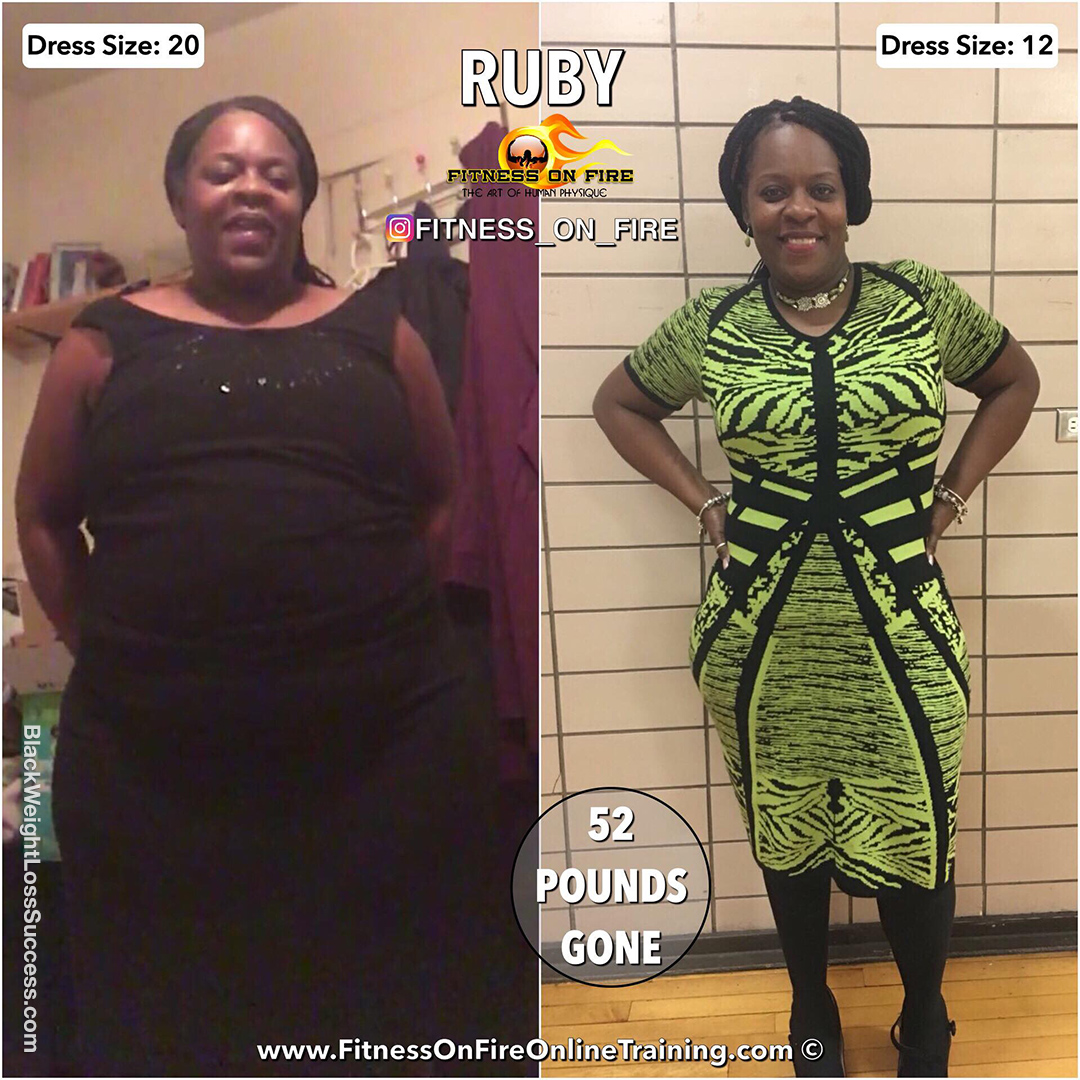 Age: 57
Height: 5'6
Starting Weight: 267lbs
Current Weight: 215lbs
Total Weight loss: 52
Starting Dress Size: 20
Current Dress Size: 12
Representing: Chicago
What was your motivation?
My motivation to lose weight was being tired of how I looked in my clothes, tired of my body being out of shape, and tired of eating unhealthily.
What inspired you to start your weight loss journey?
My inspiration to start my weight loss journey came from my daughter Rashonda, who joined Fitness on Fire two years ago. As I watched her journey and her transformation, I felt I could get the same results with a made of mind and the determination to want to change.
How did you change your eating habits?
I changed my eating habits by giving up certain foods and doing all of my eating before 8:00 pm every day. I stopped eating beef, pork, fried food, junk food, pasta, sugary foods and pop. I started eating more fruit, vegetables, turkey, chicken and drinking plenty water.
What did your workout routine consist of?
During these six months, I did resistance and HIIT training which was recommended by my online trainer, King of the Fire. I went to the gym at least 5-6 times per week and worked out anywhere from a 1 hour to and 1 1/2 hour at a time.
How long did your transformation take?
My transformation took about 6 months. I started seeing results after going to the gym 50 times. This would have been in about 2 1/2 months in the program. When I started seeing a difference in my body and in my clothes, that made me want to keep going because I was feeling good and I liked how my clothes were starting to fit.
The Fitness on Fire Online Training Program worked for me because of the accountability and the support I received. To have someone there who can encourage you is a plus. Even though it's an online program, it never felt like it. No matter how many concerns or questions I had, Nutritionist Guru and Fire were always there for me. Many programs tell you what you must do, but after that you are on your own. This program has been with me every step of the way and motivated me to keep going.
What advice do you have for others who want to lose weight?
First, have a willing and made up mind. You must see yourself wanting to change and lose the weight. You must have discipline to give up certain foods and be persistent in the gym. Most importantly, you must keep going no matter what. Even if you fall off course, don't give up. Just start over again. This will show that you have the determination to change.
Instagram: @godisawesometome
Disclaimer: Reference or link to any specific product, diet plan, exercise plan or service mentioned in the weight loss stories we share is for the information of our readers, and does not constitute an endorsement or recommendation by Black Women Losing Weight.