Transformation of the Day: Nory lost 25 pounds and gained lots of lean muscle. However, for this Alpha Kappa Alpha soror the 7 year journey has been more about creating a healthy lifestyle than just losing pounds. Check out her story for a ton of great insights.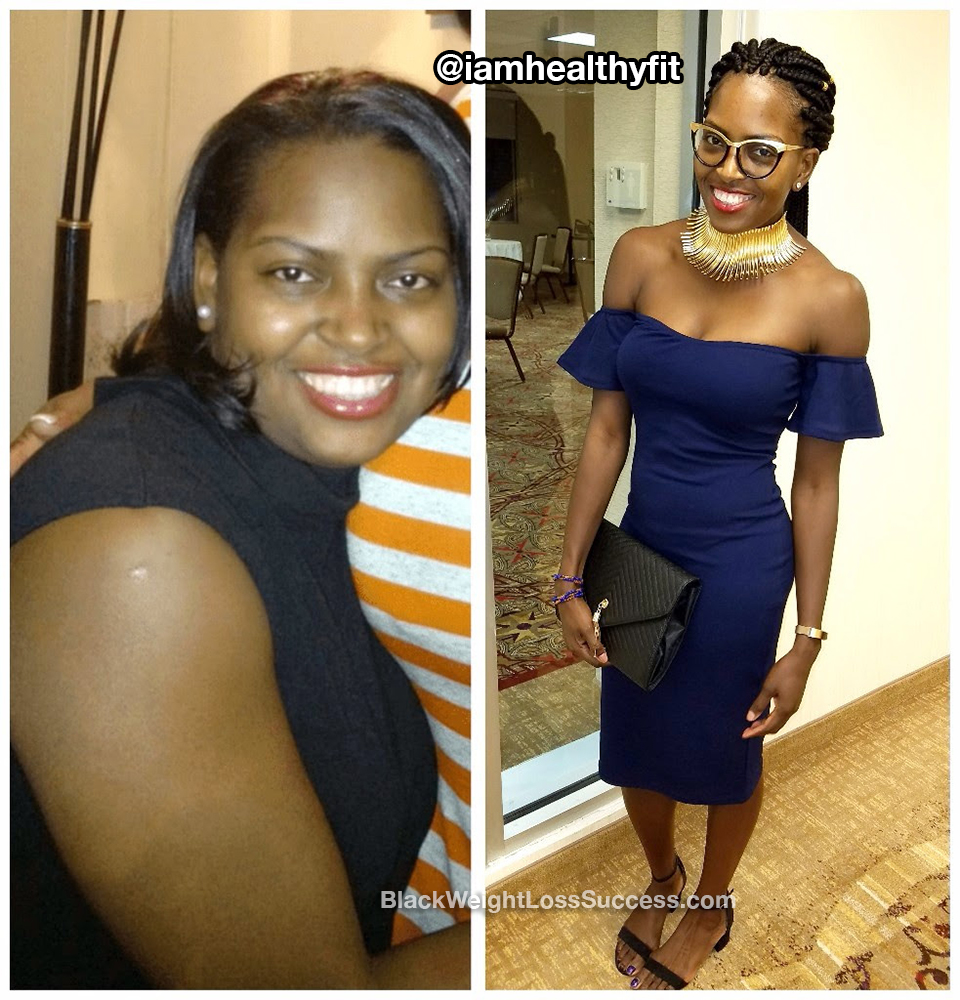 What was your motivation? What inspired you when you wanted to give up?
I don't have one motivation, I have a list:
My health
My family and their issues with their health
My husband
My unborn children (if I decide to have them)
My friends and their challenges with their health
Every woman of color that is struggling to eat better because culturally it is a lot harder for us.
Over the past seven years since I changed my lifestyle, I've used this list to push through my fears and challenges. Making a list of motivators will make your process easier. Depending on what you are struggling with, one motivator won't be enough. My list is a constant reminder that my journey is bigger than me and that is the reason I can't give up. Think about your why, write it down and keep the list close to you.
How did you change your eating habits?
The first step to changing my eating habits, was realizing and accepting that my eating habits needed to change. This was the toughest part for me, especially because as I child I was taught to eat for flavor, not nutrition. After undergraduate school, two of my cousins took me under their "healthy living" wings and gave me the direction I desperately needed. Here is what I did:
I accepted myself where I was, not where I wanted to be. I looked in the mirror and decided that I was going to love myself, no matter what my body looked like.
I started reading. I discovered what was in my food, paying close attention to all the ingredients. If I didn't know at-least one ingredient, I didn't buy it. I googled everything. That was the biggest game changer for me.
I took my time. A lot of us want change overnight, that's why we are always looking for quick fixes to "help" us or to "make things right". However, quick fixes often do more harm than good, I know, because I've tried them. Instead, I moved at my own pace. I did not cut off foods overnight. I slowly decreased the amount of unhealthy foods and sugary drinks I put in my body, allowing my body to change one meal at the time. Slow and steady.I switched white rice with whole grains, like brown rice, quinoa and kamut. I stopped eating red meat and pork, and replaced it with chicken, fish and shellfish. I ate more vegetables, like zucchini, broccoli, butternut squash, cherry tomatoes, avocados and romaine lettuce. I ate more fruits, like watermelon, mangos, pineapples, oranges and plums. I looked for options that traveled well so I could take them to work or on the go. I ate a variety of seeds/nuts, like pumpkin seeds, sesame seeds, walnuts, cashews and pistachios. I also drastically cut back on sugary drinks and replaced them with water.
Consistency. In the beginning, I had more bad days than good days, but I stuck to it. It wasn't always easy, especially when I moved in with my mom who is addicted to white rice. I did my best until my best paid off. When I started seeing results, I knew it was working. I had to keep going until I began having more good days than bad days.
What did your workout routine look like?
For the first 3 months, I just walked for 30 minutes. Slowly I felt strong enough to walk/jog for 30 minutes, before I knew it I was running for 30 minutes. Two years later, I ran my first marathon (not in 30 minutes, lol). If you are anything like me, you need to switch things up often. Make sure you do that. I've done yoga, running, twerk, belly dancing and, my favorite, pole dancing. If it is fun and it gets me moving, I try it. I stick to working out 4-5 times per week for no more than 1 hour. These days I am doing T25 from Shaun T (or crazy insanity guy sas I like to call him, lol) and that's only 25 minutes. I don't like to have to think about putting my workout together, so I let other people do that for me. Exercising is important, but food is the most important part.
What was your starting weight? What is your current weight?
I lost about 25 pounds and I've gained some of it back in muscle. My starting weight was 160 pounds and my current weight is 148 pounds. I lost the weight in late 2012 and have kept it off for 5 years.  I've built a lot of lean muscle over the years. My height is 5' 7″.
When did you start your journey? How long did your transformation take?
I began my journey in July 2010. I relapsed in 2011 and started over in March 2012. My most recent transformation is the product of all those years. Everything I've learned has helped me succeed. We can say that for the last 5 years, I've been pretty on it without major setbacks.
What is the biggest lesson you've learned?
Food First. We are obsessed with working out, and I get it. Working out is easy. It is a lot easier that getting to the root of our unhealthy relationship with food. It is easier than saying no to foods, saying no to drinks, easier than meal prepping, easier than cooking, easier than saying no to meals that we've loved our entire lives. Trust me, I know how hard it is.
Sometimes it is still hard for me.
If you want to be healthier, you must start with the food. Think about what ingredients are in the food you bring home for you and your family. Think about how you cook the food you eat, and what you can you do today to eat a little better. You might not be where you want to be, but you have the power to begin small changes to help you reach your goals.
What advice do you have for others who want to lose weight?
My advice comes in two parts:
Start where you are and don't do too much too fast. If you drink 3 cans of soda (or pop if you are not on east coast), try to cut back to 2. If you fry 10 meals a week, try to cut back to 8 meals a week. You might not think you are doing much, but these small steps will give you the right foundation to be able to handle bigger changes later. Focus on what you can control. You might not be able to buy organic, but you can bake instead of frying.
Read your nutrition facts label. Remember when I said I started reading? Well this is what I meant. The nutrition label can be a little intense for a beginner, especially if you don't understand the terms. This is why you must start by focusing on the ingredient list. If anything has more than 15 – 20 ingredients, look for a similar product with less ingredients. If you don't know the ingredients look them up. If you do the research and you still want to buy it, then buy it, but at least you will be making an informed decision. I recently put together a free guide to teach you the best way to read the nutrition label, especially if you are a beginner. You can find it on my site: iamhealthyfit.com.
You are not alone, you have a whole tribe behind you and I am here to support you every step of the way. So, you have no excuse, sis. It's time to reclaim our time and get our health in order.
Instagram: @iamhealthyfit @norypouncil
Twitter: @_iamhealthyfit