Update Sept 2017: Ranasha has lost a total of 100 pounds. Check out her new before and after.
I've lost 48 more pounds since I was featured in October 2016, for a total of a 100 pounds gone. I'm still just walking and watching my eating habits. I still have about 20 more pounds to lose till I reach my goal weight, but I'm excited to now weigh under 200 pounds.
Instagram: @created_to_be_beautiful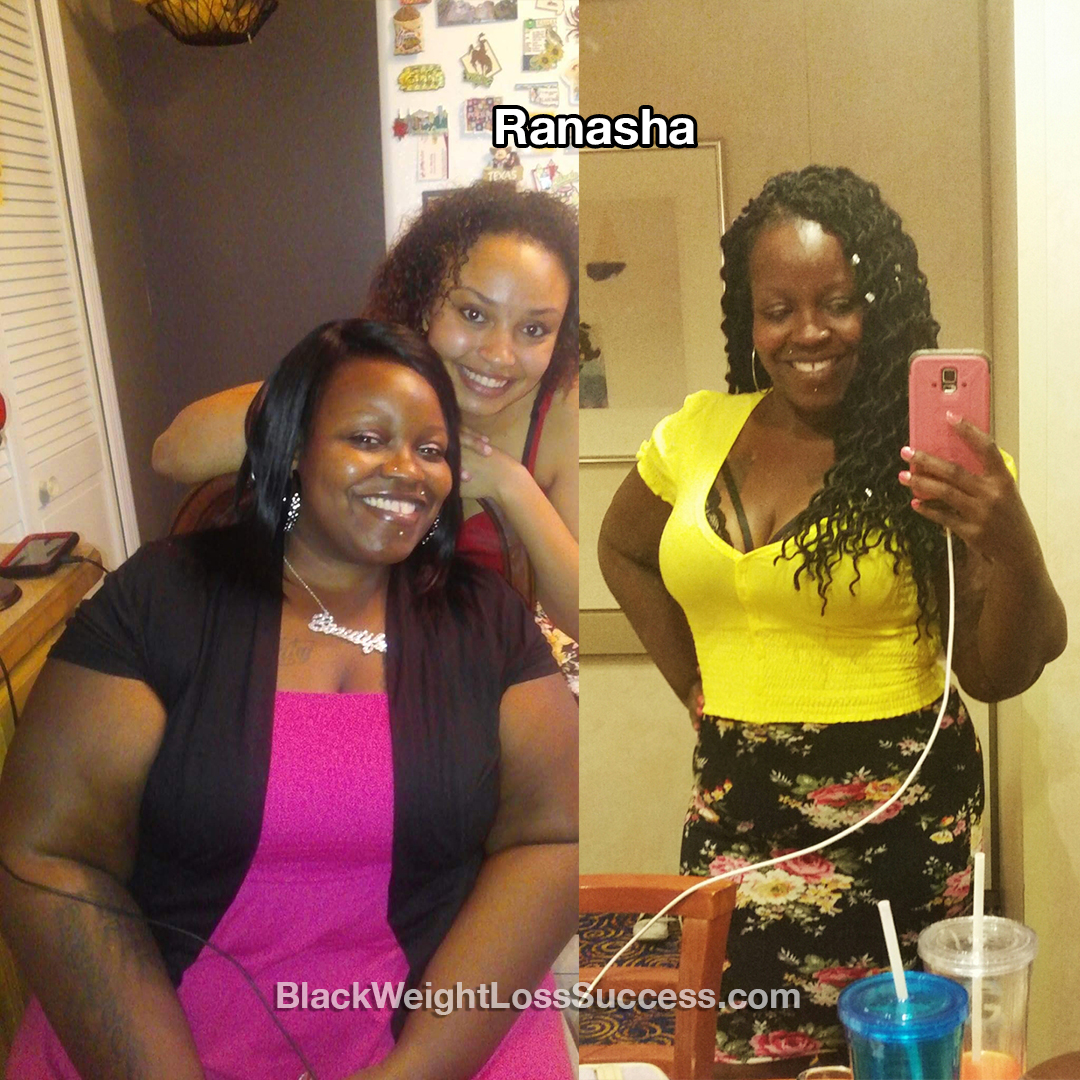 Weight Loss Story: Ranasha lost 52 pounds. This 5'2″ mom of four wanted to get off the weight release rollercoaster and start changing her life before she turned 40. She learned how to change her eating habits and she walks 3.5 to 4 miles a day for exercise. Check out what else she did to change her lifestyle.
My name is Ranasha. I'm 39 and a mother of four. I've currently lost a total of 52 pounds. I'm 5'2″ tall and at one point I weighed 300 pounds. My transformation started in December of 2015. My starting weight was 280 pounds and my current weight is 228 pounds. I am not where I wanna be yet, but I'm celebrating where I have come thus far.
I have been overweight most of my adulthood life. I've lost and gained… and lost and gained again. Eventually, I just grew tired of yoyo-ing up and down. I knew that I had to get myself together before I hit 40 years old. After having a couple health challenges, I decided it was time to make some real changes.
I don't believe in following any particular diet or plan. My doctor always told me that you can eat almost anything you want in moderation and with the right portion sizes. In January 2016, I decided to stop eating all meat (except salmon on occasion). I started eating more fruit, more vegetables and increasing my water intake. I definitely had to cut out sugar. That was a big one for me. I stopped bringing any snack foods and junk foods into the house so that they would not be a problem any longer. I have never been a big soda or juice drinker. We are big water drinkers in my house.
As far as exercise goes, walking 5 days a week is what works for me. I walk anywhere from 3.5 – 4 miles everyday.
My process is a slow one but I love it that way. In the past when, I've lost it quick, I always gained it right back. Now, I'm taking my time with my weight loss journey and it's working for me.
The best advice I can give to others is just to set realistic goals. Sometimes we set goals that are hard to achieve and then get discouraged when we fail. My first goal was 250 pounds. Once I got there, I set my next goal for 230 pounds. Now that I've achieved that, my next goal is 200 pounds. Once I get there, I'll celebrate and see what's next.
No weight loss surgeries have been apart of my journey. Just my own sweat and tears, Lol. I know the struggle. I've lived it most of my life. If I can just encourage someone else to keep pushing and not give up, that's all I can ask for. If you find something that works for you, by all means do it! Thank you guys so much and be blessed!