Transformation of the Day: Renee lost 29.6 pounds and 2 dress sizes. This busy mom felt bad about the way she was caring for her temple. Rheumatoid arthritis and thyroid issues didn't stop her from taking the necessary steps to change her life. She knew that she needed accountablity on this journey, so she worked with a trainer and a nutritionist. Check out her story.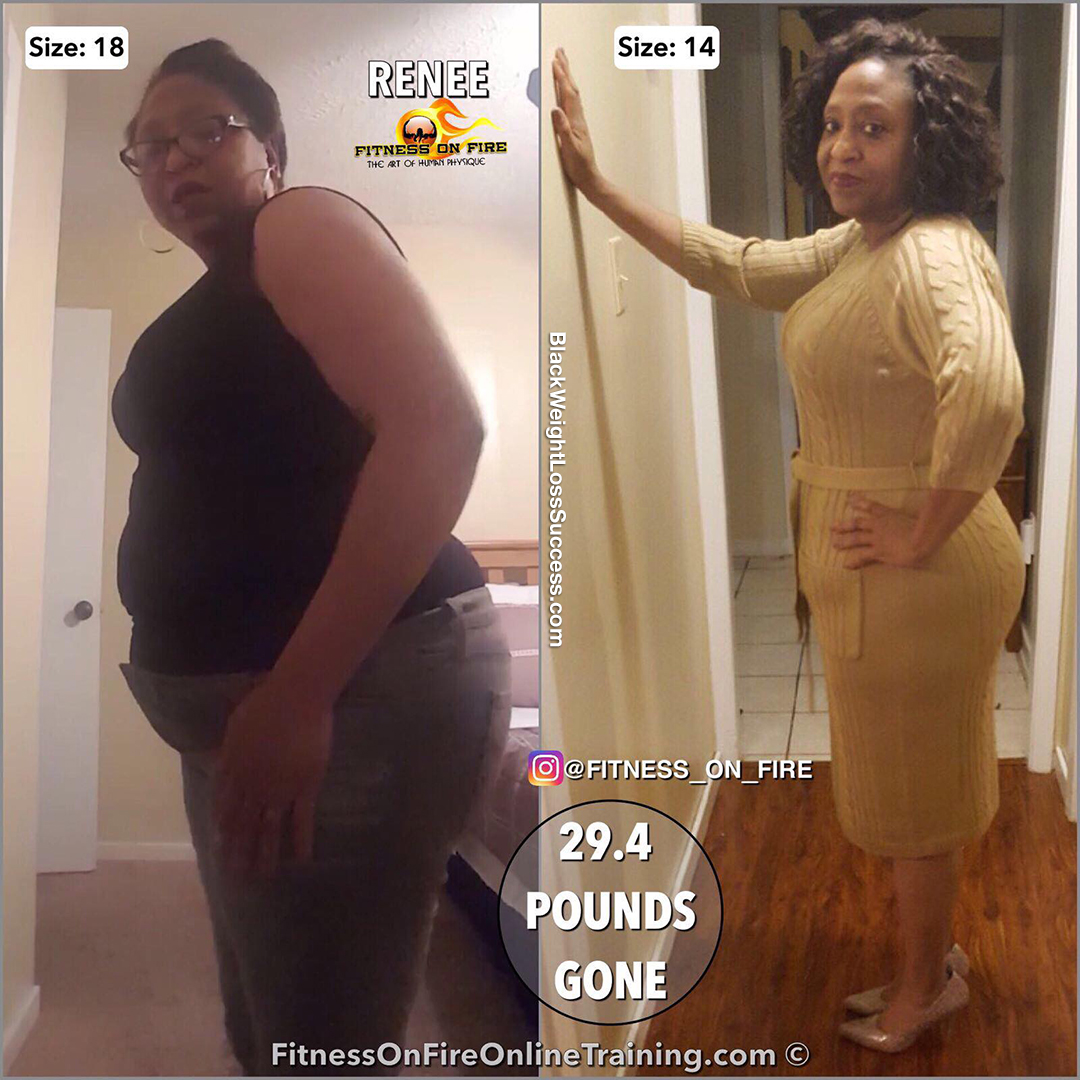 Age: 50
Height: 5'4
Starting weight: 219 pounds
Current weight: 189.6 pounds
Starting Dress Size: 18
Current Dress Size: 14
Representing: Jackson, Mississippi
What was your motivation?
I no longer felt like me. I saw a picture of myself, taken from the side, and I no longer liked what I saw. I felt stiff and sore all the time. I just wanted to feel better. I have rheumatoid arthritis and thyroid issues, so blamed my weight on these issues. Once I accepted the fact that I could make a change, I took the necessary steps to.
What inspired you at the start of your journey?
I wanted to be able to be the wife and mother God called me to be. Our bodies are our temples, and I felt badly about how I had treated my temple. It is not easy, because I work full time, I'm working on my masters and I'm caring for family. However, I'm convinced that when something is important to you, you make room for it.
How did you change your eating habits?
I stopped drinking sugary coke, which was something I felt I NEEDED before. I don't have a lot of time to cook, so salads have helped to fill in where I lack. I try to eat things that are recommended by my nutritionist, NutritionistGuru. Although this has been hard for me, I try really hard to eat well. I realize this is a lifestyle and not a quick fix.
What did your workout routine consist of?
I do resistance and HIIT training, following the regimen designed by my online trainer, King of the Fire. I typically spend 60-75 minutes exercising in the gym, 4 to 5 days a week.
How long did your transformation take?
I have been at it for a year, and it is an ongoing effort. With the help of the Fitness on Fire team, I am more motivated than ever to reach my fitness goal. Although I noticed some change after the first 50 workouts, the longer I went to the gym, the more others noticed my progress. It wasn't until I started to look at photos that I accepted the change.
I've always tried to do it alone but I realized that I needed accountability, so I reached out to Fitness on Fire. It also helped me to see others succeeding at their weight loss efforts. I have a long way to go, but feel that I am equipped to finish my journey.
What advice do you have for other people who want to lose weight?
Make a commitment and stick with it.
Instagram: @rfchunt
Disclaimer: Reference or link to any specific product, diet plan, exercise plan or service mentioned in the weight loss stories we share is for the information of our readers, and does not constitute an endorsement or recommendation by Black Women Losing Weight.