Tranformation of the Day: Whitley lost 30 pounds. You can tell that she shed the fat and gained lean muscle, because she's gone from a size XXL to a size medium. She wanted to improve her health and avoid taking medication for high blood pressure, so she put in the work. Check out her story.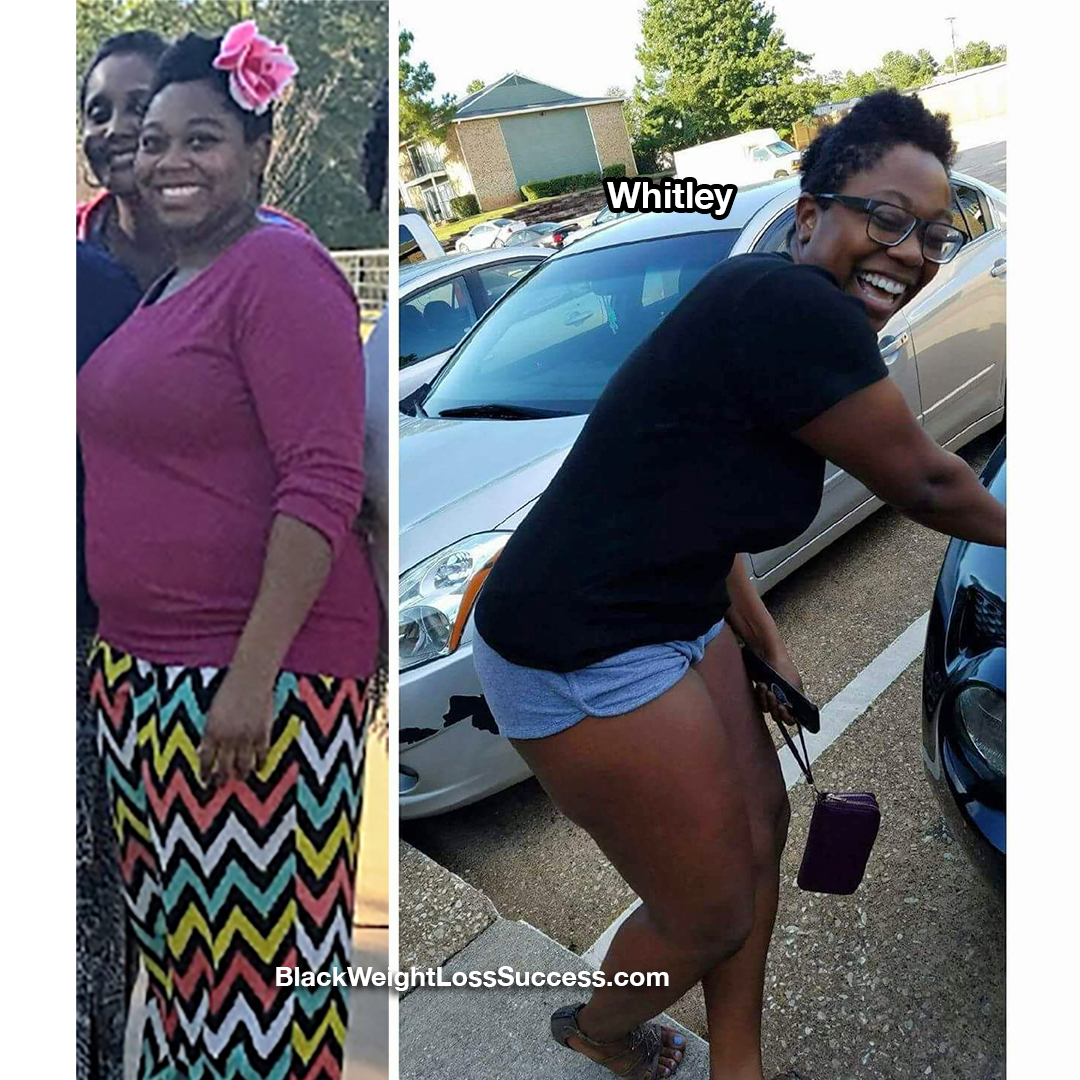 What was your motivation?
My mother had really bad health issues and I started to have heart palpitations. My doctor wanted me to take blood pressure medicine at the age of 23! I asked what the second option was and was told, "Change your lifestyle." So, I chose option 2. I wanted to live healthy, live longer and live to my fullest.
How did you change your eating habits? 
I stopped drinking wine and stopped giving in to my sugar addiction. I started to eat cleaner and cook more. I love veggies. When I want sugar, I learned to reach for fruit instead of a candy bar. I also snack on healthy foods and drink large amounts of water. I don't necessarily eat less, I just eat better. Now, I understand that food is fuel. Food should help you, not hurt you.
What did your workout routine look like?
I started working out Tuesday thru Friday by simply dancing for about 30 minutes. I could not do anything more strenuous without complete exhaustion. I could barely keep my at heart rate over 130 without having to take a breather.
Today, I lift weights and run a half mile Monday thru Friday. I am able to easily run a mile. I can get my heart rate up to 170 and maintain it! I couldn't bench the bar without weights when I first started going to the gym. Now, I can bench more than 100 pounds and can squat about 130… easily.
What was your starting weight? What is your current weight?
My starting weight was 210 pounds and my current weight is 180 pounds. My height is 5'4″. I only lost 30 pounds, but I went form a size XXL to a M. Talk about muscles!
How long did your transformation take?
Took about 1.5 years.
What is the biggest lesson you've learned?
The scale just gives you a number, but what matters is your overall improvement. Your habits, your waistline, your energy, your attitude and your ability to constantly crush your goals are the true forms of progress.
What advice do you have for others who want to lose weight?
Ignore the scale and focus on your overall progress. People carry weight and muscle differently. 20 pounds on one person looks COMPLETELY  different than 20 pounds on another.