Transformation of the Day: Alecia lost 97 pounds. She shared her story with us in the BWLW FB group after a friend encouraged her to do so. She jumpstarted her journey with a 5-week program, and walking is her main form of exercise. Check out her story.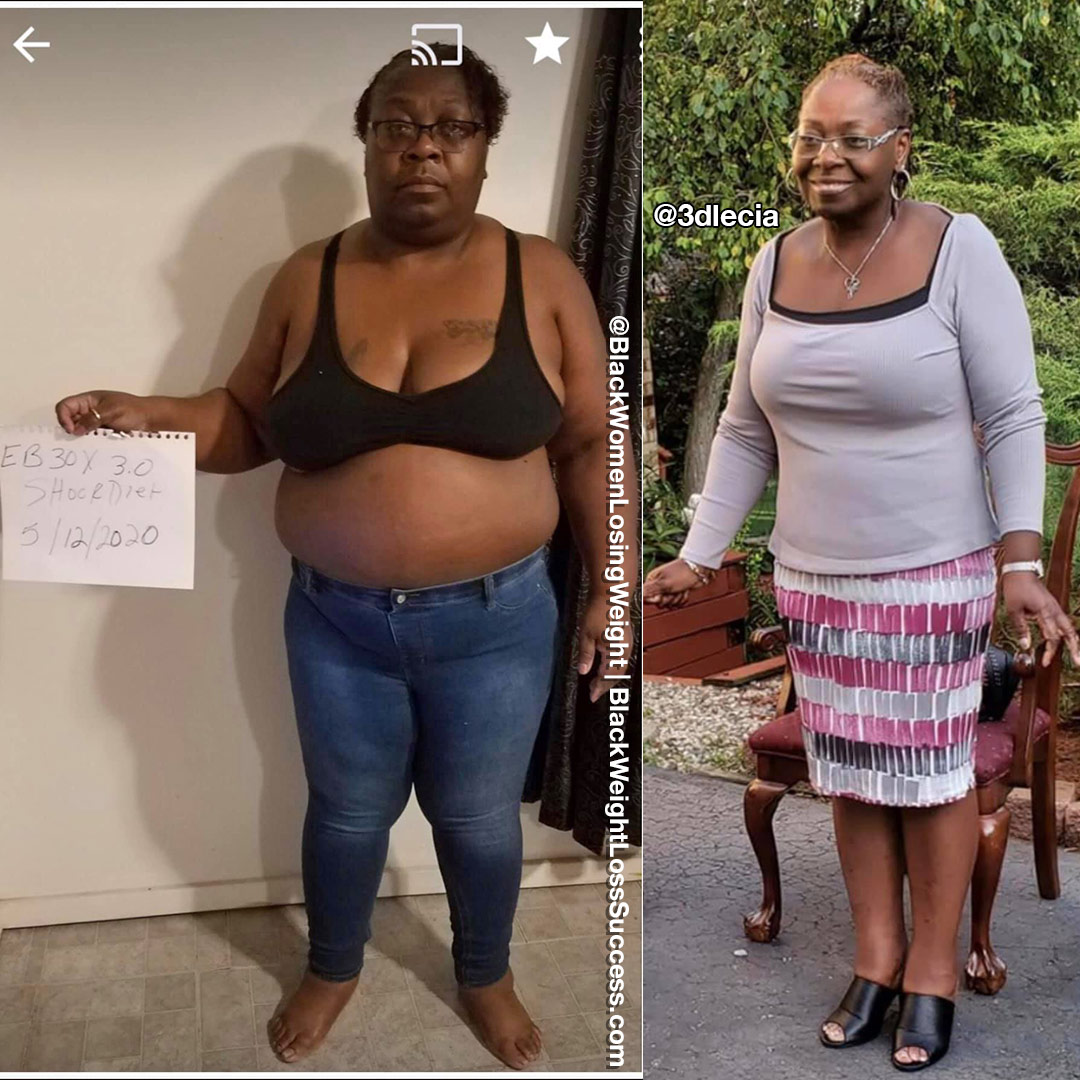 A very special friend of mine asked me to join the group to share my story, believing that I might encourage and inspire others. 
In February 2020, I weighed 283 pounds. One morning, I woke up gasping for air while on a breathing machine (CPAP). I said to myself, "Oh my God! I have to get this weight off."
Well, weeks went by. Then, one day I was on Facebook and saw a post from that same friend about a weight loss challenge she did. So I figured, "Ok, I will try it." and I did. That was in May 2020. It was hard, but my mind was made up. Also, in June 2020, I went on a 40 day spiritual fast, only eating one meal a day after 5. 
Tell us more about the program that helped you.
The diet plan is called the EB30X Shock Program 3.0 2020. It was a five-week shock program that helps you kickstart your healthy lifestyle journey. The person who runs the program is Eric Bassett, and he is a fitnesses trainer on Facebook.
What was your exercise routine?
The only exercise I was able to do during my journey was walking, so I started walking at the track near my house. Five minutes a day was all I could do at first without my back feeling like it was on fire. After about a week, I got up to 10 minutes. By August, I was walking 30 minutes around the track doing 15 laps.
What is your current weight?
I currently weigh 186 pounds. I have a personal goal, and I will meet it. All I can tell you is when I CHANGED MY MIND, the weight started coming off.
What is your height?
I am 5 feet, 3 inches tall.
Is weight loss surgery part of your journey?
No. I thought weight loss surgery was the answer for me. I had started the process and was going through all of the procedures to prepare for it just in case I failed (That's what I told myself). However, I found out that it was not for me.
What is the biggest lesson you've learned so far?
The biggest lesson I learned is that nothing anyone said and no diet plan worked until I changed my mind. I lost weight before but gained it all back (plus some) because I had the same mindset and the same thinking about myself. But not anymore! I have a made-up mind about me. 
What advice would you like to share with women who want to lose weight?
It starts with you, Sis. You must change your mind, and no one can say when that will happen except you. Only you know when you are ready to release (not lose, because what's lost can be found again ) that weight and walk away from it. 
Instagram: @3dlecia