Transformation of the Day: Mercedes lost 57 pounds. After being in a toxic relationship, she realized she was depressed and needed to make a change. She also wanted to find a remedy for the knee and back pain she was experiencing. By working out, becoming a Pescatarian, and letting go of her excuses, she has transformed.
My name is Mercedes, and I am from Philadelphia, PA. In October 2020, I started having terrible back and knee pain. I was tired of taking medicine every day. So in May 2021, I started walking every morning. I also stopped eating junk food, as well as bread, pasta, and rice. I feel great now, and I no longer have back pain.
What inspired you to keep going, even when you wanted to give up?
After being in a toxic relationship for a long time. I realized that I had slipped into a deep depression. Weighing 235 pounds, I purchased a treadmill, every weight loss tea and supplement you could think of, and even had a gym membership I was paying for months. However, I had no motivation at all. 
One day, I had enough of the toxic relationship, so I removed myself from it. I was done making excuses for myself. It was time for a change.
How did you change your eating habits?
In 2019, I stopped eating meat and became a Pescatarian. In May 2021, I cut out bread, pasta, junk food, candy, and soda. I started to make healthier choices. Now I eat more fruits and vegetables, and I juice at least once a day. 
What did your workout routine consist of?
When I began my weight loss journey, I walked every single day for at least an hour. Eventually, I did two miles daily until I was healthy enough to step it up. Now I run 4 miles at least 4 to 5 days a week.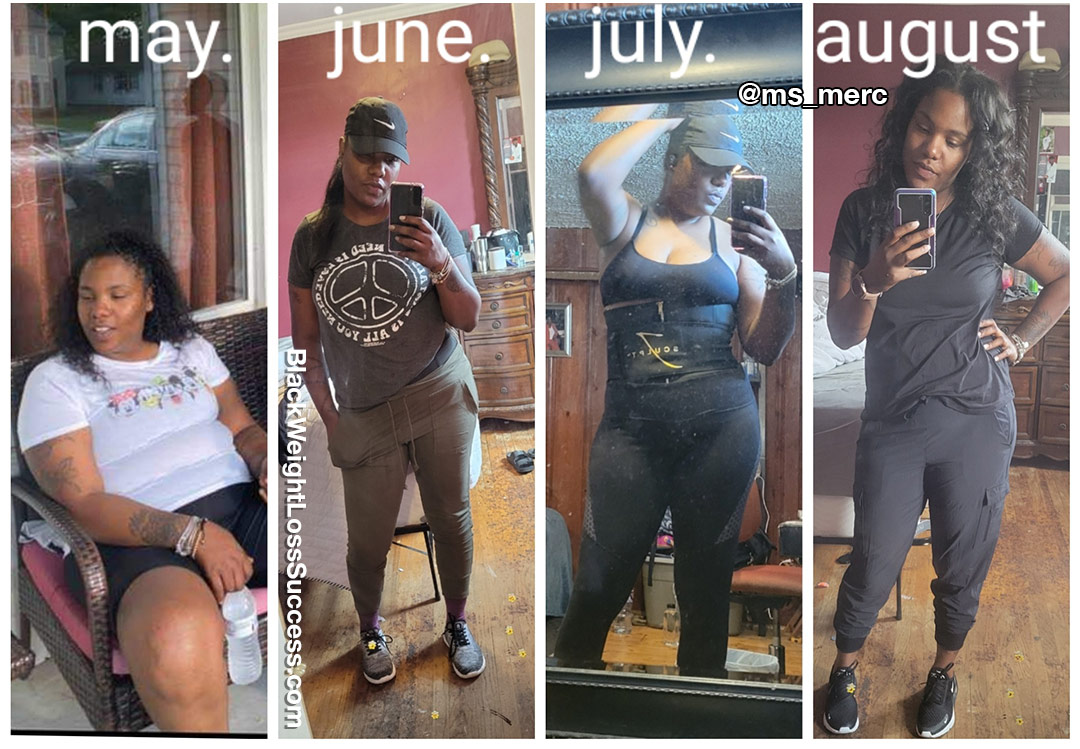 What was your starting weight?
235 pounds
What is your current weight?
178 pounds. I initially lost 40 pounds in 4 months. 
What is your height?
5'9″
Is weight loss surgery part of your journey?
No
What is the biggest lesson you've learned so far?
Change is not always bad! Although change may be scary, it may also be very necessary, so acknowledge when it's time for a change and make it happen!
What advice would you like to share with women who want to lose weight?
Trust yourself! Believe in yourself and get it popping!
Instagram: @ms_merc