Transformation of the Day: Tonya lost 136 pounds. She changed her lifestyle so she could be an active and healthy grandmother after learning her first grandchild was on the way. In 2018, she opted to have Gastric Sleeve surgery. She also cut out high-carb foods, walked for exercise, and focused on healthy eating habits when she couldn't work out.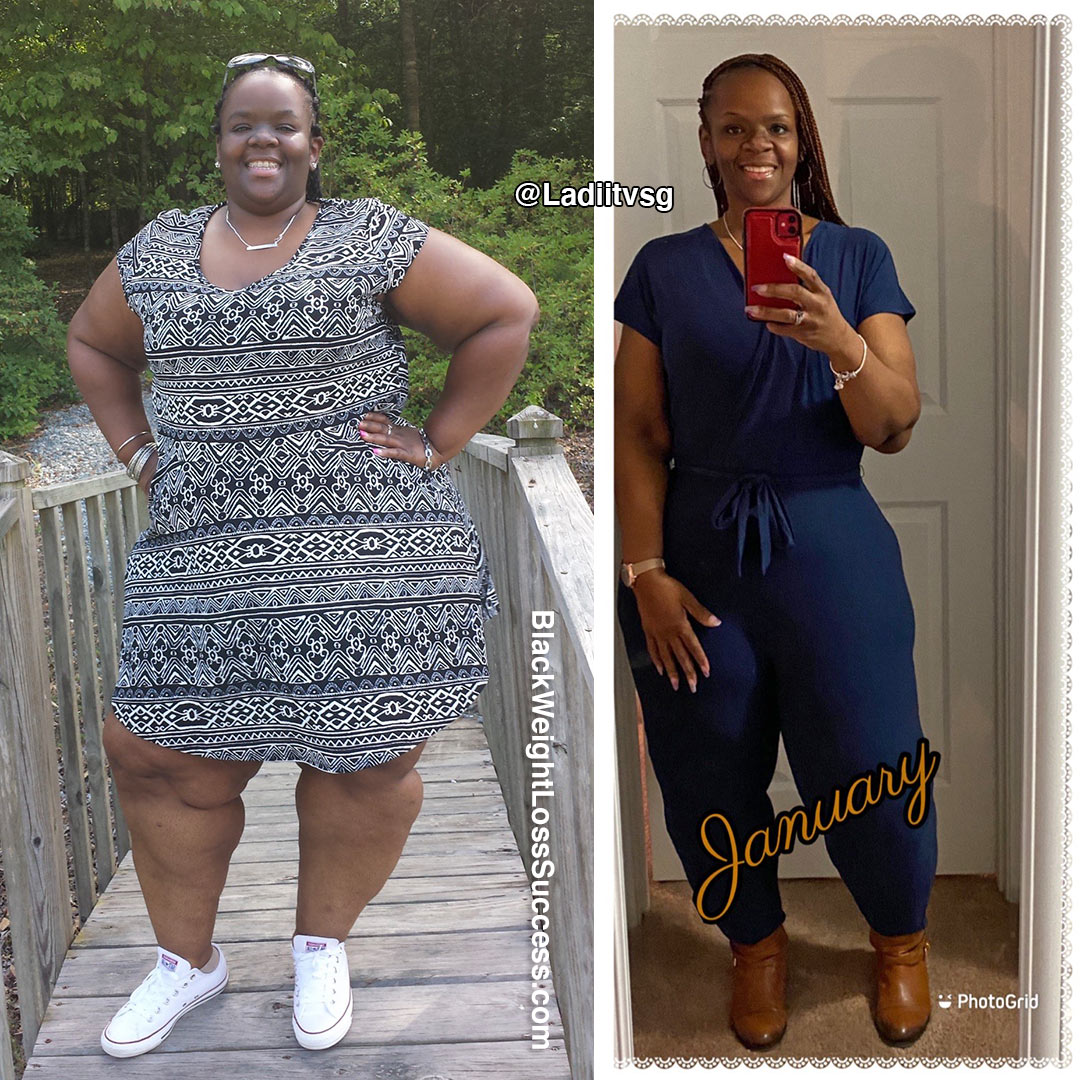 What was your motivation?
I had been procrastinating a lot about losing weight. I set many New Year's resolutions to lose weight, but those resolutions became a whole bunch of broken promises to MYSELF because my weight kept going up and down until it became an uphill battle with gaining and not losing. 
I scrolled across a few FB posts that read "No one can motivate you until you motivate yourself" and then one that read "Do something TODAY that your future self will thank you for." (authors of both quotes unknown). Those words truly motivated me. 
Then my son and daughter-in-law informed me that I was going to become a first-time grandmother. That also motivated me because I want to be around and physically able to be with my grandchildren.
What inspired you to keep going, even when you wanted to give up?
One of my biggest inspirations to keep going was that I NEVER wanted to get back to being as heavy as I was before. Believe people when they say, "I didn't know I was THAT big." I have always been a confident woman, so whatever weight I was, my daddy would tell me that I was a jewel. And even though he passed away in 2005, I still hold firm and believe that to this day. But after losing the weight and looking back at old pics, I had my own "WOW, I didn't know I was THAT big" moment. 
I also had three other little inspirations that came along in the form of three more grandchildren whom I need to be around and healthy for.
Is weight loss surgery a part of your journey? 
I had Vertical Sleeve Gastrectomy surgery (gastric sleeve) in 2018.
How did you change your eating habits? 
Before having weight loss surgery in February 2018, I had already decided that I wanted to lose weight. So I started making the necessary changes. I LOVED rice, pasta, bread (CARBS), sodas, and sweet kool-aid, and I would make sure I always kept those items in the house. However, it seemed that I really didn't crave those unhealthy things if I was out somewhere. When I was home, the cravings were at their worst. A MIND THING FOR SURE!! 
So I had to convince myself that if I stopped buying it and bringing it home, I for sure couldn't eat or drink it. So I decided to stop buying bread, rice, pasta, and sugar for kool-aid. Once I stopped buying it, I started to see the pounds and inches come off.
What did your workout routine consist of? How often did you work out?
I joined a gym after I began losing weight, but I honestly didn't keep the membership very long. I enjoyed walking outside rather than indoors on a treadmill. So I started going to work almost 2 hours early to walk in the empty parking lot five days a week (unless it was raining, which I then walked indoors.) This would give me between 2 and 2 1/2 miles per day. 
That routine came to a halt. Because of all the weight I previously carried, I had worn out the cartilage in both of my knees and was bone on bone. So my Dr. advised me to stop the fast pace walking because the pounding on the pavement was making the pain in my knee worse. At that point, I was left with only depending on watching what I ate.
What was your starting weight? 
389 pounds
What is your current weight?
253 pounds
What is your height?
5'5″
When did you start your journey? How long did your transformation take? 
I had weight loss surgery in February 2018, but I started a few months prior by just cutting carbs and sugar. I successfully lost about 42 pounds. As far as how long my transformation took, I am almost four years out, but I must quote Marilyn Ferguson when she said, "Transformation is a JOURNEY without a final destination." So my journey CONTINUES…
What is the biggest lesson you've learned so far?
While my story motivates others, I can NEVER forget or stop motivating myself. I've also learned to remember that EVERYTHING starts in the mind. "Those who cannot change their minds cannot change anything" (George Bernard Shaw)
What advice do you have for women who want to lose weight?
"EVERYONE'S journey is DIFFERENT, EVERYONE'S story is DIFFERENT so wherever the destination is to YOUR journey, START IT, and whatever your story is, WRITE IT" – Tonya Samuels.
Instagram: @Ladiitvsg