Transformation of the Day: Lakeyta lost 125 pounds. After her daughter's father passed away in 2020, she decided to focus on improving her health. Running and becoming Vegan are two factors that are key to her success.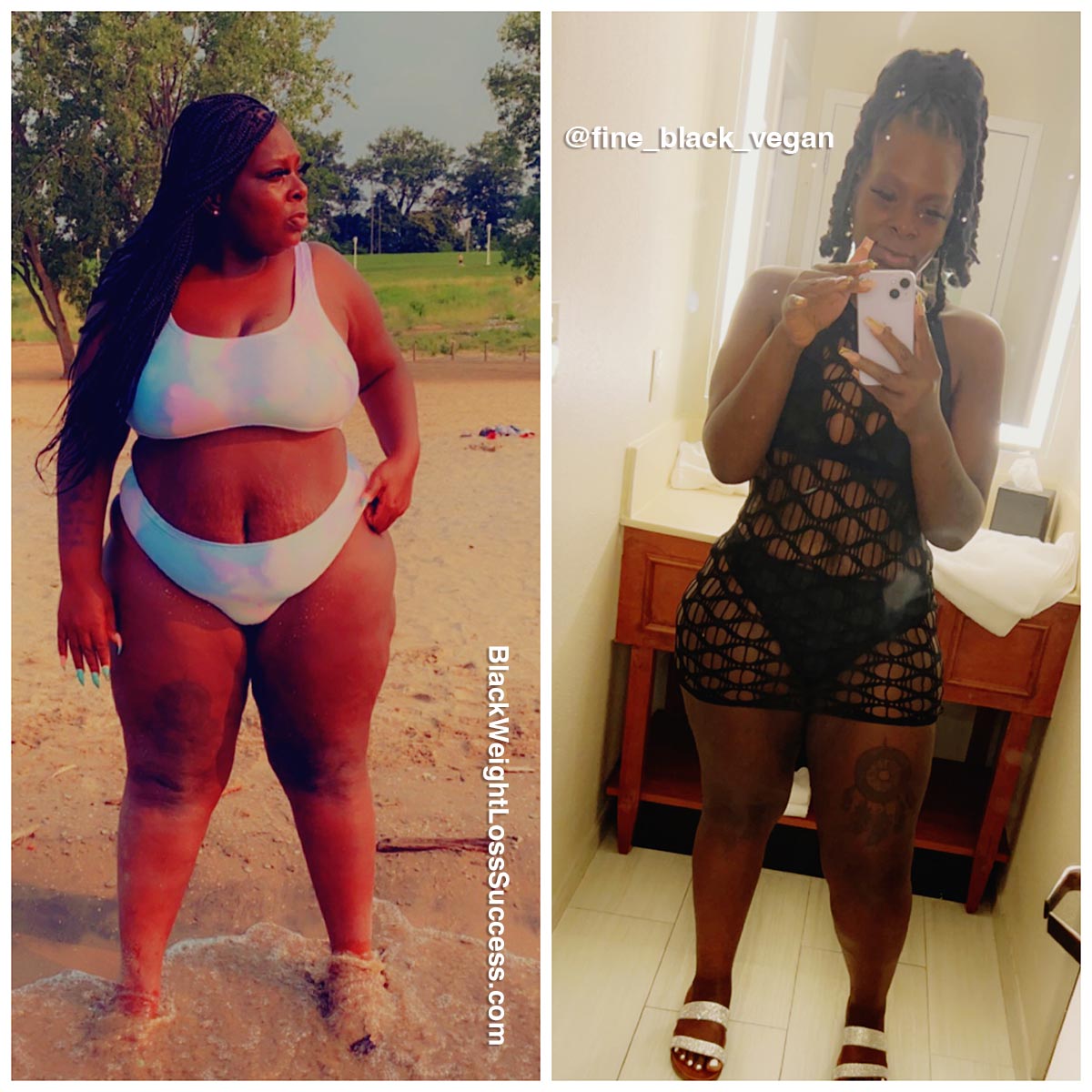 Social Media: 
Instagram: @fine_black_vegan
Hello, it's been a little over a year since I've updated you guys about my journey. I'm still all in with my health and wellness goals. (I was initially featured in Feb 2022, and I sent in an update in August 2022.) I'm officially down 125 pounds. 
What was your motivation?
My motivation in the beginning was my daughter. Her dad passed away in 2020, and I knew I had to improve my health. I was overweight and had to change. I was the only one left to love and nurture her. 
What inspired you to keep going during the tough times?
What inspired me to keep going was that I finally was doing something I never thought I could do. I was choosing me. I was choosing to love on me and work on me for ME. It felt good. 
How did you change your eating habits?
I changed my eating habits drastically. I became a Vegan in November 2021 and haven't looked back. This has been the greatest decision I've made regarding my health. 
I am fueling my body with the foods it deserves. I consume a lot of fruits and veggies. I also eat different varieties of beans. I also eat bread, pasta, and rice—balance in everything. 
What is your workout routine?
I've fallen in love with running for the last year. I've run a 5k each month. In April 2023, I ran my first 16k race. It was hard, but what I found out is I am capable of doing hard things. 
I run 4-5 days each week – easy runs, speed runs, long runs, and recovery runs. Running for me has become therapeutic. I'm training for my first half marathon in October. I'm proud of myself. 
What was your starting weight? What is your current weight?
My starting weight was 308 pounds. My current weight is 183 pounds.
What is your height?
I'm 5'6″.
How long did your journey take?
I started my journey in November 2021. I'm almost two years in.
Is weight loss surgery part of your journey?
Weight loss surgery is not part of my journey.
What is the biggest lesson you've learned so far?
The biggest lesson I've learned is that this walk isn't about perfection, but it's more about consistency. I've fallen off a few times, but I don't stay there.
What advice would you like to share with women who want to lose weight?
My advice is to pray to God for strength during the difficult times because they will come. God has been my biggest help. I also suggest not to have an all-or-nothing mentality. Instead, be open to the ups and downs that come along with the journey, embrace them, and learn from them. Remember to have a health gain mindset, not just a weight loss mindset.