Update February 2018: Rashonda is still going strong. We've been following her journey since 2015. She lost more than 60 pounds and totally transformed her body with exercise and good nutrition. She shared with us how she's been able to maintain her success.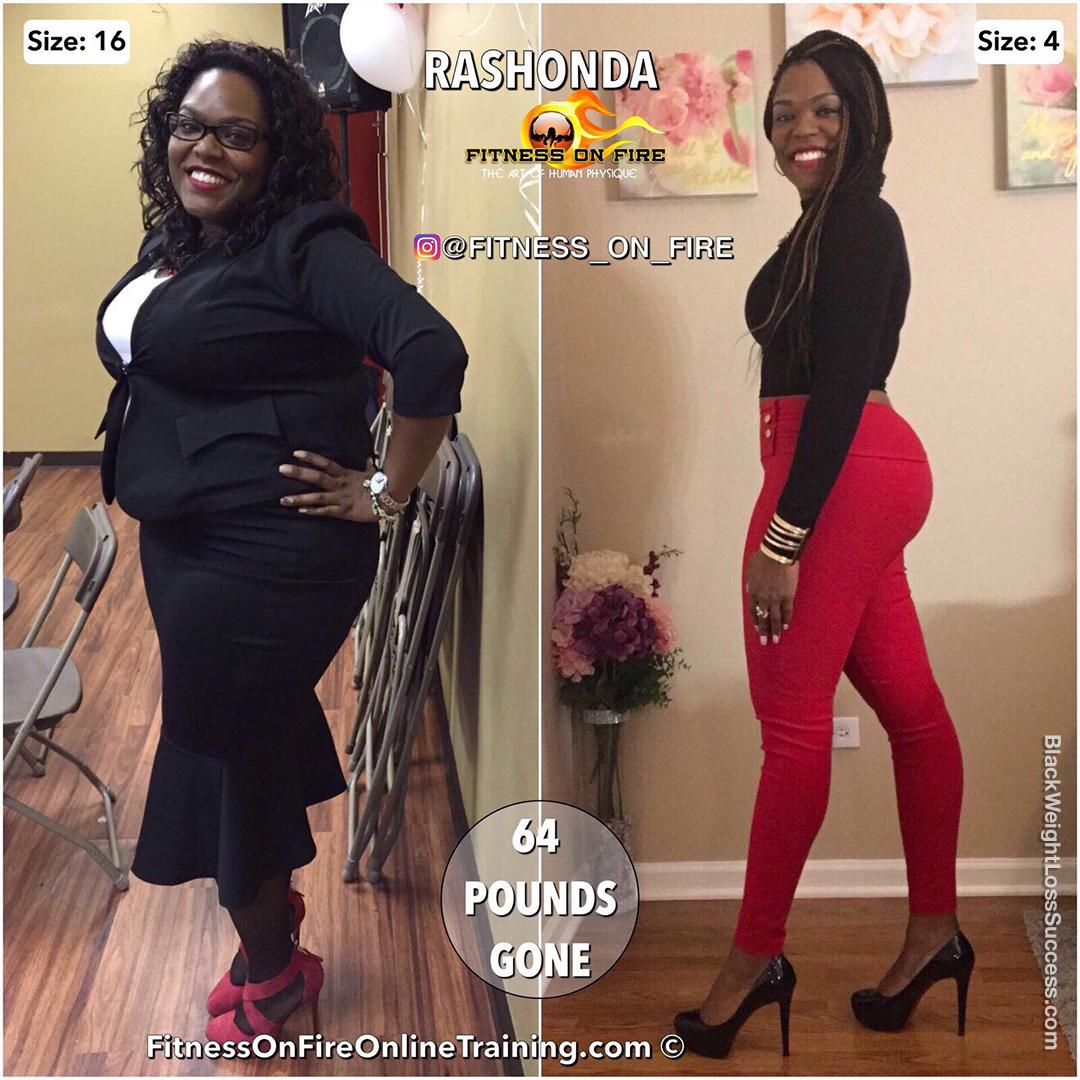 Age: 27
Height: 5'3″
Starting weight: 204.8 pounds
Current weight: 141 pounds
Total weight loss: 63.8 pounds
Starting Dress Size: 16
Current Dress Size: 4
Representing: Chicago, IL
How have you maintained your weight loss/continued to lose weight?
I have maintained my weight by consistently working out and eating healthy. I eat foods that are good for my body and goals. I stayed focused and continue to push hard! I remain in contact with my nutritionist and trainer with any questions I have about food and the gym.
What has worked in terms of eating habits and what worked in terms of exercise?
I try to eat lots of vegetables and protein. I also drink A LOT of water (at least a gallon a day) and it helps me feel hydrated and energized. I still work out at least 4-5 days per week. I love working out early in the morning. I have energy to push through my day and after work, I am able to enjoy my evening.
What lessons have you learned on this journey? What stands out the most?
I've learned not to be too hard on myself. This is a lifestyle and I have the rest of my life to get better. I work hard and do what I know works. During the times where I mess up, I offer myself grace. Then, I refocus and keep going. I've also learned to enjoy the journey. When you rush the process, you can miss the lessons and accomplishments along the way. Weight management is just as important as weight loss. What you do to get it, you have to keep doing to keep it!
At this point, would you offer any new or different advice to other people who want to lose weight?
I encourage anyone that wants to lose weight to have a made up mind. If your mind is made up to do it, your body will follow! Let what motivates you also drive you to reach your goals.
Instagram @slaybellerose
www.facebook.com/rashondaw
---
Weight Loss Transformation of the Day: Rashonda lost 50 pounds. Before staring her journey, she was faced with a number of health challenges, including hypothyroidism and having her thyroid removed. When she saw a friend a church getting great results with an online training program, she decided to give it a try. Here is what she shared with us about her journey…
Starting Weight: 204.8
Current Weight: 154.8
Total Weight Loss: 50 pounds
Total Inches Loss Overall: 73
Total Inches Loss off her waist: 15.5
Height: 5'3
Representing: Chicago, IL
What was your motivation?
My motivation for losing weight was having better health and better confidence. Prior to starting my weight loss journey, I was going back and forth to the doctor for a number of reasons. I had extremely low Vitamin D levels and hypothyroidism. I was considered obese and always had stomach pains (doctors were considering it to be a bacteria called H.pylori). My doctors were monitoring me for diabetes as well.
In April, I had a thyroidectomy (my entire thyroid gland was removed). I was a young woman, age 25 at the time, with all these medical issues. Overall, I was tired of having poor health and feeling sick. Although I was dealing with so many health issues, I wasn't even telling anyone. I was so depressed and unhappy with myself, my weight and where I was in life in general. I was fed-up and tired. I just wanted to become a better me for no one else but me, so decided that it was time to get my life and health in order.
What inspired you to start your weight loss journey?
I guess the better question would be WHO! A beautiful woman at my church (Arika Ealy) had recently joined a program called "Fitness on Fire" Online Training Program and she was BLAZING! I remember seeing her one week at church and the following week or two later, she looked totally different! I was like "sis what are you doing?!" She told me she was doing Fitness on Fire and that it was working really well. I joked at first and said I needed to do the same thing, but after I thought about it I really decided to do it!
My journey began the following month. I reached out to NutritionistGuru and she was VERY responsive. After I signed up, I remember thinking, "What have I gotten myself into?!" I was so nervous, scared and happy… all at the same time. NutritionistGuru was so supportive and my trainer, King of the Fire, was too. They helped me and answered the million and one questions that I had. They have been with me every step of the way.
How did you change your eating habits?
Oh my goodness, was that hard! *smiling* I ate horribly prior to starting Fitness on Fire Online Training Program. I was a BIG junk food eater (chips, candy, juice etc.) I always had to have something sweet after any meal. The funny thing is that when I started the program I literally just stopped eating the junk. I would ask my nutritionist if I could have popcorn, or granola bars and she would say yes. I ate those sorts of things (healthy options of course) as snacks. Now, as I think about it, I hardly eat those things anymore.
I also learned how to eat balanced meals and learned what foods  should be included in each of my meals. I eat six times a day (breakfast, lunch, dinner and snacks in between each meal). I just took it one day at a time, but eventually the food was no longer an issue. My nutritionist was amazing when it came to helping me make healthier options.
What did you stop or start eating?
I stopped eating JUNK FOOD! Before my weight loss journey, I literally would have a drawer at work with nothing but chips, candy, cookies etc. and I would eat from it all day. I also had junk food in my car and also in my room at home. It was CRAZY! I was determined and I threw all the junk food (or hurried and ate it, lol) before I started the fitness program. I started eating a lot of veggies and was more mindful of what I was putting into my system. I increased my water intake and actually, it's the only thing I drink now. I learned what worked for my body, because I am such a picky eater (another thing NutritionistGuru helped me with).
What did your workout consist of?
Prior to enrolling in Fitness on Fire, I was going to a high intensity Zumba class three days a week, an hour each day. My Zumba Instructor is amazing, classes were so much fun, had a great atmosphere and helped me stay active. After joining Fitness on Fire, I still went to Zumba once or twice a week, but also went to the gym 6 days a week doing HIIT training, cardio and some resistance training, per the routine I was given by my trainer "King of the Fire". The workouts kicked my butt on many of days and still do. As I began to get lighter, my trainer added other exercises to target my midsection which was my greatest challenge. Now, I work out six days a week for 90 minutes and still go to my Zumba class when I can make it. When I get in that gym nothing or no one else matters….just me, God and the routine designed specifically for me! I get in my zone and stay there until I'm done with my workout.
How long did your transformation take?
I started my transformation at the beginning of July 2015! I have made all of this progress in about four months.
What advice do you have for others who want to lose weight?
The best advice is to know that you can do it! The first step is to get tired of where you are and want better for yourself! Not for anyone else but you! When you get fed up, make up your mind to do better, get a solid plan and great support team. There will be no stopping you! I also believe that God gave me strength and grace on this journey. Surely, because I don't know how else I would have been able to make it!
Why did the "Fitness on Fire" Online Training Program work for you vs other programs you've tried before?
LISTEN! Fitness on Fire was simply a God Send! This program was everything I needed and nothing that I expected! Both NutritionistGuru and King of Fire have been SOOOO supportive! They have been with me every step of the way, encouraging, pushing, motivating and inspiring me! Not just them but the other women and men embarking on the journey. I believe this is what is so different than other programs. What program do you know that has a nutritionist and trainer that customize a weight loss plan just for you and give you all the tools and steps you need to be successful on that plan AND stay with you every step of the way, judgement-free?! I don't know many. This program is a blessing that I hope many will get a chance to experience, when they are ready!
Instagram: @slaybellerose
Facebook: www.facebook.com/rashondaw
Fitness on Fire: 
www.facebook.com/fitnessonfirenewyork
www.facebook.com/nutritionistguru

---
Update 5/2016: Rashonda has lost a total of 64.8 pounds gone since we shared her story in December. She has surpassed all the goals she set at the beginning of her online training journey over 285+ days ago. Check out her updated photos and lots of information about how she lost the pounds below.
Starting Weight: 204.8
Current Weight: 141.2
Body Fat: 23%
Total Weight Loss: 64.8
Total Inches Loss Overall: 79
Total Inches Loss off her waist: 15.5