Update: Shout out to Sophia! She lost 23 more pounds and she is still going strong. She continues to work out consistently and maintain healthy eating habits, but she also figured out how to enjoy the journey.
Hello! I'm now down 50 pounds! My heaviest weight was 277 pounds, and I now weigh 227 pounds! On August 26th, I decided I had to do something about my weight. I am an emotional eater, and when I regained almost 20 pounds in just two months from the stress of buying a new house and moving with an infant and toddler, I knew I would end up at 600lbs one day very soon.
I am around 90 days into my journey and I'm not stopping! Nutrition is the number one component of weight loss. I used to think I could lose weight if I ate well and killed myself in the gym for 2 hours every night. Now I realize I can use portion control, eat healthier, work out four times a week (for enjoyment), and see healthy results. I'm down 49 pounds today!
I am 27 years old, a stay-at-home-mom, and now I'm the healthiest I've ever been. I've finally learned that depriving myself, fad diets, and quick tricks do not work. I work out four times a week, and I eat healthier foods. I focus on weight lifting with light cardio for my workouts, and I do what I enjoy! I eat high protein, a normal amount of carbs, and low fats. That's the BIG SECRET. When you enjoy the food and workouts, it's sustainable!
Updated Instagram: @fatmomnowfit
---
Transformation of the Day: Sophia lost 27 pounds by working out consistently and changing her eating habits. After years on the weight loss rollercoaster, this stay-at-home mom of two re-started her transformation journey in August. However, she's not waiting until she reaches her end goal to celebrate her progress.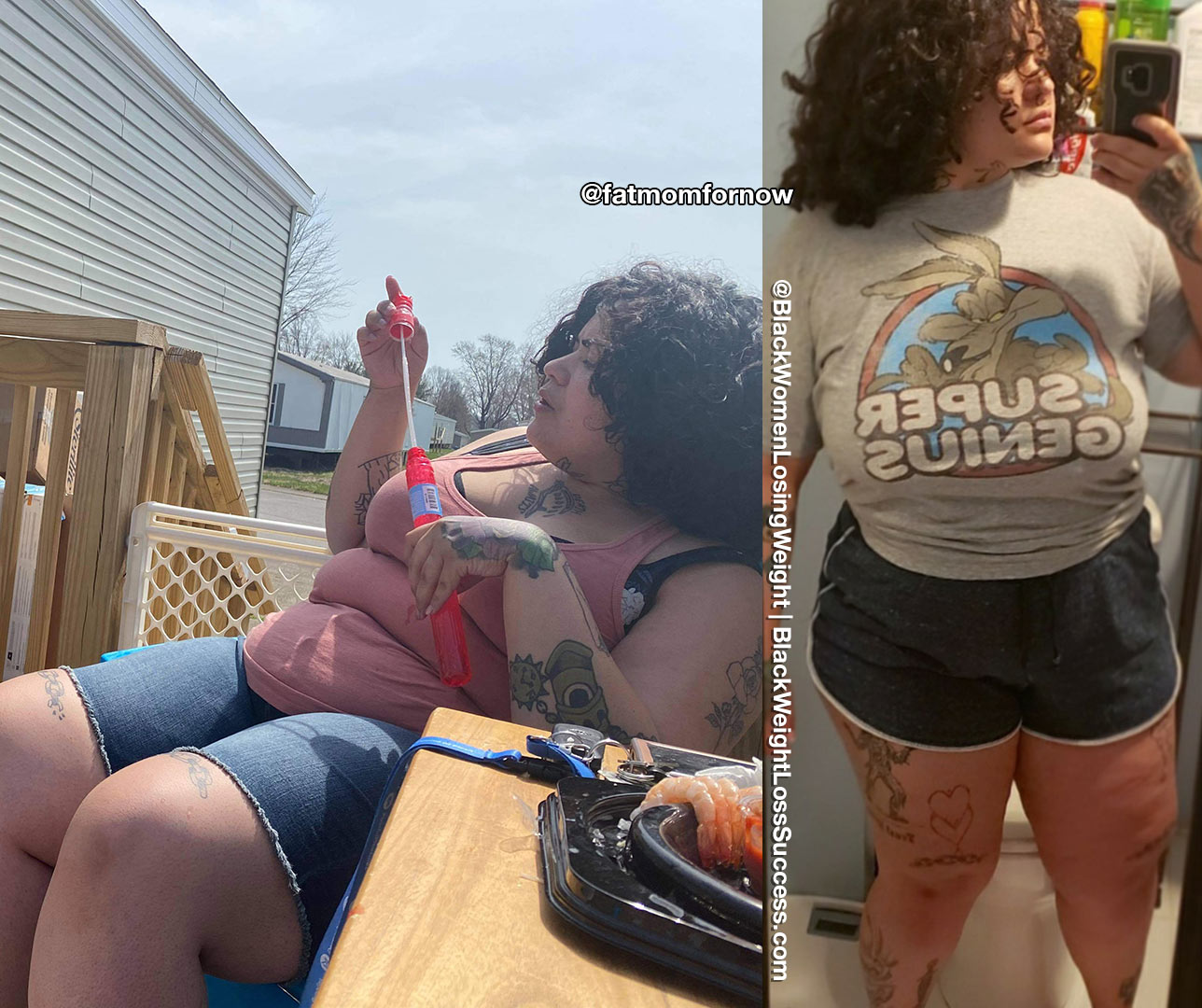 My name is Sophia, and I'm from Indiana. I'm a stay-at-home mother of two (via C-section). I've rapidly gained weight since my pregnancies. Despite yo-yo dieting and doing simple workouts here and there, I would always gain the little I lost right back.
I never saw myself as fat as these before pictures showed me I really was, but I felt it. The pounds weighed on me and my shoulders. I was mentally obsessed with my weight. I remember going in for my C-section and weighing 277 pounds. That number stayed with me the entire time. I loved my baby, and still, all I could hear was "277 pounds" in the back of my mind. I had to lose this weight. I had to do better. 
I lost 50lbs after high school, and I remembered feeling happy and free. I did it with exercise and clean eating. I re-started my weight loss journey in October 2020, lost 30lbs, and then gained it all back. I started once more on August, 26th 2021. 
I decided to focus and not allow my stress to trigger binge eating. I have lost 27 pounds, and I will never go back. My goal is to lose 100lbs and weigh around 177 pounds.
 

 

View this post on Instagram

 
How did you change your eating habits?
I currently eat a high protein, lower carb diet. I also do intermittent fasting 18-20 hours a day. 
What does your workout routine consist of? How often do you work out?
I lift heavy weights 4-5 times a week and do light cardio/dance workouts twice a week. The BWLW page has inspired me and continues to. 
What is your height?
I'm 5 feet, 6 inches tall.
Is weight loss surgery part of your journey?
No. I do not plan on getting surgery. This is an all-natural process. 
What is the biggest lesson you've learned so far?
My biggest lesson so far is "Stay safe and smart at the gym." I finally realized that the results I want are created using safe and proper techniques that prevent injuries. It's not about the other gym buffs and how much weight they can handle. It's about me and what my body tells me is right.
What advice would you like to share with women who want to lose weight?
Find who you are within, and focus on that person. Do not focus on your fear. Don't focus on the anxiety you feel when you're driving to the gym for the first, second, or even third time. That fear will turn into power. Use that power daily.