Update: Winter wrote in to share that she's lost 28 more pounds since we featured her story last year for a total of 93 lbs. She has yet to gain any of the weight back due to hard work and consistency. Check out her update.
It has now been a little over 2 years since I began my journey to lose the weight. I've now lost a total of 93 pounds. While some people have lost weight quickly, my process was a little slower, but I also have yet to gain anything back with the hard work and consistency I've put into my regimen. I'm still working out 4-5 days a week. I have started doing less cardio and more strength/resistance training, which is really helping to sculpt and tone my body at this point. @Nujerzgyrl79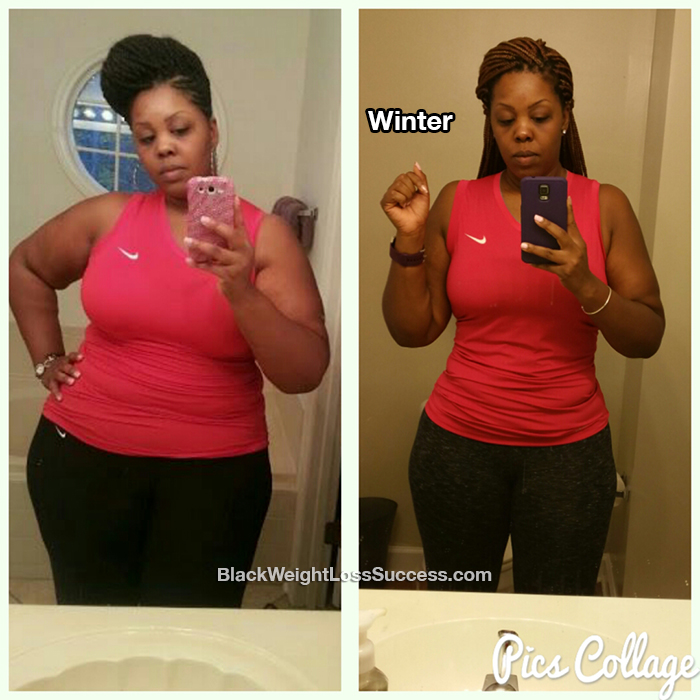 Transformation Story of the Day: Winter lost 65 pounds. When her weight reached over 300 pounds, she was disgusted and knew that she had to change. She used the resources available to her to transform her eating habits and start working out hard.  Her hard work has paid off and now she is sharing her story with us!
My journey began in June 2014. When my weight skyrocketed to 315 pounds, I cried and was disgusted with myself. My family has a long history of heart disease and diabetes. I woke up one morning and decided that I needed to get back to at least my old weight of around 260 pounds. That still sounds like a lot, but I had a long road to get there. I'm 5'9″ tall, so I carry extra weight with my height. I joined the YWCA in my town, stopped eating fast food, and put in a lot of work. I didn't take any pills or hire a personal trainer because my budget was not set up for all that… lol.
I cooked and planned my meals very strategically so I could be successful. I eat a lot of vegetarian dishes and prepare lower calorie meals that include lots of chicken and fish. Examples: chick pea patties, grilled chicken with spinach and eggplant parmesan. I replaced the pastas that I love with spaghetti squash or use my Veggetti to spiral slice zucchini. I have turkey burgers wrapped in lettuce instead of a bun. Also, I only drink water and I use greek yogurt to cure my sweet tooth.
Lots and lots of exercise has been key to my transformation. Lots of cardio and tons of strength training have helped to make sure I don't have lot of sagging skin.  I take total body conditioning classes, run, ride bikes, do lots of ab work, etc. I typically workout 3-5 days a week, usually for 1.5 – 2 hours a day.
I now weigh 250 pounds and I want to lose another 40-50lbs as my journey continues. My advice for others is to be consistent with what you do. If you want it, go get it. Change doesn't happen overnight but results become addicting. Also, be unapologetic about pics of yourself because that's how you will see your progress.
Hard work and commitment will change your life, so if you fall off, get back on. I still have work to do, but I'll get there and I'll be sure to update you.
Instagram: @nujerzgyrl79