Transformation of the Day: Candace lost 90 pounds. She is honoring the memory of her mother with her dedication and consistency as she trains for a triathlon. Exercise, mindful eating, and food journaling are some of the tools she's using.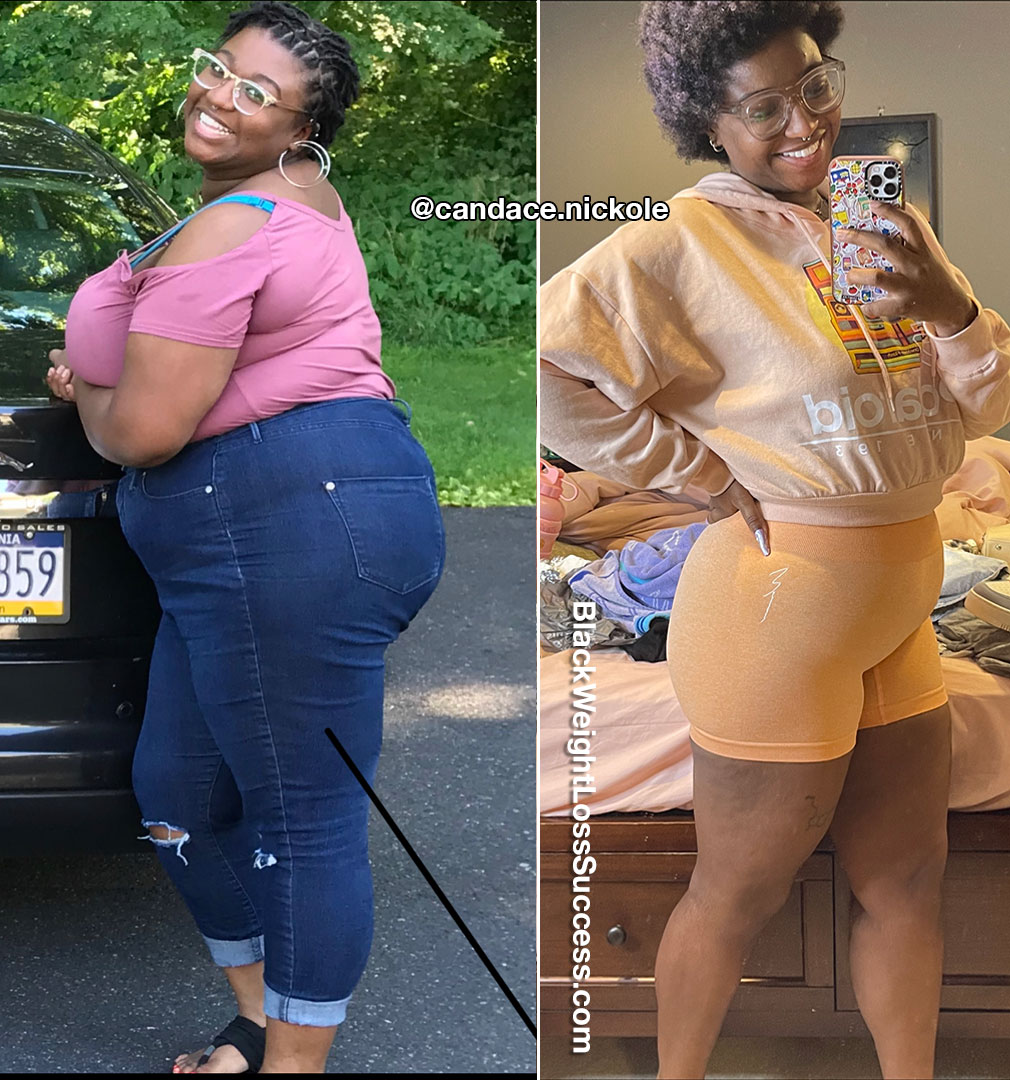 My name is Candace, I'm 26 years old, and this is my weight loss journey so far. 
What was your motivation? What inspired you to keep going, even when you wanted to give up?
My mother is my inspiration. She was training for her first triathlon. I would go with her to train, and she would tell me how she was having trouble breathing, but she kept pushing. Little did we know she trained and completed the race with cancer in her lungs. I promised her I would lose weight, train, and when she got better, we'd do a race together. Unfortunately, She passed away before we could. Now I'm working on losing weight and getting in shape to start training to race for her in the same triathlon she ran in. 
How did you change your eating habits?
I stuck to mindful eating; high protein, high nutrition, low carb, and sugar diet. I switched soda and juice to seltzer water and crystal light/sugar-free drinks. I also what and how much I eat through measuring my food and journaling. 
What did your workout routine consist of? How often did you work out?
My workout consists mainly of cardio. I bike up to 10 miles or walk/jogging 2-6 miles about 2-4 times a week. I also do strength training 2-4 times a week.
 

 

View this post on Instagram

 
What was your starting weight? What is your current weight?
My starting weight was 281 pounds, and I currently weigh 191 (-90 lbs).
What is your height?
I'm 5'7″.
When did you start your journey? How long did your transformation take?
I started in April 2020, and I'm still on the journey. To get to where I am now, it took one year.
What is the biggest lesson you've learned so far?
I learned to love and appreciate myself through the journey. Being able to watch your body change is a beautiful thing to see. Also, I learned that you and your body are stronger than you're consciously aware.
What advice do you have for women who want to lose weight?
Do it! It will be hard, you'll want to quit, and there are days when you won't want to work out or eat properly, but that's okay. As long as you have the determination and don't give up, you'll get there eventually.
Instagram: @candace.nickole
 

 

View this post on Instagram