Weight Loss Story of the Day: Cherdrina lost 120 pounds.  Going vegetarian, taking spinning classes, running and changing her eating habits have lead her to an awesome weight loss transformation.  Check out what she shared with us about her journey…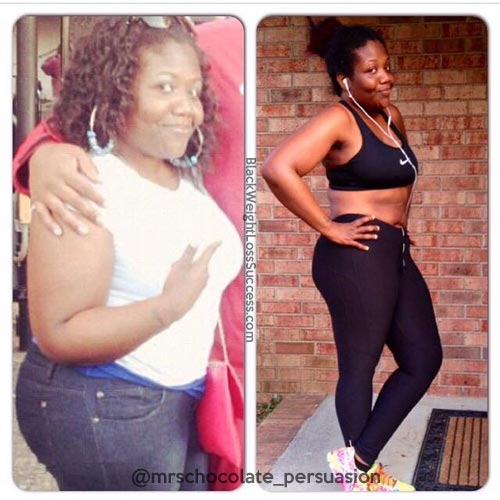 My name is Cherdrina and I have lost 100+ pounds. I was well over 270 pounds when I knew it was time to make a change. I never really had weight issues until after having my last child and dealing the stressors of life. I began to eat my life away in response. I was always tired and never could find the energy to do much of anything. It was not until December of 2012 that I made weight loss goals and began eating healthy. I made my New Years Resolution on January 1 of 2013, threw my old eating habits out of the door and did a total 180. I was determined to be a healthier me, so I cut out meat cold turkey and went straight vegetarian. I also started exercising daily. Spinning became my favorite form of cardio. I also added strength training to my regimen. Eventually, I started to run with the local Black Girls Run group and fell in love with it.
I made sure, and still do now, to read all labels on foods that I buy or consume! The vegetarian lifestyle helped me to make better eating choices, but still I must be careful not to consume too many starchy foods. I had to cut out sweets which were my favorite, now I still treat myself occasionally, but just not as much as I was before losing the weight. I also had to cut out my love for breads and pastas. I had the habit of consuming bread with every meal, which was my biggest problem. I have the healthy eating down now, so I'm always looking for healthier alternatives and options even when eating out  It makes a huge difference!
I started at 279 pounds and now I'm here at 159 pounds. As of now, I lead a much healthier lifestyle, I feel awesome and look awesome. It was indeed a lifestyle change and I've made sure to stick to it. Healthy feels so good. I encourage everyone to embark on this journey of healthy living !
Instagram: @mrschocolate_persuasion
Blog: www.burstthephat.blogspot.com