Update January 2022: Shout out to Ciera! She lost 15 more pounds.
 

 

View this post on Instagram

 
November 2021 – Transformation of the Day: Ciera lost 123 pounds. She loved to travel, but the pounds made flights and vacation excursions uncomfortable and difficult. By exercising, choosing healthier meals, and becoming a much more active person, she has transformed.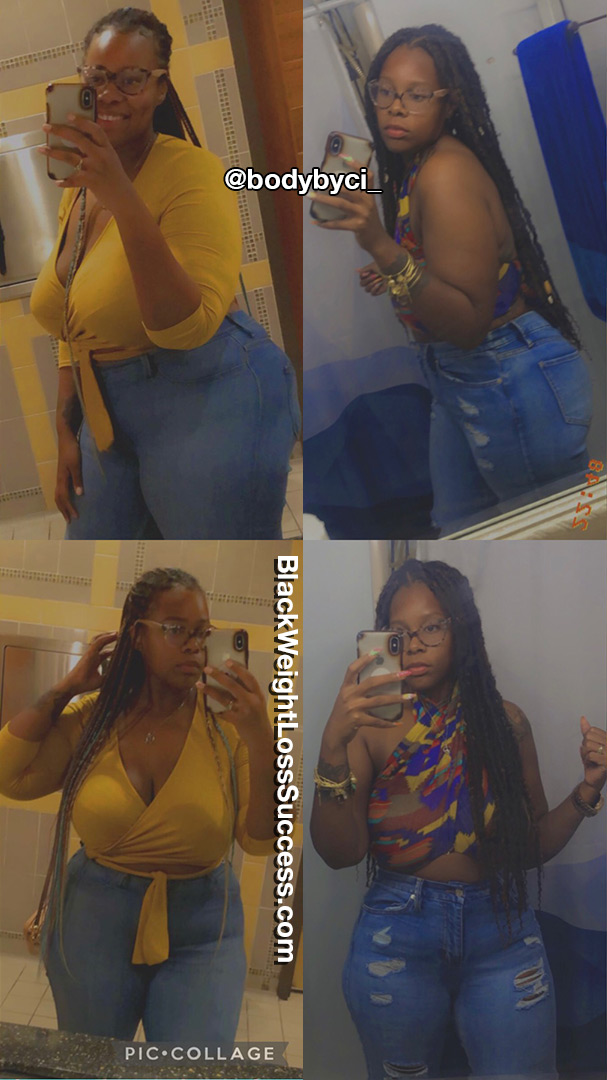 In Nov 2019, I went to the doctor to discuss a breast reduction surgery. My doctor told me something I already knew: I needed to lose weight. At that point, I weighed 304 pounds. She told me there are risks with any surgery, but my weight would cause even higher risks. That had me shook. 
Before this discussion, I worked out at my local gym for about two years and experienced many highs and lows. This was primarily due to the inconsistencies in my diet and routine. In addition, I was overwhelmed at my job, also juggling my Master's degree program. It was a lot. 
During this time, I was essentially eating my feelings. My coworkers were bringing me cookies and chocolate all the time. I cooked whatever I wanted (except for pork and beef). I ate good, drank good… all of that just to cope and to get away. My boyfriend and I were out of town or out of the country every weekend just INDULGING. I loved going to new places and trying new things. However, I was getting to a point where I felt that my body was limiting me from doing physical activities. 
During those two years, I wasn't getting consistent results because I thought I could eat whatever I wanted, take a couple of Zumba classes and still lose weight, but that isn't realistic.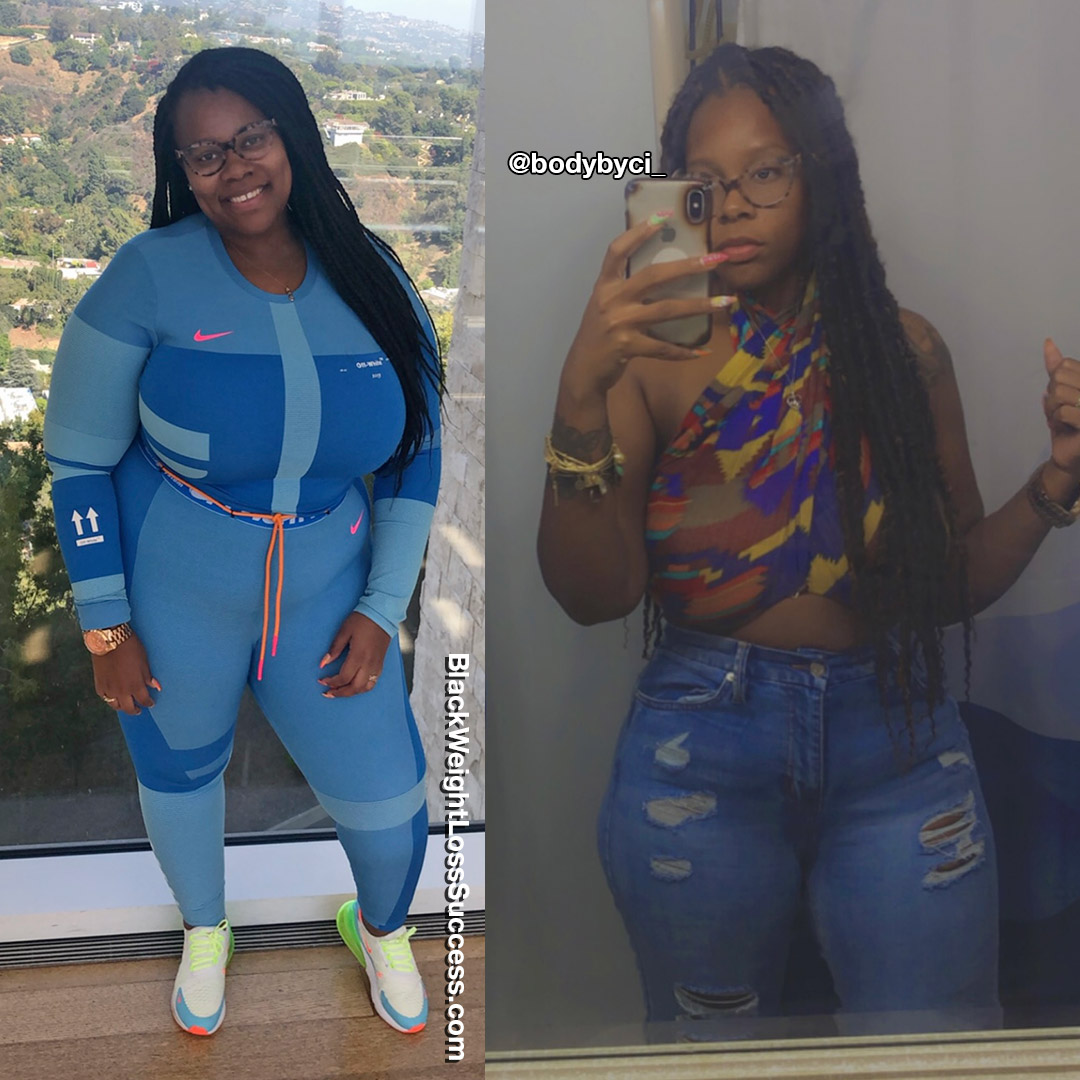 After talking with my doctor, I went full throttle at the gym for a couple of weeks and then fizzled out. I had become unmotivated and started to doubt if I'd be able to lose the weight. Overall, I was just discouraged. So I got back into my old routine, eating whatever I wanted and just taking a couple of Zumba classes to remain "kinda" active. But, of course, I packed on a few more lbs in the process. 
Then the pandemic happened, and the gyms closed. I put school on pause and started working from home. That shift in my routine made me realize it was now or never. So I promised myself to stay committed, eat right, and become intentional with my weight loss. 
When did you start your journey? How long did your transformation take?
I started my journey in May 2020. So it's taken about a year and five months.
What was your motivation? What inspired you to keep going, even when you wanted to give up?
I loved to travel, but it was becoming more and more difficult. It was so uncomfortable during flights. Then, when we got to our destination, I couldn't fully enjoy my vacations because I would get winded during excursions.
I started my weight loss journey many times before and fell off. So this go-around, I was very determined to finally see it through. I promised myself that I'd do something that put me closer to my goal every single day, whether it was exercising, choosing healthier meals, and becoming an overall more active person. 
Doing this has kept me strong in my journey. I've not only gone through a body transformation, but it's a lifestyle transformation.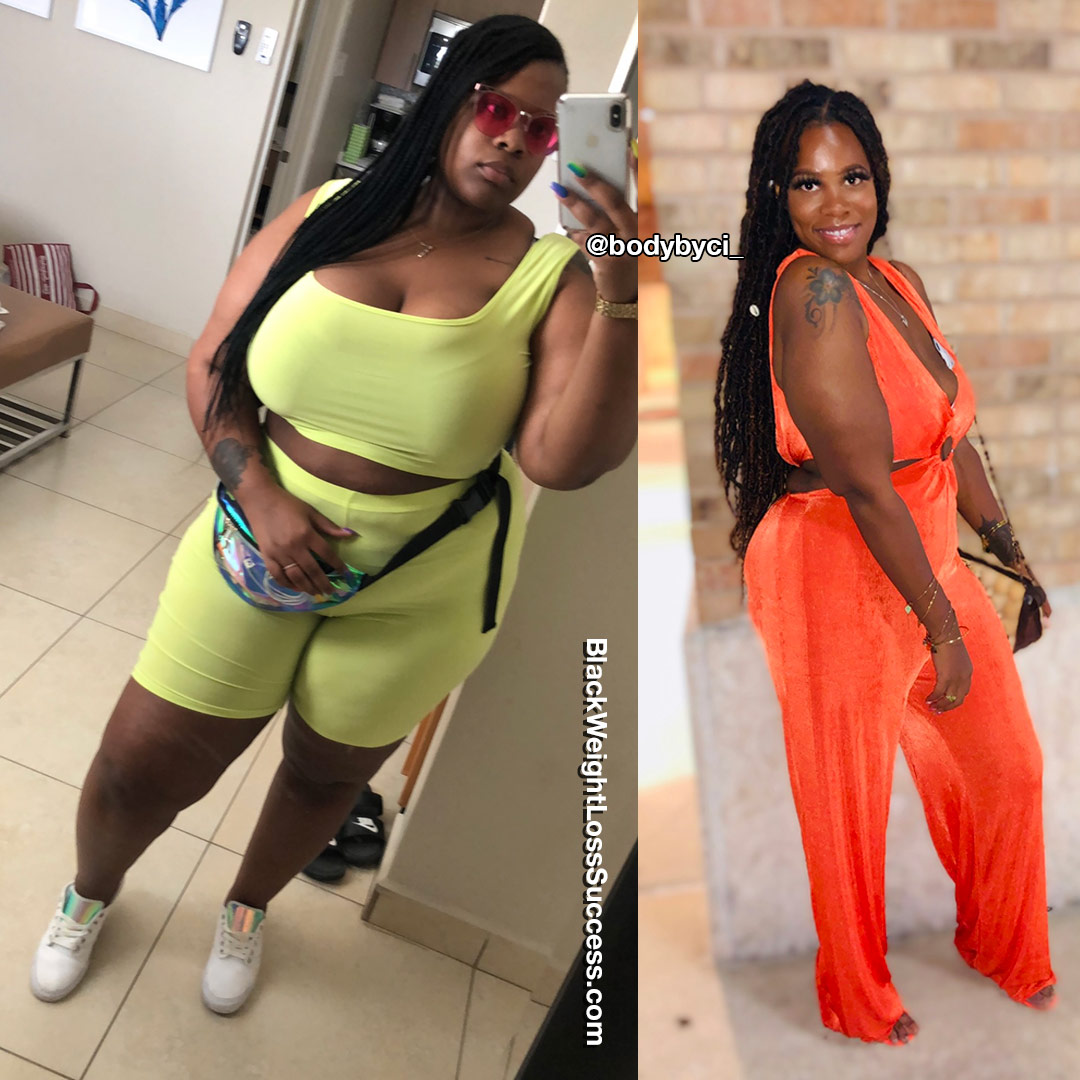 How did you change your eating habits? 
I didn't use anything specific in terms of diets or eating plans. I knew my biggest problem was sweets and eating out. So I cut out sweets cold turkey for 60 days. I also focused more on eating lean meat, fruit, and veggies. During this time, we were still on lockdown, so eating out and indulging wasn't much of an issue anymore. It was home-cooked meals only for me.
What did your workout routine consist of? How often did you work out?
When I started my journey, I focused on working out at least an hour a day, five days a week. I would do 3-5 mile walks around my community. 
After a few months of building my stamina, I graduated to jogging for a 1 mile and doing YouTube workouts. I'm currently working out five days a week in the gym, and I work out 1-2 hours each session.
What was your starting weight? What is your current weight?
Starting weight: 305+ pounds – I don't know my exact starting weight because I would avoid the scale at all costs. At my last doctor's appointment, before I started my journey, I weighed 305 pounds. My current weight is 182 pounds.
What is your height? 
I'm 5'5″
Is weight loss surgery part of your journey?
No.
What is the biggest lesson you've learned so far?
You are capable of doing more than you think. I got in my own way so many times by doubting myself or giving up. When I gave up those negative thoughts, I was able to push myself to do things I never could before. 
For example, let's talk about running. I used to hate it! I didn't understand the breathing techniques. I'd get winded fast and always end up with a cramp in my side. Finally, one day I got up enough nerve to try to jog a mile, and I did it! Granted, it was like a 15 minutes mile, but I did it from start to finish. Now I've progressed to 6 miles and hopefully more in the future. All it took was me encouraging myself instead of doubting myself.
What advice do you have for women who want to lose weight?
Start today. That's it! Think about the last time you wanted to start your lifestyle change. Now think about where you'd be now if you started and stuck with it then. Use this as your fire and motivation to get to the YOU that you want.
Instagram: @bodybyci_