Transformation of the Day: Karessa lost 122 pounds. She wanted to be a healthier and happier version of herself and be around to see the future milestones in her children's lives.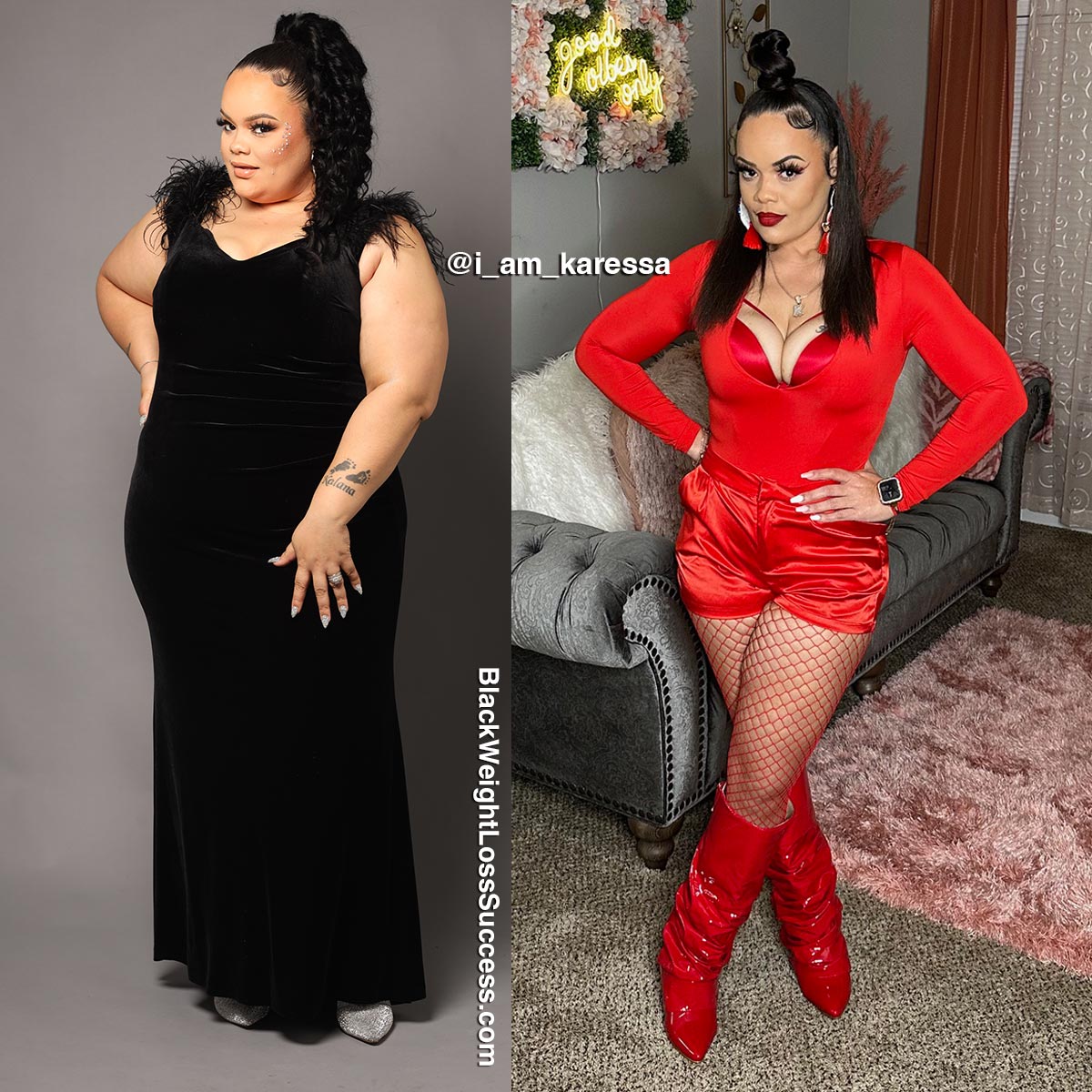 Social Media:
Instagram: @i_am_karessa
TikTok: @karessedfaces
What was your motivation?
My motivation to lose weight has always been my kids (my son, who will be 21 this year, and my daughter, who will be 18). I wanted to be a happier, healthier version of myself so that I could be around to bear witness to their milestones in life. 
What inspired you to keep going during the tough times?
Seeing other people succeed on their weight-loss journey inspired me to keep going when I wanted to give up. 
Was weight loss surgery part of your journey?
Yes, I had Gastric Bypass surgery on January 31, 2022. There is a major misconception that surgery is the easy way out, but it's not. I had a very long journey a couple of years before having surgery. I also had to be on a very strict liquid diet before and after surgery. Once I was four weeks post-op, I got right into the gym and started working out. These and other factors made my journey smoother and more successful. 
How did you change your eating habits?
I began to incorporate healthier eating habits. I started to eat more Whole Foods such as fruits, veggies, and grains and less processed foods. I haven't had McDonald's or Wendy's in years. I made small adjustments, such as replacing white bread with Dave's killer bread. 
I start my day with overnight oats, fruits, a smoothie, or a protein drink. I mainly consume water. I rarely consume juice or soda. 
What is your workout routine?
I am much more active. I usually do cardio with a little weight training. I do my best to work out 3-4 days per week for 60 mins, but if I oversleep, then some days I'll get in 45 minutes. I also attend HIIT classes often on Saturdays. 
What was your starting weight? What is your current weight?
My highest weight was 289 pounds. My current weight is 167 pounds. 
What is your height?
I am 5'6″.
How long did your transformation take?
I've been on a journey to lose weight for over a decade. I've tried various diets and workouts but struggled with consistency. I would lose 30-50lbs and then gain it right back. I didn't learn the importance of making it a lifestyle. 
What is the biggest lesson you've learned so far?
The biggest lesson I've learned is it starts with the mind. It takes discipline and consistency. There will be days/times when you fall short. Don't beat yourself up. Instead, use that energy to pick back up where you left off. 
What advice would you like to share with women who want to lose weight?
My advice to women who want to lose weight is to find what works for YOU! Start with a nutritionist so you can understand your relationship with food. Create a plan. If you fail to plan, then you plan to fail!