Transformation of the Day: Kwyonnica lost 220 pounds. Faced with PCOS, high blood pressure, and other ailments, she began her journey to reclaim her health and break a family cycle of illness. Now she is working to fight the stigma and negativity many face after weight loss surgery.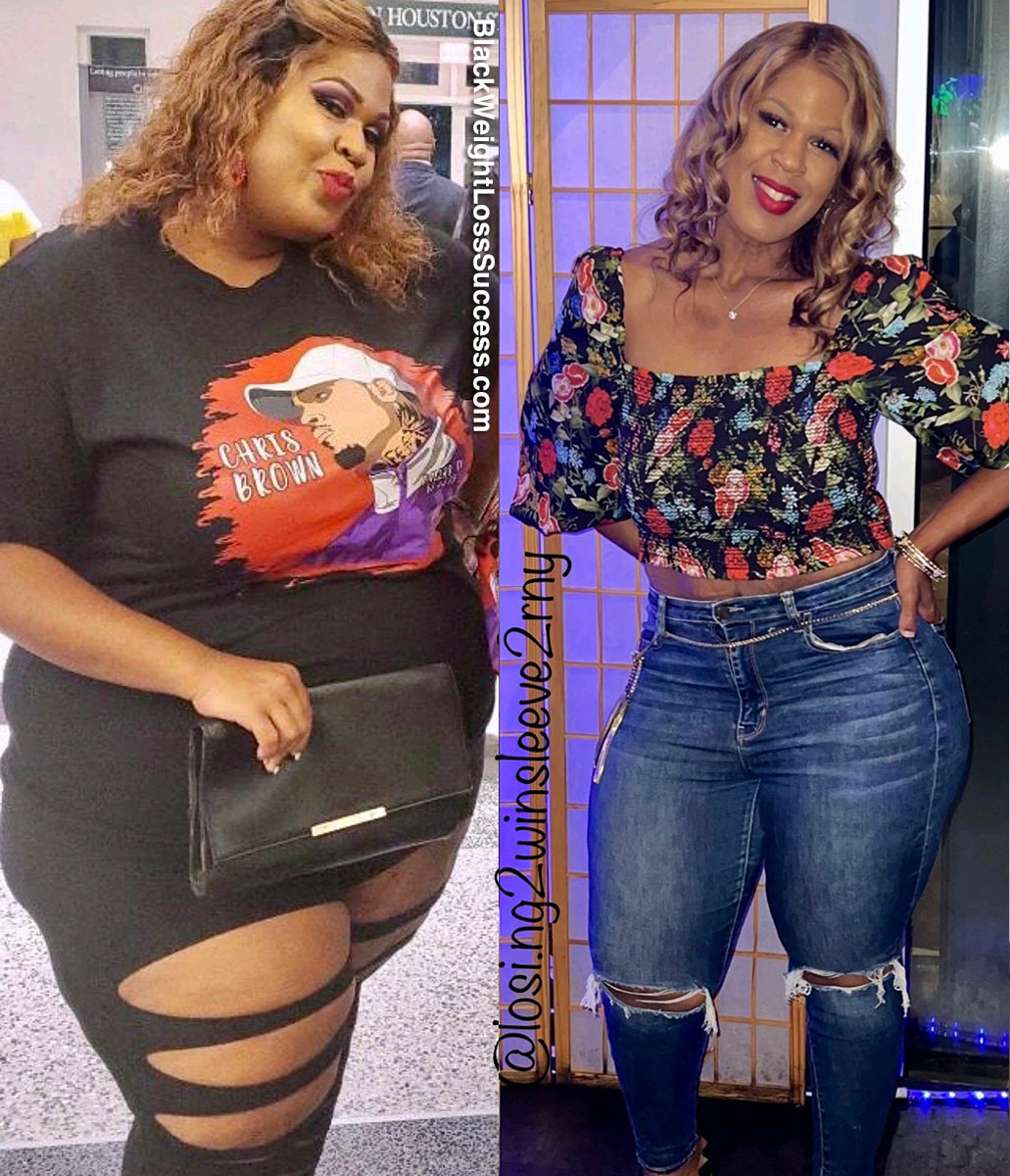 Social Media:
Instagram: @losi.ng2winsleeve2rny 
What was your motivation? What inspired you to keep going, even when you wanted to give up?
My name is Kwyonnica. I'm 42 years old, and I'm from Dallas, Texas. I'm an educator, bariatric speaker, advocate, and momma to a beautiful 11-year-old girl who is my Why.
I've been morbidly obese and have struggled with my weight my entire life. Unfortunately, I suffer from PCOS as well. I was borderline diabetic, had high blood pressure, and my health quickly declined. 
I lost my grandmother and mother at the young age of 56, and I knew something had to change quickly if I wanted to be around to raise my daughter. I had to break those generational curses. 
Is weight loss surgery part of your journey?
Yes, I started my WLS journey in 2009. I was going for the least invasive; at that time, Lapband was it. I was scared and ashamed. So I didn't tell anyone. 
I lost about 100 lbs with the Lapband. Then I started having issues with my band shortly after having my daughter. What I thought was least invasive ended up migrating behind my liver. I had the band removed and converted to a gastric sleeve in 2013. 
I had reflux before I got the sleeve from having my band. However, I wasn't told that I shouldn't have the sleeve. It should've been bypass surgery instead. 
After my band-to-sleeve revision, I lost about 20 lbs, and my reflex was at its worst. I suffered in silence and was depressed for seven years as my weight spiraled. 
My sleeve was done entirely wrong there was no way for me to be successful. There were clamps left up against my liver from when I had Lapband. However, I wouldn't change any of that because I wouldn't be where I am today without those two failed surgeries. 
I found a new surgeon, and I'm forever grateful that he converted me to gastric bypass on 12/10/2020. I have lost a total of 220 pounds since this surgery. Something I was ashamed of, I'm now an advocate for and breaking stigmas behind weight loss surgery. 
I'm currently six months post-op after my first round of plastic surgery. I had an extended tummy tuck with muscle repair and lipo to the flanks. I will be doing my breast lift this winter.
How did you change your eating habits?
I made small changes that led to big ones. In the beginning, I focused on high protein and low carb meals, eliminating pasta, bread, and sugar. I also measured and weighed my food. 
Now that I'm going into maintenance, I focus on eating good foods and fueling my body with what it needs. I have been off sugar for two years, something I thought I could never do.
What is your workout routine?
I currently work out doing a combination of HIIT, cardio, and weightlifting. 
How often did you work out?
4-5 days a week 
What was your starting weight?
My starting weight was 410 pounds. 
What is your current weight?
My current weight is 190 pounds.
What is your height?
5'7″
When did you start your journey?
12/10/2020
How long did your transformation take? 
It took 20 months. 
What is the biggest lesson you've learned so far?
It's all about timing! 13 years ago, I started on a journey to simply not die from obesity. I looked back and took a moment to realize after releasing 220 pounds that not only am I surviving; I am thriving! 
I did not set out to change lives other than my own when I started this journey, but here I am today, changing the lives of others through my journey. It was all in His plan. My failures and struggles over the years were for this moment now! It's not about me. It is a mission to give others hope!
What advice do you have for women who want to lose weight? 
Always remember your WHY, and don't compare yourself to others. Everyone's journey and chemistry are different. 
Be patient. Give yourself GRACE. It's hard work and requires determination and motivation. Get your mind ready first, and the rest is easier! Consistency matters way more than perfection.
Thank you for allowing me to share my journey I hope it inspires you to keep fighting for the life you deserve no matter how long it takes.