Transformation of the Day: Kimberly lost 98 pounds. Her turning point came when she could not qualify as a kidney donor for her mom due to her weight. She has transformed by focusing on nutrition, practicing intermittent fasting, and working out six days a week.
What was your motivation? What inspired you to keep going, even when you wanted to give up?
In 2018, my mother told me she had Kidney failure and had to choose between dialysis or a transplant. I suggested she get the transplant so she could go on with her daily routines. I also told her I would be her donor. 
I cried for days when the nurse told me that I couldn't be a donor due to my weight. I couldn't save my mother's life unless I weighed 196 lbs, and I was nowhere near that size. Thankfully, my sister was able to do it. Hearing the doctors tell me I didn't qualify to save my mother's life became my motivation to lose weight. I have a huge family, and I never wanted to be put in the situation of not being able to save them if they needed me.
How did you change your eating habits?
I had to change my eating habits completely! At the time, I worked in the service industry. I would always eat a meal at work and then come home to have pizza, wings, burgers, fast food, sodas, chips, cakes, cookies, candy, etc. I also went out to eat several times a week. I had to cut all of that out. I actually quit the restaurant jobs because I was addicted to food and knew it would be hard to work there and not eat. 
I stopped eating meat and fast food. I also cut out sodas and juice. I stopped going out to eat and incorporated more veggies into my diet. I did intermittent fasting 20:4. I would only eat between the hours of 2 pm – 6 pm. My first meal is a smoothie made with fruits, veggies, and water. My last meal was always a spinach salad (with shrimp, salmon, seeds/nuts, cheese, onions, peppers, broccoli, and cheese)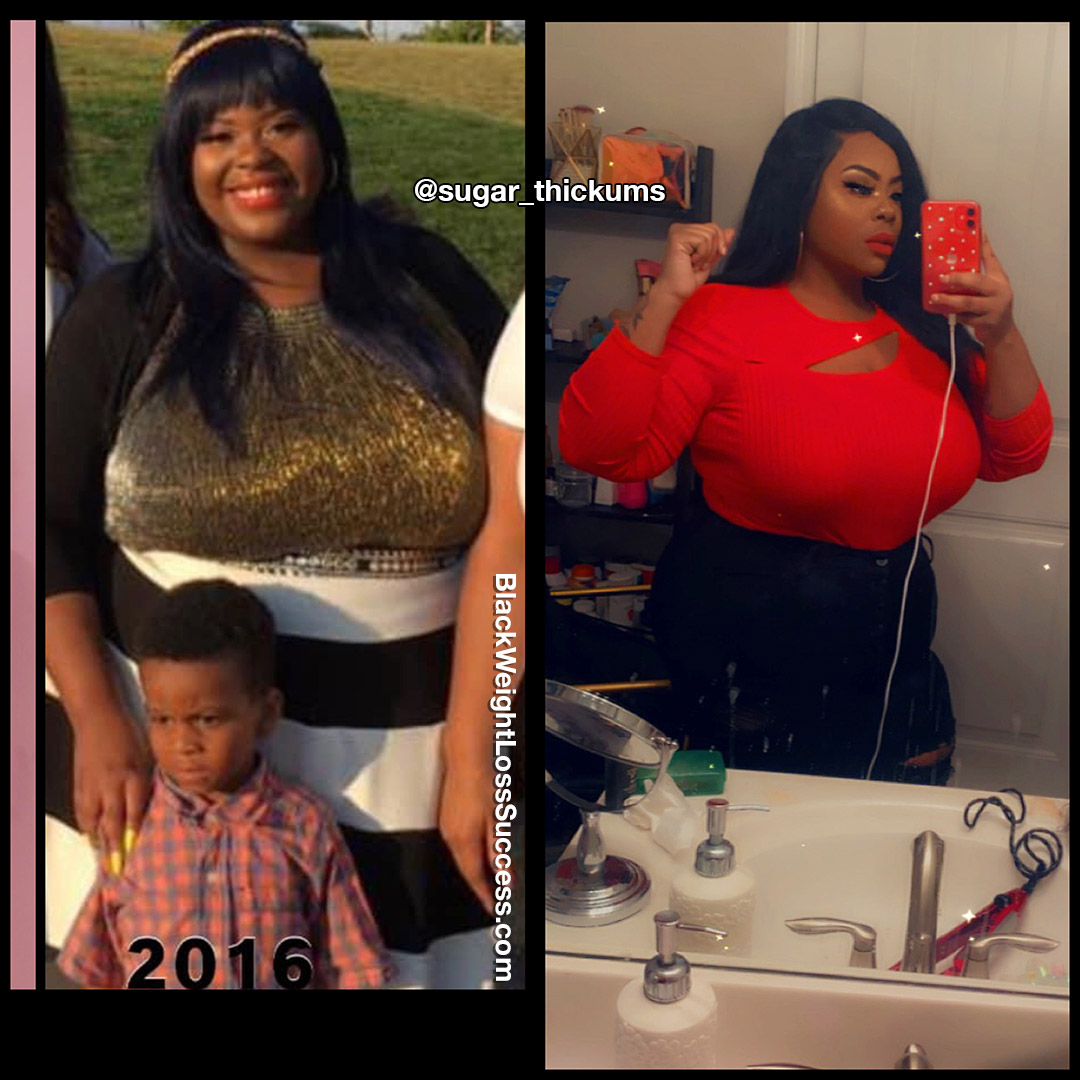 What did your workout routine consist of? How often did you work out? 
My workout plan started kind of late. I initially wanted to master the food situation because that was my weakness, so I started slow. Three times a week, I would walk a mile or two. My routine eventually changed to working out six times a week. One day I'd walk six miles on a trail near my house. The next day, I'd do 1 hour and 30 minutes in the gym. The day after that, I'd walk Stone Mountain. I repeated that cycle throughout my week, only resting on Saturday.
What was your starting weight? What is your current weight?
My starting weight was 350.3 pounds. My current weight is 248.6 pounds. (My goal is 196 pounds.)
What is your height?
I'm 5'5″.
When did you start your journey? How long did your transformation take?
I started my journey in December 2018. I've been on this journey for almost three years now, and I'm still transforming.
What was the biggest lesson you've learned so far?
I learned that your mind is the most important part of your journey! You have to want to achieve your goal, and you have to believe that you CAN achieve that goal. You constantly have to uplift yourself and tell yourself you can do this even on the hard days.
What advice do you have for women who want to lose weight?
Just do it! I know that's a cliche but just do it. Start slow and accept the fact that some days will be more challenging than others. You will have slip-ups, and you will want to give up. The scale will go up and down. You will cry, be angry/disappointed, and it will hurt. However, don't run from the bad. Instead, stay focused on your goals and the reasoning for those goals. Push through!
Instagram: @sugar_thickums